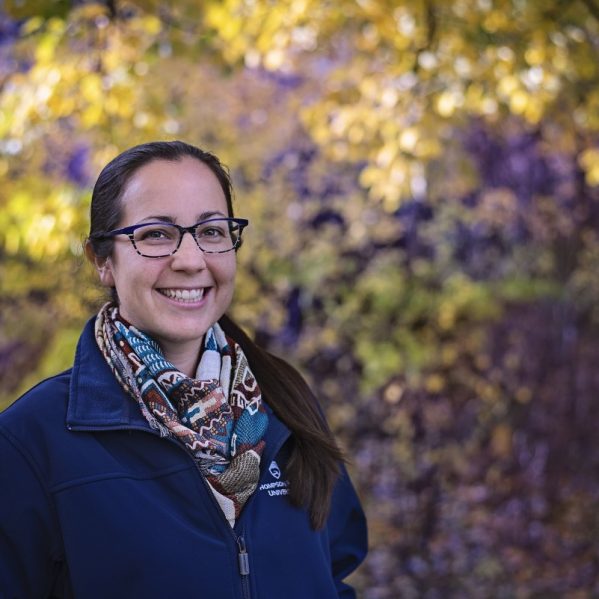 Known for its bustling atmosphere and homey environment with a family feeling, Cplul'kw'ten is a comfort to over 1,000 Aboriginal students here at TRU.
Learning Strategist Melody Markle notes Cplul'kw'ten "fosters a healthy household so that students can exhale and de-stress; it is very much a home away from home."
The Ryerson graduate, who holds a degree in Social Work, was once an Aboriginal Recruiter and worked in University Admissions.  When it comes to supporting students, Melody remarked,"there are no cookie cutter methods used here. We apply individualized approaches, providing one-on-one services with customized care."
Melody's method is to utilize a holistic approach. "It's a mental, spiritual, physical balancing act with the pupil at the center," she explained.
Overall, the collective goal of Cplul'kw'ten is to provide guidance and assistance to students. "Indigenous students must feel they can access services through Cplul'kw'ten with ease, understanding, and no judgment. This is especially important for first generations who need access to mental health counseling for the new stressors they encounter, essential financial supports, or additional help to move to the next level of their academic journey," Melody said.
Melody believes that culturally relevant activities further connect students to their university experience; moreover, they can also inspire others who may be amid a process of cultural reclamation and revitalization.  She offers "cultural support, providing a safe space to smudge with sage and other traditional medicines if the student needs to clear their mind and heart before an exam, or to start their day in a positive way."
Often referring students to tutors or private peer tutoring from other Aboriginal students, Melody encourages the use of the Writing and Math Centres.  While providing the tools to seek services independently, Melody strives to develop and strengthen the bond with the university community.  "I want to ensure that adequate support services are available to address the specific needs and expectations of Aboriginal students."
Another element of Melody's job is to liaise with sponsorship sources and Bands from across Canada. "We also empower students with financial planning tools, so those with limited funds will be able to stretch their dollars throughout the semester."
From the development of study skills to muscle reading techniques, Melody invites students to visualize their goals, set achievement timelines and ultimately build confidence while seeking self-exploration. Melody "provides the expertise needed for particular academic supports and Aboriginal learning styles."
Melody, like all team members at Cplul'kw'ten, stands in solidarity with those moving towards their educational goals: "I like to think of the role as walking alongside a student on their academic journey."
For more information about Cplul'kw'ten visit the website.