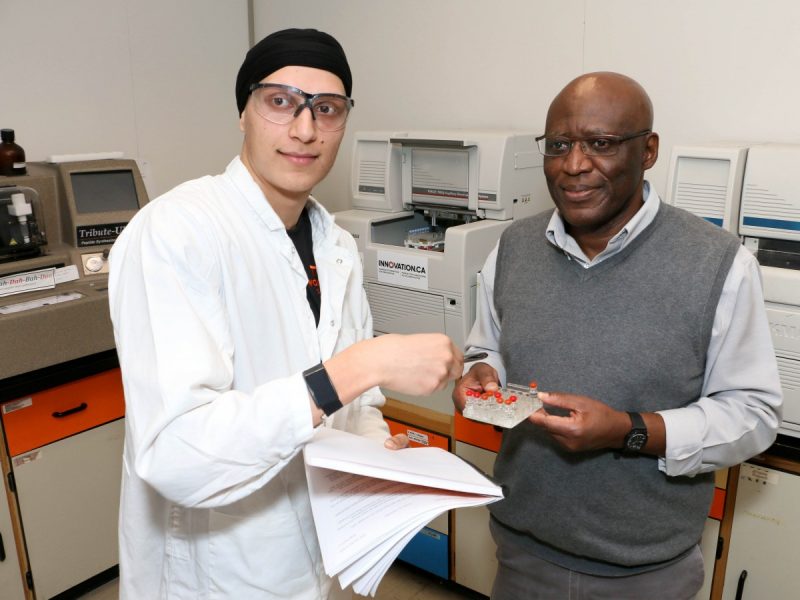 Witnessing profound poverty in Roorkee, India this summer forever changed Jagdeesh Uppal's view of the world. He also saw how he can make a difference.
While visiting as a research student, the fourth-year chemical biology major started thinking about how he could combine his passions for medicine and research to one-day assist in bringing affordable medical care to those who most need it.
"So many people are on the streets in India and don't have access to any health care," said Uppal. "They are doing the best they can without any help and the summer gave me more motivation to assist them. You hear about the poverty, but seeing it first hand is something else."
Working at the Indian Institute of Technology, he developed a compound to detect and track the progression of Alzheimer's disease. The project was led by Dr. Kalyan Sadhu and while under his guidance, Uppal discovered some molecules not previously found in literature. During the synthesis of the targeted molecules, a series of molecules were developed as by-products. Literature studies of some of the by-products revealed the opening of kinase inhibitory actions (used to treat cancers).
Made possible by a Mitacs Globalink Research Award, up to $5,000 of his travel costs were covered and another $5,000 of other expenses were paid for by the Indian Ministry of Human Resource Development.
At TRU, Uppal is part of Kingsley Donkor's research team and he credits Donkor as an important reference in the Mitacs application process. The two have known each other for a few years, going back to Uppal's Grade 11 year when the teenager approached the faculty member during Day of Arts and Science. Shortly after Uppal joined the research team and the relationship evolved into mentor and protégé.
"Jagdeesh has shown to be an outstanding researcher, who shows great initiative and dedication to his work," said Donkor. "It's been a pleasure mentoring such an excellent student. Mentoring Jagdeesh has been a rewarding and fulfilling experience."
As it turns out, the summer in India was his second consecutive in another country. In 2015 Uppal was part of a research exchange to Universitat Autònoma de Barcelona, in Spain where he helped develop biosensors to early detect cardiovascular diseases. These biosensors have great potential for global adoption as they are inexpensive and can be used by health care providers with little training. He credits TRU's Dean of Science, Tom Dickinson, for encouraging him to apply for that opportunity. Uppal is well aware the Spain opportunity helped him land the India experience.
"Experiences are invaluable, especially in university when you have the opportunity to go abroad, go to different universities and to learn every day from PhD and masters students," said Uppal, noting that even learning how research is conducted in one country to another is a learning experience in itself.
"When the project is done, you cherish it because you will have learned so much from it. The learning experience is so much more than what a typical classroom or domestic education can provide."