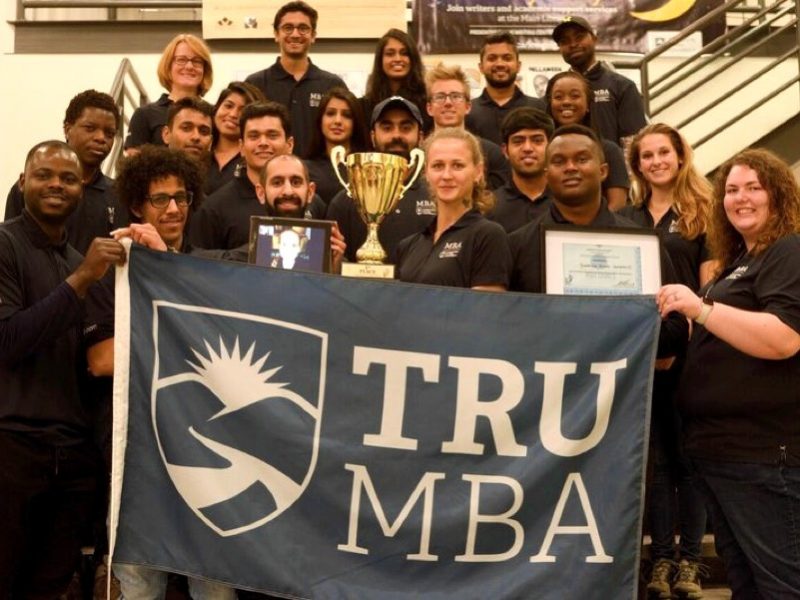 A group of 21 Master of Business Administration (MBA) students have come out on top after competing against peers from UBC, SFU, UVic and VIU in British Columbia's second annual BC MBA Games.
TRU's team made their journey to Vancouver Island University (VIU) in Nanaimo on Oct. 21 after months of preparation. Strategic and overnight case studies, PechaKucha presentations, community fundraising and athletic activities—including dodgeball and canoe racing—were all part of the weekend of competitions. TRU's win was announced on Oct. 23.
Going into the games, the 2016 team was under a lot of pressure considering TRU's 2015 MBA team came second place in last year's games. The students harnessed that pressure and proved that TRU is a real contender.
"Growing up in the small town of Dawson Creek, I know how it feels to compete representing a smaller community. You don't get taken seriously," explained co-captain Shamir Mangalji. "Winning this competition proved that smaller universities can challenge and beat the larger universities in academics, athletics and spirit!"
Having won, the team feels they've assisted in putting their program and community on the map, and are excited that TRU and Kamloops will host next year's games.
The entire team had obstacles they faced in each of their events, from time restrictions in the case competitions to canoe crashes. But what was the easiest aspect for their team?
"Motivation. Everyone came in with a winning mentality and a chip on their shoulder, wanting to prove we can compete with the best in BC," said Mangalji.
Nancy Southin, the team's faculty advisor and consultant, echoed Mangalji's sentiments. "They didn't think that they couldn't win. They absolutely believed they would win," she said.
Southin was their coach for the strategic case and was thrilled when she heard that TRU had taken first in strategy. "It's so exciting when you see people who have worked so hard do so well," she said.
Read more about the team's prep before the games
The team placed in an impressive six out of eight events and raised $6,500 for the Childhood Cancer Canada Foundation. Every time TRU was announced at the closing ceremony, flag bearer Thomas Adesunloye waved their flag proudly, and everyone in the building recognized the WolfPack, recalled co-captain Steffi Thomas, now a graduate of the program.
"We want to thank everyone who supported us from select faculty, to sponsors, to friends and family," said Thomas. "We all put in ridiculous hours on top of our regular classroom commitments. It felt like Shamir and I both had full-time jobs preparing for it, and we started in June."
"I wish someone had recorded the announcement of us winning," said Mangalji. "It was absolute chaos! We had three tables that erupted at the same time. We were all hugging and cheering. A moment we will never forget. We are extremely happy TRU arranged for us to participate in this competition and grateful we had such an awesome coach."
Watch MBA student Japneet Singh's video Journey to New Heights
Preparation for next year's games has begun. "We are excited about engaging the local business community in the 2017 BC MBA Games, giving them the opportunity to network with some of the brightest MBA students from across the province," said Victoria Martin, Director, Graduate Programs.
Watch a recap of the MBA Games
More information
Victoria Martin
Director, Graduate Programs
School of Business and Economics
250-377-6195
vmartin@tru.ca