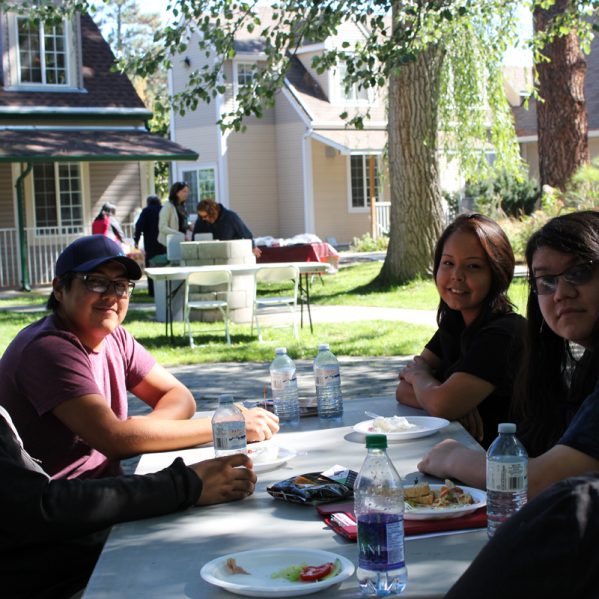 The first of many meals to be served at Cplul'kw'ten (The Gathering Place), the Aboriginal First Friends Feast was an introduction, a warm welcome and an opportunity to connect with Aboriginal students and staff.
Joanne Brown was table hopping at the Feast, greeting the familiar faces and introducing herself to the new students. Joanne, Supervisor for Services for Aboriginal Students, believes it's essential to "walk the walk" with Aboriginal students. "We need to be available, walk alongside the students on the roads of their journey", Joanne remarks, noting her pleasure in hearing their "rich and beautiful cultures, whether it's through songs, stories or personal details."
There were approximately 100 Aboriginal students in attendance from 11:30am– 1:30pm. Students in attendance have come from a number Nations and bands:  Metis, Inuit, Swampy Cree, Dakelth (North and South), Syilx, Erminskin, Bloodvien FN, Temagami FN, Tsalalh, Xaxlip, Ashcroft FN, Nlaka'pamux, Nuxalk, Boothroyd FN, Tkemlups te Secwepemc, Yunesit'in, Xen'aksalia, Cree Red Pheasant, Cheslatta Carrier Nation, Ojibwe, Pikani.
Hosted on September 15, the Feast provided a relaxed environment for students to kick back in the sunshine and enjoy a delicious lunch. Students clustered together at the picnic tables, the staff out and about throughout Cplul'kw'ten while Jason Blair, Life Skills Coach; Vernie Clement Aboriginal Mentor/Community Coordinator; and Melody Markle, Learning Strategist, Aboriginal Students were part of the welcoming team.
A sense of belonging is an essential component to academic well-being; Cplul'kw'ten provides a tight-knit environment where students feel at ease. "We all need community," says Joanne. Cplul'kw'ten was bustling with activity—an accurate representation of the entire school year. Students are downstairs in the computer lab, making tea in the kitchen, chatting in the backyard. There is space for work, quiet, conversation and counsel at Cplul'kw'ten.  Staff doors are wide open, and they're ready to receive students at a moment's notice.
Cplul'kw'ten is located in House 5, behind the Brown Family House of Learning or check out more information on staff and services at TRU.ca/aboriginal