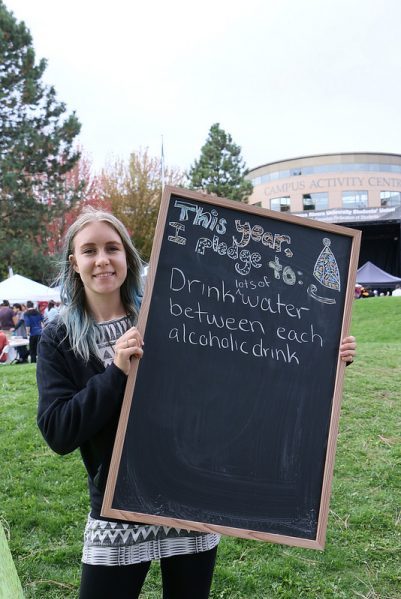 Welcome back to TRU everyone!
As you settle back into school, figure out your classes, and eventually start to stress about the workload ahead of you, we here at the Wellness Centre just wanted to remind you that we are here to support you.
If you are a returning student and have been to the Wellness Centre before, then it is likely that you met the Wellness Centre Coordinator, Chelsea Corsi. Chelsea decided to take a semester off to focus on her own wellness, so for this semester Meaghan Hagerty is taking over the Coordinator role. Meaghan recently finished her MSc. in Global Health at McMaster University and is looking forward to working with the student body to improve all aspects of health and wellness.  Her favourite self-care activities are running and taking time in the mountains. Her wellness tip is to drink more water!
The Wellness Centre is also continuing our Peer Wellness Leadership Program;
now known as the Student Wellness Ambassador Team (S.W.A.T).  S.W.A.T members are regularly in the Wellness Centre, so be sure to take advantage of them! They're a great resource for information about a variety of health topics from stress to sexual health, updates on wellness events coming up, an ear to listen, or referrals to other services on campus. The team is made up of 8 diverse students that are excited to apply their varying knowledge and backgrounds to wellness issues around campus.
Returning to S.W.A.T this year is Alex Wilson, Jillian Hearn, and Katrina Boisclair.
Alex Wilson is a 5th year Psychology Major and Biology Minor.
Favourite self-care activity: hula hooping
Wellness tip: Eat more 100% plant-based meals. It's good for you and the environment
Jillian Hearn is a 5th year double Major in Psychology and Sociology
Favourite self-care activity: hiking
Wellness tip: Spend more time outside.
Katrina Boisclair is a 3rd year in Bachelor of Science in Nursing
Favourite self-care activity: reading
Wellness tip: Studying is important and so is work, but we all need sleep. Try and make time to catch some "Z's"
New to the S.W.A.T. this year is Abhi Dutta, Jessica Neufeldt, Cam Rich, Emiko Ohama, and Maya Sowinski.
Abhi Dutta is a 1st year in Masters of Business Administration
Favourite self-care activity: working out
Wellness tip: Stay fit, stay happy.
Jessica Neufeldt is 3rd year in Bachelor of Science in Nursing
Favourite self-care activity: Gardening
Wellness tip: Accept that you're not perfect and forgive yourself for making mistakes.
Cam Rich is a 5th year Psychology Major
Favourite self-care activity: Sports
Wellness tip: Exercise at least 30 minutes a day
Emiko Ohama, BHK (Clinical Exercise Science & Health Promotion) is in 2nd year in Bachelor of Arts
Favourite self-care activity: Piano and regular exercise
Wellness tip: Every day is a choice day. Choose to take ownership over maximizing your potential for longevity.
Maya Sowinski is a 3rd year Cellular, Molecular and Microbial Biology Major
Favourite self-care activity: Basketball
Wellness tip: You can't give to others if you have nothing left to give. Take regular time-outs to recharge your batteries.
Finally, the Wellness Centre is also lucky to have 4th year nursing student, Sadie Achen, joining us for the Fall semester. Sadie's favourite self-care activity is going on nature walks, and her wellness tip is to break down overwhelming tasks into smaller, more manageable steps.
The Wellness Centre team look forward to meeting everyone – please stop by at the Centre in OM 1479! Also make sure to connect to our social media platforms to stay informed about events happening around campus and receive health and wellness tips.
Facebook: TRU Wellness Centre
Twitter: truwc
Instagram: TRUWellnessCentre