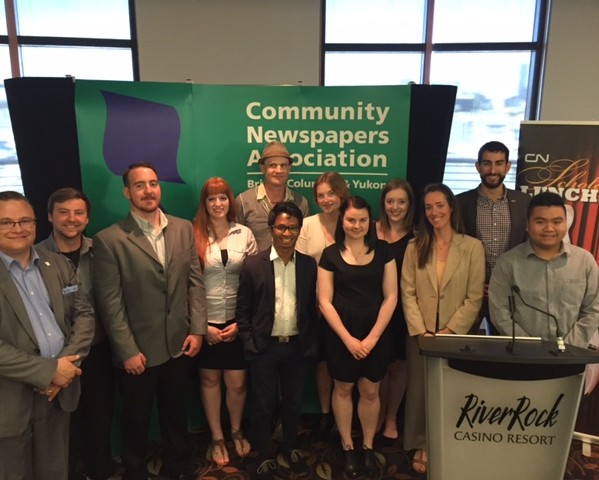 Journalism alumni ('16) Cameron Doherty and James Elliot are celebrating after recieving BC & Yukon Community Newspapers Association scholarships at the Newspapers Canada 2016 National Conference.
The scholarships recognize bright and talented students in BC and the Yukon who plan to work in the newspaper industry. Journalism school instructors select students who display both talent and enthusiasm for community news.
"It's a real honour," said James Elliot. "Being new to the industry, the scholarship has already made a big difference. It will help me buy equipment that I will use throughout my career."
The scholarhips were presented at the annual CN Community Journalism Scholarship Luncheon which recognized the students' work, but also gave them the opportunity to meet and network with journalists who report for the BC and Yukon newspapers they may want to work for in the future.
This is one way that the association gives back to the next generation of students who are just starting out in the field.
"Motivation is a major key to success in school and work. Our scholarships not only celebrate but also continue to motivate a new generation of journalists to think of print first," said George Affleck, general manager of the BC and Yukon Community Newspapers Association. "A nice cheque for a cash-strapped student doesn't hurt either."
The scholarships were awarded on the same day that journalists from across the region received awards at the 2016 BCYCNA Ma Murray Community Newspaper Awards. TRU sponsors the Environmental Writing Award which was presented to Jennifer Moreau from Burnaby Now. TRU alumnus Tyler Olsen of Abbotsford News took home second place in this category.
The event was held on Saturday, May 7 at the River Rock Casino Resort in Richmond, BC.