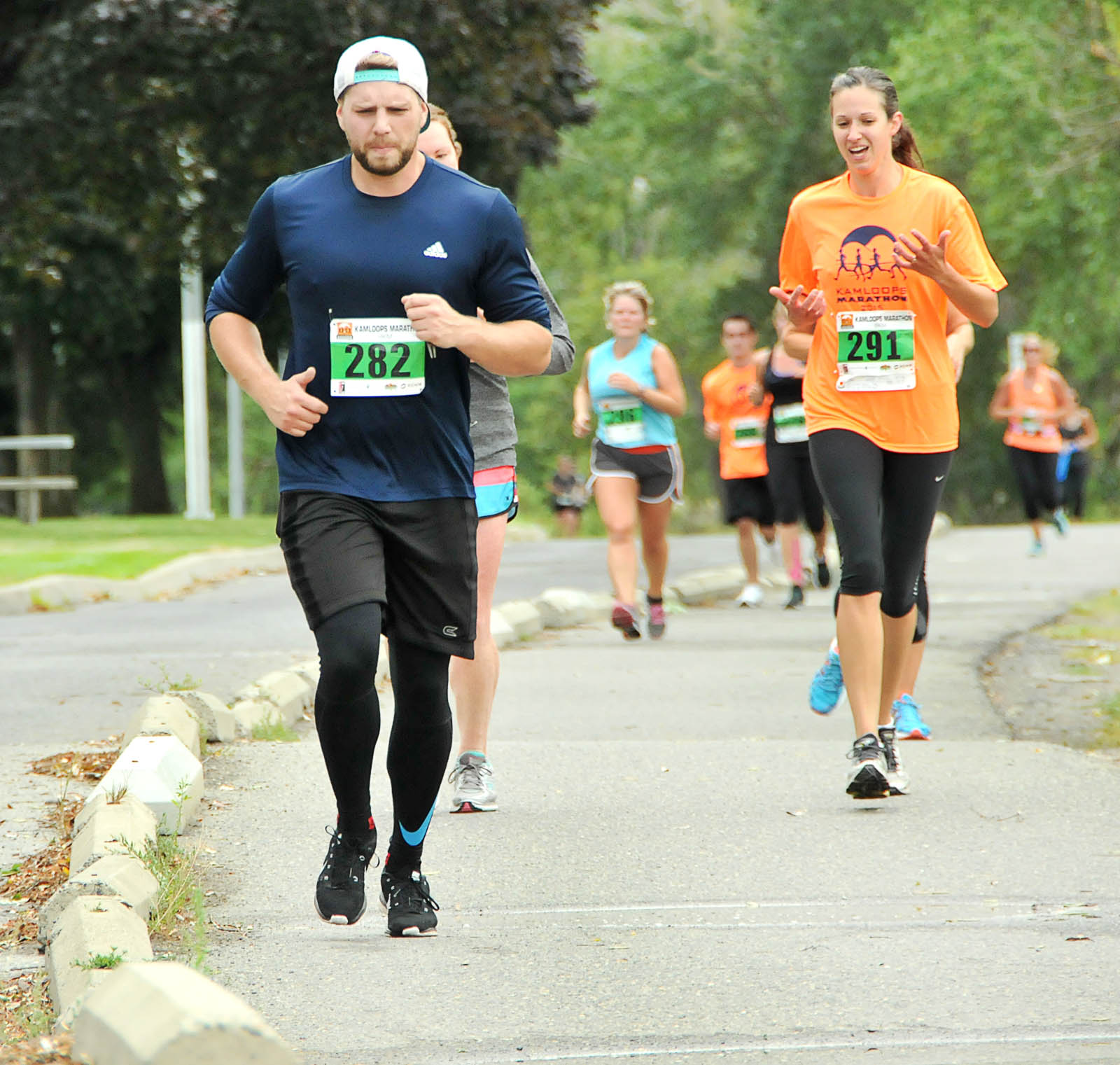 We're in the home stretch leading up to the 2016 Sport Chek Kamloops Marathon on July 24.
Here are some fun facts and a by-the-numbers look at the event:
Marathon day is actually made up of five races—the marathon, half marathon, 8km, marathon relay and 3km family run.
The marathon race is once again a certified qualifier for the Boston Marathon.
A portion of entry fees will go towards TRU WolfPack student athlete awards.
A portion of entry fees in the 3km family run will go towards Canadian Tire's Jumpstart Charities.
The start and finish lines for all races are at McArthur Island, complete with its picturesque views of the North Thompson River and rolling hills beyond.
Race package and expo is July 23 at the McArthur Island Sports Centre.
The first race was in 2012 and since then has grown from a regional event to one attracting runners from around BC, Canada and a growing number of international racers.
Being a qualifier for Boston has helped boost marathon participation and overall attendance. More than 600 people registered last year for one of the five races. Not including the 3km for which results weren't recorded, 423 registered for either the marathon, half, 8km or relay. Organizers are hoping total participation reaches 750 this year.
1
new title sponsor through 2018. This year Sport Chek signed a three-year commitment to provide in-kind sponsorship.
42.2
kilometres make up a marathon, which equals 26.2 miles. The half marathon is truly half the distance at 21.1km and 13.1 miles.
47,547
total kilometres run since the first year.
2
rivers flowing alongside the marathon race route: North Thompson and South Thompson.
1
bridge crossed (twice) in the marathon: Overlanders.
50 +
percentage of runners from Kamloops.
5
neighbourhoods on the marathon race route: North Shore, Brocklehurst, Westsyde, West End and City Centre.
25 +
roads and intersections in the the marathon.
10,968
total kilometres run in 2015.
1,500 +
pancakes at the finish line made and served by Lions Club of Kamloops.
100 +
volunteers needed for the event to be a success. Among the roles: course set up and break down, aid station attendants, route marshals, working the start and finish lines, pace bunnies, committees and more.
8
water stations for the marathon.
900
litres of water on the course, which equals nearly 237 US gallons.
125
litres of chocolate milk at the finish line, which equals 33 US gallons.
172
metres of elevation gain on the marathon course, which equals 565 feet.
∞
number of smiles and high fives after the race.
---