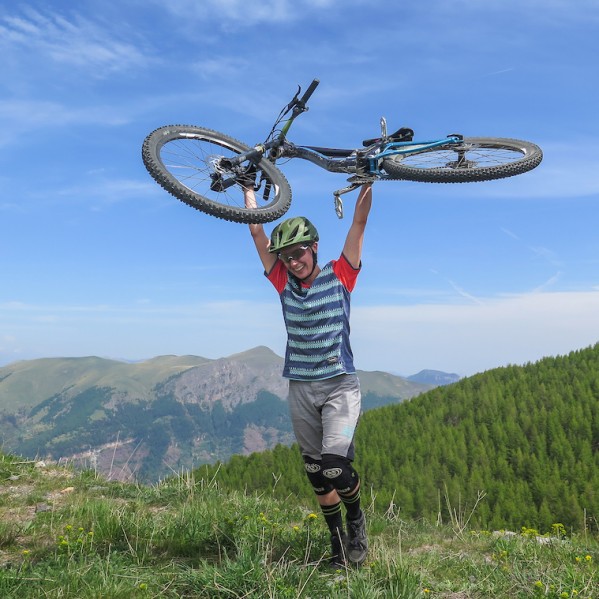 Michelle Davies has always loved to travel, but during her study abroad in Switzerland she discovered a new found passion for travelling on two wheels.
Davies, a Bachelor of Tourism Management student, is in her second semester abroad at the HTW Chur, University of Applied Sciences in Switzerland and will return to study at TRU in September. She recently competed in all women's enduro bike race in Europe—the first of its kind—which took place in Portes du Mercantour, France.
"If there is anything I've learned in the last year, it is that the best adventures are outside your comfort zone and unpredictable," said Davies. "If you had told me a year ago that I'd be spending a weekend racing my bike I would have laughed. At that time, I didn't even own a bike."
Davies bought her first mountain bike just three weeks before departing for Switzerland and upon arrival immediately attended a women's bike camp with professional enduro racers Anita and Caro Gehrig, who also happen to be her roommates. She met the Gehrig sisters in 2013 through her boyfriend Andy, a mountain bike enthusiast from Switzerland studying abroad at TRU— a connection that came in very handy when she found out she would be studying at HTW Chur, last fall.
The sisters are on the Enduro World Series Tour and currently ranked fourth and fifth.

Following the bike camp, Davies and her new friends would meet up whenever possible to ride the trails of Graubünden, but she never imagined an enduro race would be in her future.
"When the race was first announced in early spring, Caro and Anita were keen to put together a team for this race, which happened to be the first of its kind in Europe," said Davies.
In her time studying abroad Davies has been able to get out and experience much of what Switzerland has to offer including canyoning down waterfalls in southern Switzerland, flying a four person plane over the Swiss Alps and of course eating her share of chocolate and cheese. She credits these amazing adventures to stepping out of her comfort zone, meeting new people and being open to trying new things.
"It's a small country but it has so much diversity and so much to see. It's perfect for adventuring and exploring," she said. "I can walk out my doorstep and go biking, snowboarding, hiking, rock climbing, you name it. And those are the things I love."
Despite having the time of her life abroad, Davies says she looks forward to returning to TRU and hitting the trails in the mountain biking paradise that is Kamloops.