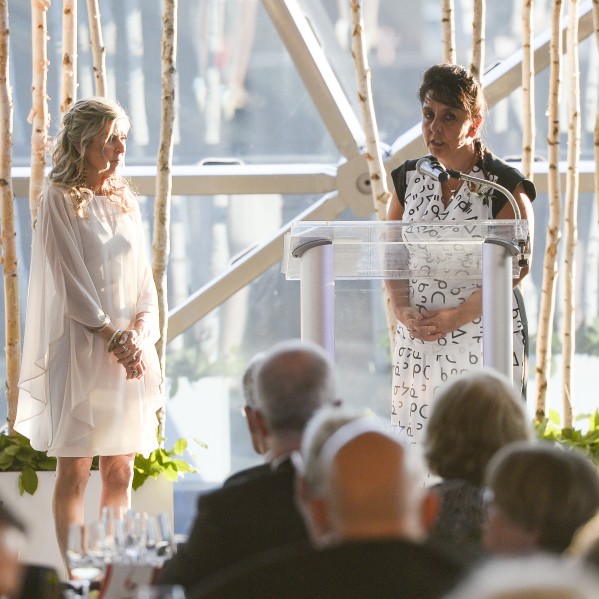 Sometimes the small ways we are recognized have the biggest impact.
Work by faculty, Elders, and student members of the Indigenous Health Nursing Committee has put the TRU School of Nursing (SON) on the national stage.
Understanding the Village, an experiential workshop held in March, cemented TRU's reputation for promoting the success of Aboriginal students, educating the next generation of nurses to lead change in health care delivery to Indigenous populations, and preparing graduates for leadership roles in the reconciliation processes.
Presented by third-year nursing students, the workshop involved Aboriginal Education and the community of TK'emlúps. It signified a change in the school's curriculum in response to the Truth and Reconciliation calls for action.
Participants explored personal roles in supporting the revival of the values that worked in indigenous villages for thousands of years and took an in-depth look at the effects of residential schools and Canada's policy of assimilation.
Seven nursing students, six faculty members, and one First Nations Elder were supported by TRU to attend the 2016 Aboriginal Nurses Association of Canada (ANAC) National Training Forum in Montreal in February, where they participated in a peer-reviewed presentation about their work in enacting a respectful response to the Truth and Reconciliation Commission calls to action.
The students later reflected in a letter they submitted to the journal Canadian Nurse, that their experiences in Montreal empowered them "to envision our own circle of mentorship that includes Elders and faculty advisors, student leaders, and the community—all working together to advocate for positive change in Indigenous health".
Christine Rieck Buckley, chief executive officer of the Canadian Nurses Foundation (CNF), also happened to be in the Montreal audience. Inspired by the School of Nursing presentation she invited nursing faculty and students to attend the CNF Nightingale Gala in Ottawa on May 5 for another opportunity to highlight some of the SON's work in Indigenous nursing and Indigenous health.
"Although the Truth and Reconciliation report calls upon nursing schools in Canada to require all students to take a course dealing with Aboriginal health issues, including the history and legacy of residential schools, and requires skills-based training in intercultural competency, these have been part of our teachings for many years," said Dr. Donna Murnaghan, dean of nursing. "The calls to action by the Truth and Reconciliation Commission are not abstract goals for us; they are the way we are and we were pleased to attend the gala and let others know."
Part of the evening included a keynote address by honorary patron Sophie Gregoire-Trudeau. After she spoke she left the event and asked that her corsage be given to someone in attendance who was to be recognized for advancing Aboriginal health education. The organizers presented it to Murnaghan in recognition of the excellence of the work the School of Nursing is doing in the area of Aboriginal health, research and education.
"TRU's School of Nursing's dedication to Indigenous nursing research, innovation and education is helping to improve the quality of Indigenous healthcare across Canada," said Rieck Buckley, on passing on the corsage. "We were so pleased to be able to highlight some of the important work they are doing in Indigenous nursing and Indigenous health."