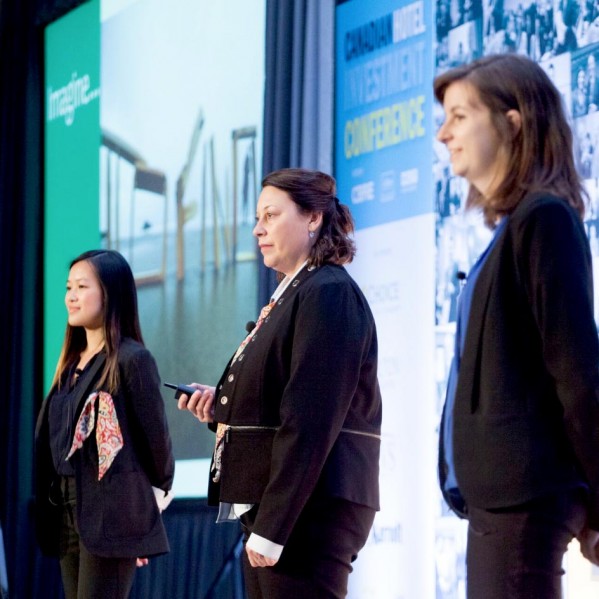 Someday you may find yourself staying at an Emily Carr-inspired hotel conceived by three TRU students during a tourism/business course.
The team of Colleen Black, Queenie Lai and Kelsey Perra placed third in the first-ever #hotelNEXT competition during the Canadian Hotel Investment Conference in Toronto in May. As one of three teams, the trio appeared before a panel of investors, hotel developers and a live audience of more than 500 to pitch their "Hotel of All Sorts" concept. The 60-room hotel would be located on oceanfront property in Tofino, BC and include a conference centre, restaurant, spa, art gallery and would host artistic workshops and First Nations tourism.
In addition to having had their flights, accommodations and meals fully covered by the contest organizers, third place carried a cash prize of $2,000.
"Besides getting the opportunity to meet some of the biggest players in the hospitality industry, I think the best lesson I learned was how to physically and mentally prepare to present in front of such a large audience," said Lai, a student in Tourism Management.
The name Hotel of All Sorts is a reference to a boarding house Carr stayed at in Victoria. She dubbed the building "House of All Sorts" because of its eclectic stream of tenants from assorted backgrounds, ethnicities and financial standing.
Whether or not the $32.7-million building at Mackenzie Beach is built is in the hands of the judging panel and others. Black said it would be thrilling to see the concept become real, and if it doesn't, that's all right too.
"The experience allowed us to put into practice what we were taught and take it to the next level," said Black, a student in Tourism Management. "It was a learning curve that transformed into a life experience and created an opportunity of being chosen as one of the top three teams in Canada to attend and pitch the Emily Carr concept. It was an incredible experience. Best class ever!"
Competing in #hotelNEXT had its roots in the special topics course Tourism Management/Management 3980 (TMGT/ MNGT 3980), which was designed and taught by faculty member Corey Sigvaldason. Intended to develop a deeper understanding of the hotel industry while enhancing interpersonal skills, the coursework included a field trip to Vancouver to present and defend a hotel concept before senior staff of Northlands Properties. Four presentations were made and the strongest based on the contest criteria was entered into the #hotelNEXT competition, which received a total of seven entries from six different universities. The contest organizers then picked their favourite three to go before the judges.
Perra handled the financial aspects of Hotel of All Sorts and estimated it would see a return after five years.
So affected by the experience, she has a clearer idea of what directions to take her Bachelor of Business Administration degree. She plans to major in accounting or finance.
"One of the judges mentioned that this was like a job interview into the industry, which was very accurate," said Perra. "I was quite nervous presenting the financials as the people we were presenting in front of could tell whether it was realistic or not. They pointed out that our hotel idea was well backed up by sources and feasible."
As course designer and instructor, Sigvaldason is pleased his efforts have had an impact.
"Seeing the growth in each and every student this past semester is remarkable," said Sigvaldason, who accompanied the group to Toronto and watched their pitch. "Experiences like this are life-changing and can open so many doors personally and professionally. Hearing the impact this course has had in the lives of students reminds me of why I do what I do."