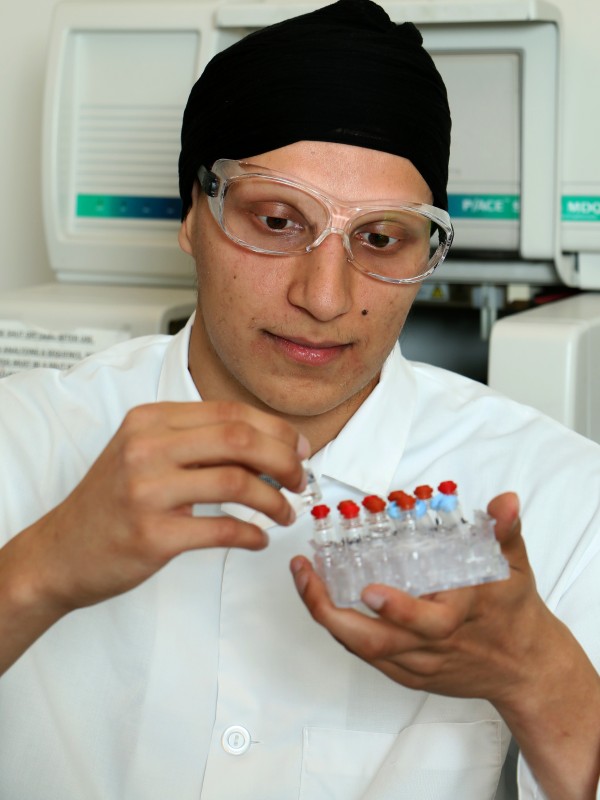 Jagdeesh Uppal is many things — as captain of the TRU swim team, he is a gifted athlete and leader, and as a fourth-year chemical biology student, he's also a valued member of Dr. Kingsley Donkor's research team.
Now, Uppal can add international researcher to his list of accomplishments, as he will spend the next three months studying at the Indian Institute of Technology (IIT) in Roorkee, India.
Meet the WolfPack: Jagdeesh Uppal
Read: Research aims to reduce transformer failures
The opportunity was made possible thanks to a Mitacs Globalink Research Award. Mitacs will provide Uppal with $5,000 to support his travel costs, while the Indian Ministry of Human Resource Development will provide another $5,000 to cover all the other expenses associated with the research project. This is a prestigious international award that is extremely competitive.
While at IIT, Uppal will join a research project led by Dr. Kalyan Sadhu, called "Development of fluorogenic sensor for imaging of Amyloid-β plaques."
The project focuses on the early detection of Alzheimer's disease. Though millions of people are impacted by Alzheimer's, it is one of the hardest diseases to detect. The IIT research aims to  develop a fluorescence probe that will attach to amyloid-β plaques, which are known to cause Alzheimer's and the related dementia. The probe will light up plaques under a specific wavelength, and it is hoped that in future this will allow for quick detection of Alzheimer's disease in patients.
"On top of gaining more international experience, I'm looking forward to gaining more research skills that are related to medical science," said Uppal, who intends to enter medical school following graduation.
The 20-year-old spent the summer of 2015 on a research exchange to Universitat Autònoma de Barcelona, in Spain, and said it was Dean of Science Tom Dickinson who encouraged him to add international experience to his resume.
"Last summer when I went to Spain it was a huge culture shock, but I made a lot of great memories. This will probably be an even bigger culture shock, but I'm excited about the experiences. They'll help me to grow as a person and as a researcher."
More information
Danna Bach 
Research Communications Officer
250-371-5676