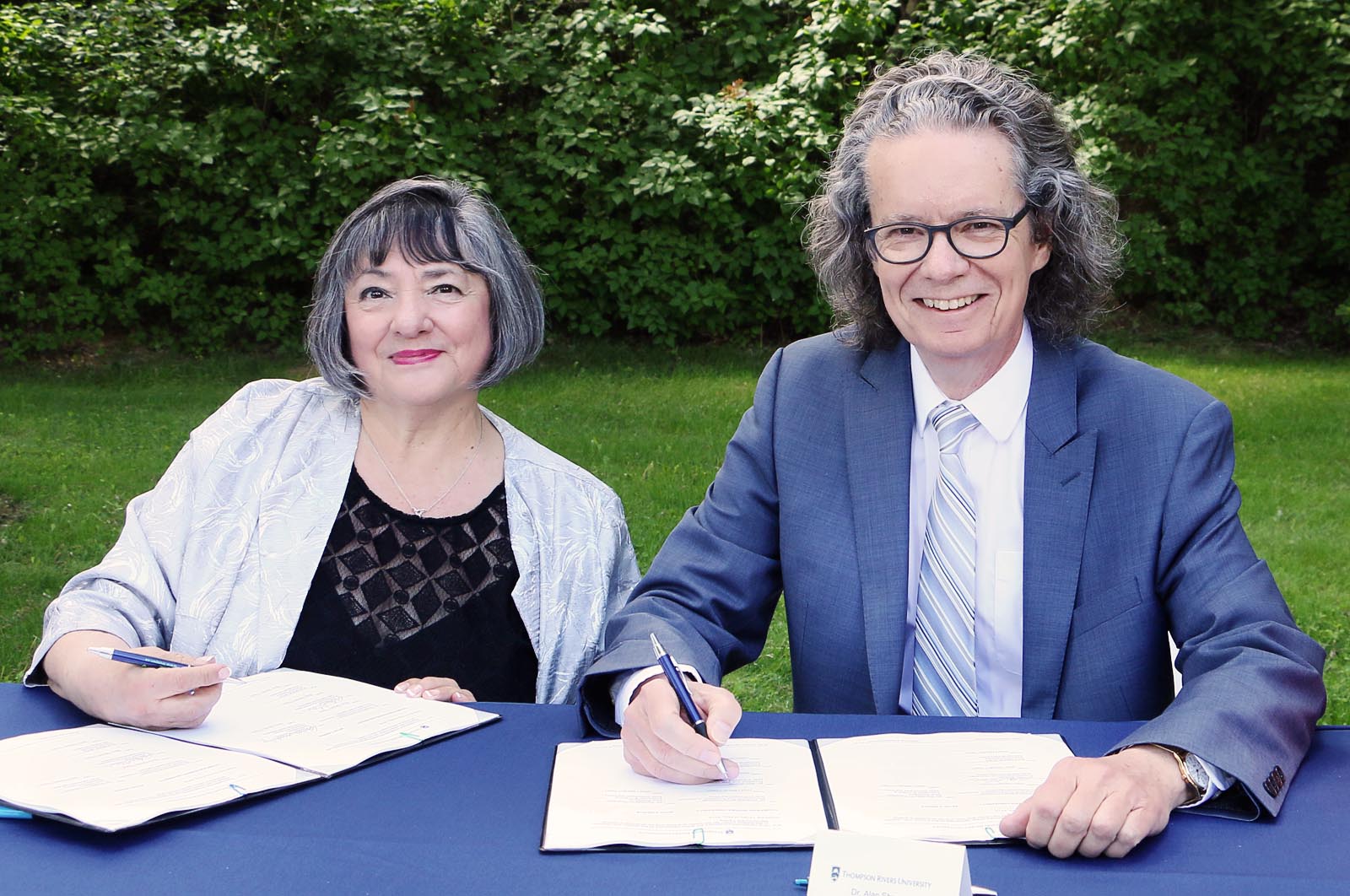 Aboriginal students now have new pathways towards earning one of three business degrees at Thompson Rivers University.
In an historic signing today between TRU and AFOA Canada—an association of Aboriginal professionals in finance, management and leadership—graduates of two business designations offered by AFOA Canada can apply their credits towards a degree in TRU's Bachelor of Business Administration, Bachelor of Commerce or Bachelor of Public Administration.
In an articulation agreement that has been two years in the making, Certified Aboriginal Financial Managers (CAFMs) and Certified Aboriginal Professional Administrators (CAPAs) can now apply their program credits towards TRU's business degrees. CAFM is for those focusing on Aboriginal financial management and CAPA for those focusing on senior level administration.
About 50 students each year are likely to either take courses or pursue degrees on campus or online.
"The signing of the articulation agreements is of utmost importance because it provides pathways to higher education opportunities for Aboriginal learners," said AFOA Canada's Vice-President of Education and Training Dr. Paulette Tremblay.
TRU's Associate Dean of the School of Business and Economics, Dan Thompson, said, "The new partnership supports TRU's strategic priority of promoting diversity, inclusion and intercultural understanding with the Aboriginal community. It also greatly expands Aboriginal educational opportunities in the areas of Aboriginal self-governance and economic development."
About AFOA
AFOA Canada (formerly Aboriginal Financial Officers Association of Canada) is a membership-driven organization and was founded as a not-for-profit association in 1999. The organization supports Aboriginal professionals in managing and governing their communities and organizations through a focus on enhancing finance, management and leadership practices and skills. AFOA Canada's premise is that the key to economic prosperity and creating a better life for Canada's Aboriginal people is in improving the management skills of those responsible for the stewardship of Aboriginal resources.
AFOA Canada has become the centre of excellence and innovation in Aboriginal finance, management and leadership. It is the largest and only organization in Canada that focuses on the capacity development and day-to-day needs of those Aboriginal professionals who are working in all of these areas. AFOA's products and programs are developed by Aboriginal professionals for Aboriginal professionals.
More information
Dan Thompson
Associate Dean, School of Business and Economics
Thompson Rivers University
250-828-5078
dthompson@tru.ca
Paulette Tremblay
Vice-President, Education and Training
AFOA Canada
613-722-5543 x114
Toll free 1-866-722-2362