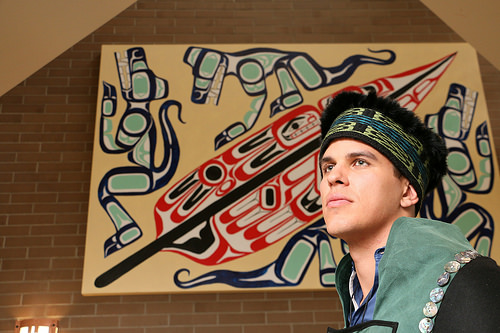 The emptiness has taken flight.
An expansive area of wall that was once empty in the Lepin sciences building, is now largely filled with an original painting by BSc Biology grad Erik Prytula ('15).
Called Taking Flight, the piece commemorates Prytula's Haida heritage and the developmental journey students take during their time at TRU. See below for a more detailed description of the piece.
A small gathering took in the official unveiling on Oct. 7, 2015 that included a smudging from TRU's Director of Aboriginal Education Paul Michel, words from TRU dignitaries and from Prytula.
The piece hangs midway between the second and third floors, with a description of the work and artist abstract located on the second floor balcony to the painting's right lower corner.
Taking Flight abstract
Taking flight commemorates the development of all the students who come to Thompson Rivers University to learn and grow as individuals.
The middle of the painting shows a flight feather made up of elements from both an eagle feather and a raven feather.
This feather is a reference to the artist's heritage, the Haida culture, in which people belong to either the Raven or the Eagle clan.
Thus, the inclusion of both clans within the feature symbolizes the all-inclusive nature of the university, where students will be more prepared for independence after attending TRU.
Finally, the feather is surrounded by the four wolves which connect the painting to the TRU sports team—The WolfPack.
Artist abstract
Erik Prytula is a Haida artist from the Eagle Clan Tsiits Ginanee, and received his BSc (Biology) from Thompson Rivers University in 2015.
His mother, Sherri Burton, is the matriarch of Tsiits Gitanee and also received a BSc (Biology) from TRU.
In addition to painting, Prytula carves argillite in the Haida tradition and his work is available through the Royal BC Museum and private art dealers.