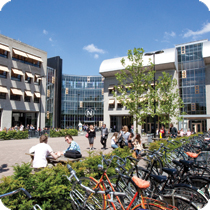 Thompson Rivers University's Department of Tourism Management is partnering with Netherlands's best university of applied sciences to offer a double degree.
"This is an excellent opportunity for our students and the students of NHTV," said Dr. Ulrich Scheck, Provost and Vice President Academic for TRU. "To earn this double degree while pursuing an international education is the ideal prelude for gaining entry to an industry that is built upon global travel and intercultural experience. It is a true expression of our Academic Plan."
Located in the picturesque city of Breda in the southern region of the Netherlands, TRU's Bachelor of Tourism Management students attend NHTV in their fourth year and earn a second credential, either a Bachelor of International Tourism Management or a Bachelor of International Leisure Management.
NHTV Breda University of Applied Sciences was rated first in its category according to Keuzegids HBO 2015 (the Netherland's University Ranking Guide).
---
Student info sessions
Check out the Tourism Management booth at the Global Village on BMO Student Street on Tuesday, March 10.
As well, Professor Nicoline de Heus of NHTV will be visiting classes on Thursday, March 12.
---
TRU's programs are complementary, not identical, to those offered at NHTV, which support a more hands-on, project-based experience. NHTV students attending TRU will get more classroom time, including an opportunity for undergraduate research. Once students, from either university, have completed three years, they will complete their fourth and final year at the alternate university. They are required to declare their intention to pursue the double degree at the end of their second year.
TRU's European Lead, Dr. Kathleen Scherf, notes that the NHTV courses are offered in English, and that "NHTV's wide and established network of tourism professionals will help open the world to TRU students."
This program, which offers two undergraduate degrees after four years of study, is a first for TRU. The Department of Tourism Management has a long history with NHTV, including Dr. Rob Hood's research term there. He has been a key champion of this project.
With a population of 180,000, colourful  and friendly Breda offers excellent cultural and social life. Major European cities such as Amsterdam, Rotterdam, Brussels, Cologne, London and Paris are all within easy reach.
More information
Email: Kathleen Scherf