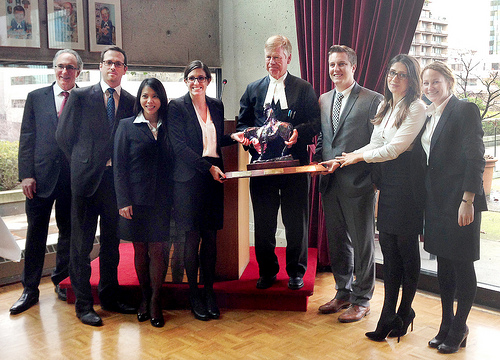 Five TRU Law students argued their way to first place in a prestigious competition over the weekend in Vancouver.
In winning the British Columbia Appeal Moot Court competition, it was the first time TRU has won and only the second time it has participated.
Open to top law students from UBC, UVic and TRU, teams are given a hypothetical situation and the opportunity to argue before Justices of the BC Court of Appeal in their regular courtroom. This year examined privacy rights and the hypothetical case of a famous author's 19-month-old child being photographed — while in a buggy — with a long-lens camera while his parents were walking down a public street.
Team TRU was made up of students Jeannette Aucoin, Cathryn Chan, Shaun Foster, Julia Roos, Donya Vahidi, with local lawyer Shaun Driver, of Cundari Seibel LLP, as coach.
"Moot court is an exceptionally challenging process for students and the fact those serving as judges were actual Justices, further heightens the pressure," said Driver, adding the weekend was the first time students have had to draft a full factum and make exhaustive submissions to court.
Additionally, the exercise assessed written and oral advocacy and ultimately challenged teams to examine the many questions related to privacy, public interest, and inherent Charter Rights.
Bradford Morse, TRU's Dean of Law, said the victory signals the quality of students and faculty TRU has attracted in its few years of operation. The first intake of Law students was fall 2011.
"Winning in only our second year of participation over UBC, which has existed for 70 years, and University of Victoria, which celebrates its 40th anniversary this year, is a truly tremendous achievement and a tribute to the highly talented students that our Faculty of Law has attracted in its short history," said Morse.
Driver added: "For a new law school, there are questions about the law students and whether they will make capable advocates and lawyers. Moot competitions are one of the only measuring sticks available to assess where the school stands in contrast to others. I think a win like this serves to answer a lot of those questions. It's an achievement the students worked so hard for and they should be exceptionally proud of. It's sort of a coming out party for the school."
Anne Pappas, Founding Assistant Dean of the Faculty of Law said: "We are exceptionally proud of our team of students, who were well prepared. Their dedication and hard work certainly showed in their presentation and their arguments."
Media inquiries
Shaun Driver, Cundari Seibel LLP
Office: 250-372-3368
Cel: 250-320-5313
Email: sdriver@cundarilaw.com