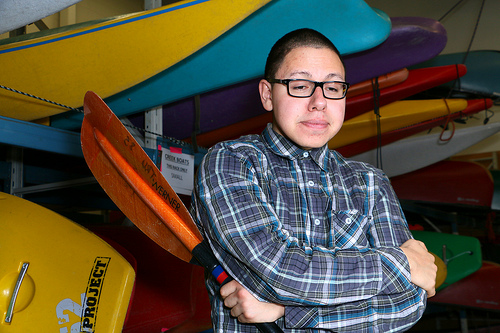 By Kara Evans
Many would assume that a student over 6,500 kms away from home would be from a country other than Canada, but for Noah Nochasak, this isn't the case. Hailing from Nain, Labrador, Nochasak made the cross-country trek to Kamloops with one specific goal in mind: to strengthen the traditional Inuit skills that have been passed down to him.
In his hometown, Nochasak travelled the land on a regular basis, developing and utilizing the knowledge and abilities that are often passed down by Elders, but he recognized that there was room for improvement.
"I fell really in love with the travel," said Nochasak. "I realized I was strong enough to do it but at the same time I needed a lot of technical work to improve on my paddling."
Recognizing this, Nochasak began his search for a post-secondary education that would allow him to progress quickly but at the same time provide him with practical tools that he could take back to Nain and utilize on the land. TRU soon became an obvious choice for him, and in 2013 he began the two-year Adventure Guide Diploma program.
While Nochasak's main goal was to refine his paddling and kayaking techniques, he soon discovered that the Adventure Guide program was a crash course in everything, and he found himself taking part in activities he'd never thought he'd ever do, like rock climbing, skiing or mountaineering, activities that are not traditional in Inuit culture.
"I never saw myself as a mountain person because there's no wildlife up there," said Nochasak. "A lot of the lessons learned where I'm from are more pragmatic; you go somewhere because there are animals to hunt, or food to collect and eat, whereas a lot of the abilities learned here are highly technical but you don't come back with anything, like a kill."
After interacting with his classmates Nochasak realized that the outdoors can be not just a necessity of living but also something to be passionate about.
Once he completes his diploma in the spring of 2015, Nochasak plans to obtain his bachelor's degree in Interdisciplinary Studies and eventually return to Nain, to use what he has learned in the Adventure Guide program to not only promote tourism but also to teach the traditional Inuit ways of living to the next generation and boost their self-esteem.
"They like the sports that are currently available, like volleyball or hockey, but those don't get you outside and teach you how to use the land," said Nochasak. "It's about getting people outside on the land and relearning our own geography in detail. People are travelling farther away and they're learning about other cultures but they don't know what's in their own backyard."