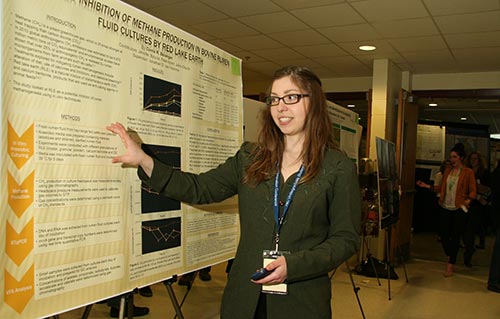 UPDATED Mar. 20
Students across TRU's diverse range of programs are getting involved in research, and it goes beyond work in a lab—you have a chance to get out in the field, learn from hands-on, self-directed experimentation, and share your results through conferences and publication. With a dedicated faculty supervisor mentoring you one-on-one, you'll find a topic you can get excited about and the support to achieve your research goals.
See what research is all about
Not sure if research is your thing? Interact with fellow students and see the wide range of projects and creative work on display at TRU's 10th annual Undergraduate Research and Innovation Conference Mar. 27-28.
Student poster exhibits—from biology and economics to nursing and social work—are open noon to 5 p.m. on Friday in Student Street. A reception at 5 p.m. at the Culinary Arts Training Centre features the Research Mentor Awards, the launch of the 2014 Conference Proceedings, and a showcase of ECED 3450 posters and Engagement Ambassador e-portfolios.
From 7:30 to 8:30 p.m. in the Black Box Theatre, the TRU Actors Workshop Theatre presents four one-act plays from the 16th annual Director's Festival, followed by a viewing of the annual Visual Arts Diploma and Certificate exhibiting in the TRU Art Gallery and dessert buffet prepared by Culinary Arts students.
On Saturday, choose from five concurrent one-hour sessions at 9:30, 11, 1:15, 2:30 and 4, showcasing the research of over 75 undergraduate students in short presentations and panels.
Not a TRU student yet? Prospective students and families visiting TRU for Open House are welcome to attend and see where undergraduate research opportunities can take you.
View the TRU Undergraduate Research & Innovation Conference Program
"Presenting at a conference is one of the most rewarding and beneficial things you can do as an undergrad," says Justin Greer, a history major in his final year of the Bachelor of Arts, and a member of the 2015 Philosophy, History and Politics (PHP) Conference organizing committee.
"Not only does it offer a chance to share your research with students and faculty from TRU as well as conference attendees from across Canada and the US, but it also offers public speaking practice, and a great way to develop and improve on your research skills," he says. "It looks good on your CV, too. I would encourage all students to attend the conference and check out what this wonderful experience is all about."
Get started
If you're thinking about doing research, check out TRU's new Co-Curricular Undergraduate Research Program. You'll learn how to conduct research, and how to obtain a co-curricular record (CCR) to officially document learning gained through your research activities outside the classroom.
With grants, awards, co-op placements and research assistant positions available to support aspiring researchers, you have many avenues to explore research without putting financial strain on your education plans.
Apply for funding
TRU's Undergraduate Research Experience Award Program (UREAP) provides you with $4,500 scholarships to complete your own research projects, and funds are also available through the Natural Sciences and Engineering Research Council (NSERC) Undergraduate Student Research Awards (USRA). Over the past year, 52 students pursued research projects with UREAP awards, and 68 Undergraduate Research Assistants were hired to work with faculty.
Take advantage of the opportunity to increase your academic and professional success by engaging in research while you are still an undergraduate.
More about doing undergraduate research:
Bring Learning to Life with Research Experience
PHP Conference Presents Unique Opportunities