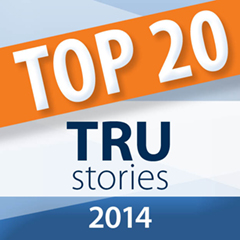 In the spirit of looking back as the year draws to a close, we savour the highlights of 2014 at Thompson Rivers University with the top stories that made headlines.
'Tis the season to celebrate many TRU milestones, from a $650 million impact on the provincial economy, to $200,000 raised for the United Way and TRU Foundation. 2014 saw a Three Minute Thesis finalist, an Amazing Race winner, and a TRU researcher named to the College of New Scholars, Artists and Scientists. From taking the top spot in Aid to Small Universities research funding, to opening an award-winning 44,000 square foot addition to Old Main to house the inaugural graduating class of TRU Law, it's been a year of firsts.
---
Here are the Newsroom's picks of the top 20 TRU stories of 2014.
TRU measures its economic and social impacts to province and region
TRU's latest economic and social impact study estimates the university's 1,400 full-time equivalent staff positions spin-off into 2,110 jobs locally, and nearly 3,202 jobs province-wide.
The Main attraction
The Faculty of Law officially opened its award-winning new space atop Old Main, replete with a law library, law clinic, and moot court, just in time to celebrate Law's first graduating class of 2014.
Major gifts announced at Gala 
A $2.25 million contribution to TRU from Ken Lepin, the most generous private donor in the history of the university, was the major highlight of another successful Foundation Gala.
Royal Society names Ross Friedman to inaugural group
Dr. Cynthia Ross Friedman, Biological Sciences, was inducted to the College of New Scholars, Artists and Scientists, 91 inaugural members representing the emerging generation of scholarly, scientific and artistic leadership in Canada.
Seven inspiring individuals receive honorary degrees
Craig Kielburger, Samantha Nutt and Evan Adams were among seven individuals who received honorary doctorates from TRU this spring, and Pat Morrow and Clara Hughes were recognized this fall.
Forum brings 54 chiefs together to shape research
The first ever Interior First Nations Research Forum in partnership with the Secwepemc Health Caucus and the First Nations Health Authority was hosted by TRU Sept. 12-13 to discuss Indigenous research.
Read more about the forum in the Fall 2014 issue of Bridges Magazine
Bold plan will guide TRU's sustainability efforts
TRU released its new Strategic Sustainability Plan for the next five years, with themes including transportation, water, internal advocacy, external advocacy, research, curriculum, monitoring and communication.
Tourism student wins Amazing Race Canada
Tourism student Peter Schmalz is wearing a bigger smile than usual after he and his teammate won the second season of Amazing Race Canada. The reality series concluded on Sept. 21.
Unprecedented decision on Indigenous land rights
Law faculty member Nicole Schabus was part of the team helping bring about an unprecedented decision on indigenous land rights in Canada.
Prehistoric hunters on the cutting edge
New research by Dr. Karl Hutchings and colleagues found evidence that Paleolithic hunters developed throwing spear technology far earlier than first thought.
Men's volleyball wins two national awards
WolfPack volleyball players Brad Gunter and Colin Carson were honoured with national Canadian Interuniversity Sport awards on Feb. 26.
TRU takes top spot for small university research funding
TRU ranked first out of 51 applications submitted for the 2014 Aid to Small Universities (ASU) grant, providing just one more example of the depth and breadth of its research capacity and quality.
TRU, TteS commit to share in ways of knowing
TRU and the Tk'emlúps te Secwépemc Indian Band (TteS) strengthened their relationship with the signing of a memorandum of understanding that commits to greater indigenization of TRU's Kamloops campus.
Live at TRU Series celebrates 40 years
A diverse music lineup rang in the 40th anniversary of the Live at TRU! series in September. The free performances at the Alumni Theatre run through March 2015.
Testing her thesis against Canada's best
Erika Dufort-Lefrancois represented TRU at the national Three Minute Thesis competition after winning first place at the Western regional competition in Calgary on May 2.
TRUly United: a fundraising model that changes the game
The TRUly United campaign, the first combined United Way and internal campaign at a Canadian university, wrapped up with big gains for students and community and set a precedent in post-secondary philanthropy.
New opportunity for local high school students
School District 73 and TRU signed an agreement on Nov. 28 to offer dual credits in construction and mechanical trades courses, administered and taught through TRU faculty at the new NorKam Trades and Technology School.
Large donation pledged to health centre
The Williams Lake and District Credit Union (WLDCU) pledged $100,000 to assist in the operation of the Health Centre at TRU's Williams Lake campus. The centre was renamed the Williams Lake and District Credit Union Community Health Centre in a ceremony on Nov. 27.
First professor-student co-authored article wins prize for TRU Law
Dr. Richard Frimpong Oppong and student Lisa Niro ('14) of the Faculty of Law were awarded the James Crawford Prize by a leading peer-reviewed journal for their co-authored article on international law.
TRU advances sustainability with state-of-the-art composter
The Office of Environment and Sustainability initiated a pilot project to provide composting on campus through participating departments and Zero Waste Stations, using a commercial composter in the Culinary Arts Training Centre.