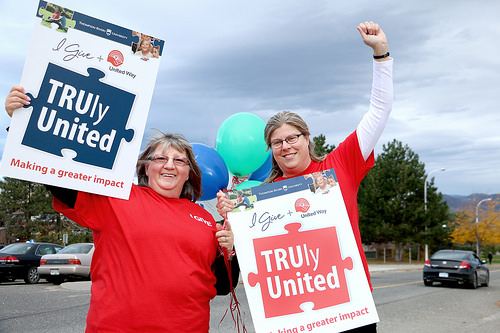 Thompson Rivers University has wrapped up a fundraising campaign that sets a new precedent in the post-secondary sector.
In an announcement on Friday, Nov. 14, President Alan Shaver commended the university's staff and faculty for raising a total of more than $203,000 for both the TRU Foundation for student scholarships and bursaries, as well as for the Thompson Nicola Cariboo United Way supporting a range of regional non-profit agencies.
Dubbed TRUly United, the campaign combined two previously separate campaigns in one concerted, joint effort that mobilized hundreds of faculty and staff to give to both internal as well as external beneficiaries.
"TRUly United is a powerful reflection of the strong community connections between TRU and the cities and region we serve," said Christopher Seguin, TRU's Vice-President, Advancement. "We know that's the case with post-secondaries across Canada, many of whom have already contacted us for information on how to adapt our model to their institutions."
Added President Shaver, "Can a university be a vibrant part of the community? Absolutely. The TRUly United campaign is proof of that—and it's just one example of how TRU is redefining what a university can be, and what it can do."
---
---
Not only a precedent-setter in Canadian post-secondary fundraising, there were many significant 'firsts' to mark the TRUly United campaign:
The campaigns were scheduled at the same time and governed by a joint committee.
TRU faculty and staff had an additional, new incentive to give: a private donor matched any increased donations or new donations to either cause.
The university developed and deployed intrusive marketing and communications which combined a new visual concept reflecting the identities of both TRU and United Way, provocative videos by past donors and prize draws for everything from free parking to an extra vacation day.
The strategy worked: for the 2014 campaign, contributions to both The TRU Foundation and the United Way increased by 41 per cent overall.
For more information contact:
TRU Media Relations
marcom@tru.ca