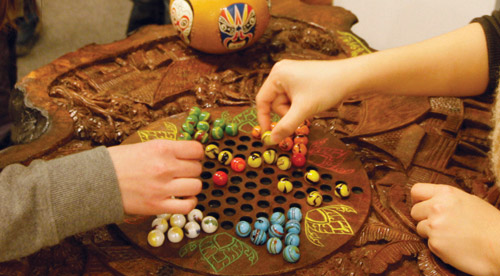 Watch the International Showcase Live Online
If Vince Watson, business student and member of TRU's Intercultural Council, could use one word to describe his university, it would be "colourful", because TRU embraces diversity in so many ways. One of those ways is International Days, March 11 to 14, and Watson encourages local as well as international students to come enjoy all the colours, flavours, textures and sounds the four-day event has to offer. "Until you experience different cultures, you can have all the textbook knowledge you want but you won't really have a clear understanding of them."
As a member of the TRUSU Pan-Africa Club and a co-op student at TRU World, Watson is excited to help kick off the week with an opening reception on March 10 for TRU's International Days keynote speaker, Clemantine Wamariya. "We are privileged to be a part of this occasion and would like to encourage students, faculty and staff to join us to celebrate the inspirational story of this rising star."
Clemantine Wamariya is a human rights activist and four-time guest of the Oprah Winfrey Show. In her keynote address at International Days' opening ceremonies on March 11, the Yale graduate will talk about her experience surviving the genocide in Rwanda, and about the importance of becoming involved in the world. The opening ceremonies begin at 6pm in the Grand Hall at the Campus Activity Centre—see the International Days Schedule for more information.
International Days offers an incredible variety of performances, art, food, games, workshops and presentations to experience—most for free. Check out the brief survey below, and for all the details, see the online schedule. Print programs will also be available.
Global Cultures
The Lleqʾméltn ("a place of learning") Aboriginal series showcases Artists at Work at the TRU Art Gallery, as well as drum-making, carving and beading workshops, storytelling and dance. Share in the universal love of games at "Games People Play" on Student Street, and for a one-on-one discussion of cultural experiences, sign out a living "book" from the Living Library.
Food
International Days is a festival of flavours. Join a student-led cooking class on Indian finger food or Jamaican chicken soup. The Kamloops Multicultural Society Cooking Show returns to the TRU Residence with samples of Japanese, Chinese, Taiwanese, Filipino, and Indian cuisine, while the Terrace Cafeteria is featuring a different country each day. And don't miss the International Food Fair at Friday's Showcase.
Theatre & Film
The TRU Aboriginal Playback Theatre will perform "Guerilla Playback" around campus—look for them on Student Street, in the House of Learning and International buildings, and at the Campus Activity Centre. The Vancouver Playback Theatre performs Friday night at the Alumni Theatre. Also check out an international movie matinee and discussion, featuring Watermark, 12 Years a Slave, and Even the Rain.
Study Abroad
Find out how to enhance your academic and personal growth at the Global Village showcase of study abroad, volunteer, work and/or intern abroad opportunities available to both students and faculty. Attend a Study Abroad Support Session with peer Ambassadors, as well as Study Abroad and Global Competency information sessions.
Speakers
This year's lineup of guest speakers and scholars from Thailand, the Phillipines, Belize, Hungary and Uganda share their international perspectives on topics ranging from human rights to conservation, health tourism to medicine. From the schedule, click the Speakers tab to see more information.
Music & Dance
Enjoy a hoop dance performance and workshop by World Champion hoop dancer Dallas Arcand, or learn to move to the music of Afro-Caribbean Dance. Capping the week, TRU's International Showcase features a variety of student, staff and faculty music and dance performances as well as a multicultural fashion show.
Flag Parade
Enjoy a beautiful procession of flags from around the world as the flag parade travels across campus from the Campus Activity Centre, around the Campus Commons, past Old Main and up towards the TRU Gymnasium to kick-off Friday's International Showcase.
International Days is an easy environment to develop global awareness in. Whether you're from Kamloops or Calgary, Stockholm or Shanghai, all students are encouraged to take advantage of this opportunity to learn from each other.
"International Days is a platform for TRU students from all areas of the globe to express themselves, represent their respective countries and celebrate their culture," says Watson. Look for him as part of the #myTRU Blog series, International Flavours on a Student Budget, sharing his Jamaican Chicken Soup.
Watson was among the presenters at TRU's Professional Development Day on Feb. 19, 2014.
Watch his PD Day presentation.
Story research provided by Journalism student Amy Reinitz.