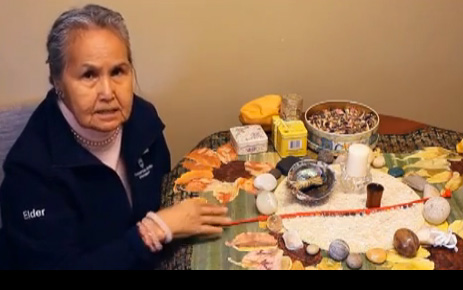 "Our young people are growing away from us—tradition is tradition, that's old stuff. And yet it's such an important part of our history and our survival," says Barb Larson, one of the Elder voices in a documentary called Remembering Our Way Forward: Dementia From a Secwepemc Perspective.
The video and a children's book called A Good Day with Grandma (Kyé7e) and Me were created out of roundtable discussions with Secwepemc communities and interviews with First Nations Elders as part of the "Stories of Our Past" project.
Secwepemc Elders, including Estella Patrick Moller of TRU's Elder in the House program, have been working collaboratively with co-leads Dr. Wendy Hulko of TRU's School of Social Work and Human Service and Danielle Wilson of the Interior Health Authority and other researchers on the "Culturally Safe Dementia Care: Building Nursing Capacity to Care for First Nations Elders with Memory Loss" community-based research project to understand the impact of dementia in Secwepemc communities. With "Stories of Our Past", Elders sought to compile and preserve their stories, so they can be used for educational purposes within their communities and strengthen intergenerational relationships.
"Elders felt that their youth were disconnected from their culture, resulting in a widening gap between the youth and their community Elders," says Wilson. "The video and storybook were viewed as means to re-connect these generations and at the same time inform the Secwepemc youth about dementia among their Elders."
The 22-minute documentary by Trevor Mack, directed at Secwepemc teens, and Karlene Harvey's 24-page storybook are intended to increase the familiarity of First Nation children and youth with their cultural traditions and help them better understand aging and memory loss experienced by their grandparents or other Elders. As a companion to the video and book, the Stories of Our Past Teaching Guide enhances the cultural teachings provided by community schools. Elders recommended the creation of materials on caring for grandparents based on traditional Secwepemc views on aging.
"It's an exciting time to be working with First Nations communities because there's a momentum building," says undergraduate research assistant Jessica Kent (neé Gates), who participated in the filming and production of the video and book as part of her work with Hulko. As a fourth-year Bachelor of Social Work student Kent values the opportunities this research has provided for her to deepen her understanding of Secwepemc culture, and to work on a team that includes First Nations Elders.
Watch Remembering Our Way Forward: Dementia From a Secwepemc Perspective
Download A Good Day with Kyé7e (Grandma) and Me on PDF
[youtube]http://www.youtube.com/watch?v=rTE1Z_oqvxI[/youtube]
For more information, contact:
Dr. Wendy Hulko
School of Social Work and Human Service
Faculty of Human, Social, and Educational Development
whulko@tru.ca
250.377.6130