Posted on: May 1, 2017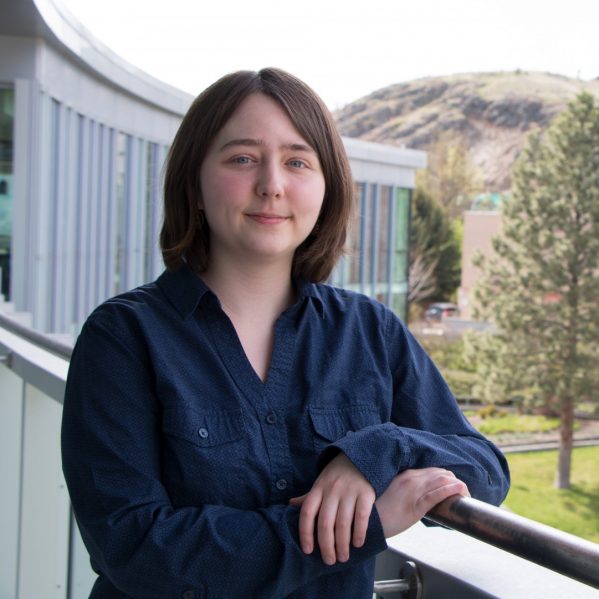 Bronwen Evans has just won her first year of tuition—a fully-paid-for year of tuition credit—due to the entry she submitted in TRU's inaugural creative non-fiction contest.
A home-schooled high school student, graduating this spring, who plays cello, piano and enjoys writing code, she is excited more than ever about starting her dual degree in computing science and business next year at TRU.
Evans heard about the contest through an email from TRU two weeks before the deadline. At first she was unsure about entering, wasn't sure what to write about and whether or not anything she wrote would be good enough.
However, her family strongly encouraged her to try. If she didn't win, she knew it would be a good experience.
Evans was able to put her courses on the back burner and become immersed in the creative non-fiction genre after learning about the contest.
She familiarized herself with creative non-fiction, wrote a few drafts and tossed around several stories before settling on writing about her great-grandmother in life and in death.
Writing her account of this personal experience turned out to be a great way for Evans to process her feelings. She submitted her entry the day before the deadline of Dec. 15.
"I was very nervous to share a personal story. Writing it was definitely cathartic, but I had to find a way to tell the story in a way that I was comfortable showing to complete strangers," said Evans.
"Sharing your writing is nerve-racking, but this story in particular was very private, which made it even harder. I'm glad I chose to submit this, in the end, because the positive feedback I received has helped to ease my fear."
Her advice to other young writers is to read and write as much as possible.
"Pay attention to what your favourite authors are doing and how you can emulate them. Try it out on your own. You don't have to share your work, either. If you only write for yourself, that's a good enough reason to write."
Evans is especially looking forward to meeting new people and learning in a physical brick and mortar school. Having been home-schooled since grade five, she's looking forward to a new sense of community at TRU.
On the judging process
The 52 total entries were longlisted to 18 by students in George Johnson's editing and publishing class.
That list was then given to a judging panel consisting of instructor Susan Buis, who landed a spot on the 2016 CBC Creative Nonfiction Prize Longlist with her latest work What Lies in Sight of the Teller; instructor Karen Hofmann, who recently took first place in the annual UBC Okanagan writing contest and was longlisted for Best Canadian Poetry in English in 2012; and Pete Smith, a Canadian poet whose poems, reviews and essays have been published widely in the UK, the USA and Canada.
The three carefully read the stories and created a shortlist based on the criteria that the story fit the genre of creative non-fiction: that it used elements of both essay and personal narrative, developed the topic with thought and originality, demonstrated the ability to be concrete and real as well as philosophical, demonstrated good control of style, diction, and mechanics, and, perhaps most importantly, moved them as readers.
They then met and compared their shortlists, and they were very close. The judges discussed the finalists and decided by consensus on the piece that demonstrated the most strength.
"It was like (CBC's) Canada Reads in that we each picked a finalist to defend and attempted to persuade the jury of its merits. We listened carefully to each other," said Hofmann.
"We liked the winning piece, first of all, for its clear focus and its fit with the genre. It is the most convincing of the essays, from the perspective of a moving personal experience leading to a wider embrace of social/cultural values. Structurally, it is well-organized."
Next year's contest
TRU will run this contest again and more information will be posted closer to September on the writing contest page, including information on the theme, rules and links to where the 2016 longlist will be viewable.
What advice do the three judges have for those entering the 2017 contest?
"Get a good grasp of the range of possibilities of the genre of creative non-fiction and the personal essay. Read, read, read," said Hofmann. "Submissions must fit the genre: they should offer both a fresh, original, close look at lived experience and a reflection on the connection of this experience to wider social and cultural values, while avoiding cliché. The essay should be carefully proofread and edited."
For more information
Lucille Gnanasihamany
Associate Vice-President
Marketing & Communications
778-471-8389
lgnanasihamany@tru.ca