Posted on: April 20, 2017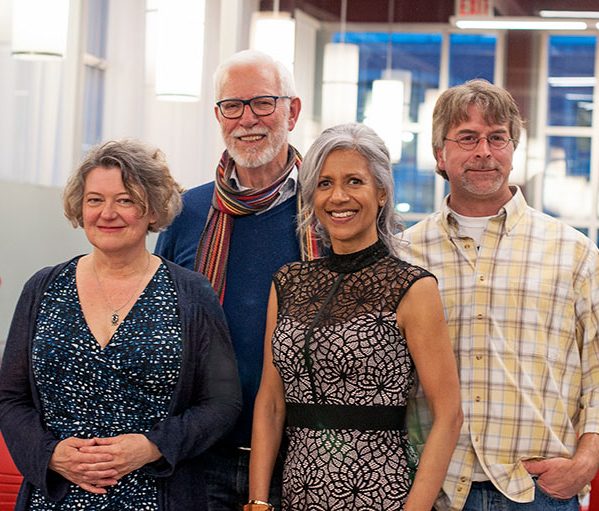 English faculty member Karen Hofmann took first place for her short story "The Island."
UBC Writer in Residence Renée Sarojini Saklikar unveiled the winners of the 2017 Okanagan Short Story Contest Tuesday night in the Great Room at the Kelowna branch of the Okanagan Regional Library.
Cliff Hatcher, also of Kamloops, placed second with "A Certain Way With Furniture" while Kelowna's Michael Griffin took third place for his story, "Poppy and Boo."
"All three stories stayed with me and resonated their own individual strangeness: that quality that marks writing as something worthy of attention, for having been imbued with intention by its creator, crafted to persuade the reader of some urgency," said Saklikar.
"That quality of strangeness is the highest compliment, that one writer can give to another, so I offer this to each story: commendation for a strange voice, for seeing the world a little off-kilter, in ways that disturb and unsettle."
This is the third time Hofmann has won the Okanagan Short Fiction contest. She also won in 2007 with "The Canoe" and in 2012 with "Billeh and the Bee Man."
She also placed third in the Prairie Fire Short Fiction Contest earlier this year with a story called "Clearwater."
"The Island" is about a camping trip gone terribly wrong. Hofmann wanted to write a story about a couple in a West Coast setting.
"I've worked on this story off and on for a couple of years. I like to return to story drafts many times over a long period in order to see them more objectively, and discover what they're really about, and I revise and polish extensively."
Working on stories over long periods, revising and polishing is the advice Hofmann gives to her students.
Along with the $500 prize money and bragging rights, her story will be published in the Summer/Fall edition of Vancouver-based subTerrain magazine. She also wins a one-week residency at the Woodhaven Eco Culture Centre. Second and third-place winners receive $200 and $100, respectively.
Her next novel is coming out with NeWest Press in September. She plans to use the time at Woodhaven to work on a new novel in progress.
The Okanagan Short Story Contest is sponsored by UBC Okanagan's Faculty of Creative and Critical Studies (FCCS), Kelowna Capital News, the Central Okanagan Foundation and subTerrain magazine.