Posted on: September 12, 2016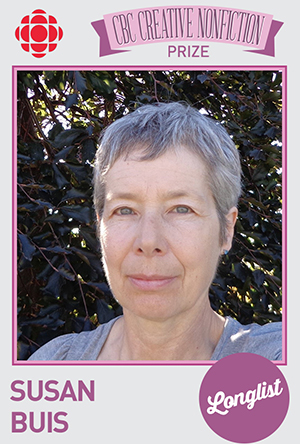 Susan Buis, instructor in the Faculty of Arts, has landed a spot on the 2016 CBC Creative Nonfiction Prize Longlist with her latest work, What Lies in Sight of the Teller.
She's influenced by the landscape of her home environment of Knutsford, a rural community outside the City of Kamloops. It's ranching land and it's a source of inspiration to Buis.
"The landscape here is really, really inspiring. When I make the drive into the city, I have to focus because the beauty can just take me away," said Buis.
Much of her stories include Raven, a border collie companion she adopted from the Animal Health Technology program before she started teaching at TRU.
They go on walks together through the rolling hills just outside of Kamloops and Buis sees the world a little differently, especially when there's a fog out.
"Depending on the season, there's a lot of fog in Knutsford. The fog here is like our ocean, it rises and falls at different times of the year and the day," said Buis.
What Lies in Sight of the Teller is about living in Knutsford and the geography, light and fog all play as characters in the narrative. Raven is always at Buis's side on the journeys.
"I find the sublime starkness of the geography cleansing. And the fog that lifts and rises is a sort of metaphor for seeing one thing at one time. Seeing different aspects of the world emphasized. It's about learning to focus and not be distracted."
Buis was also in the longlist for the 2014 CBC Poetry Prize. She says her first love is poetry, but does find a lot of success in creative non-fiction. Her work has appeared in many major literary magazines in Canada.
Buis is teaching communications 1290 and 2290 in the Journalism, Communications and New Media program this fall semester.
The 2016 CBC Creative Nonfiction Prize shortlist will be revealed on September 14 and the winner on September 21.