Posted on: February 17, 2017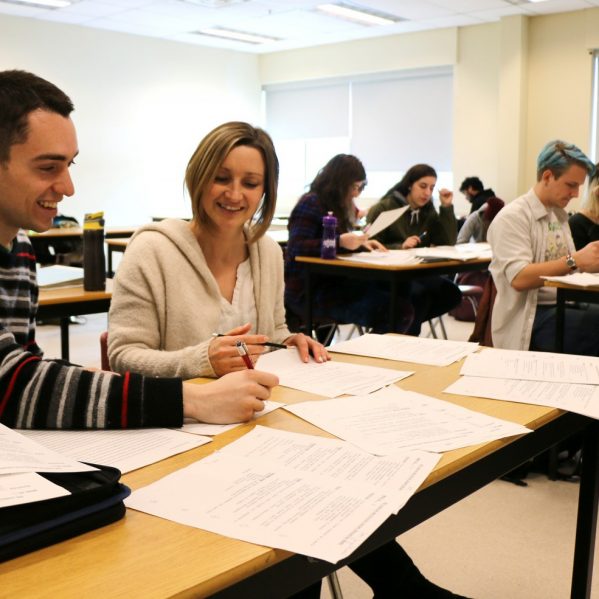 The students in George Johnson's editing and publishing class are getting some unique real-world experience—reading through and evaluating 52 submissions from high school students across Canada for a creative non-fiction contest currently running at TRU.
Split into seven groups of two, each pair of students has been given seven or eight entries to judge and make notes on. They will develop a long list of up to 25 submissions by Mar. 31, under the guidance of Johnson.
Most of the students in his class have never felt this much pressure associated with editing and providing constructive criticism before. The stakes are high in this process: the grand-prize is first-year tuition at TRU—the equivalent of up to $5,500 for the winner.
"There is a wide range of styles and experiences here. I feel like I've gotten to really know seven different people. It's evident that they've put their heart and soul into their essay," said student Tanya Elwood.
The students use a rubric based on the judging criteria laid out in the contest rules. Four categories, weighted equally are used in the process: structure, use of language, theme and original expression. Feedback from Johnson's students will be sent to each person who entered the essay contest, along with a thank you gift and a letter from the dean.
"Everyone approached this from their own perspective," said Jake MacLaren, a fourth-year arts student. "They shared their story and their interpretation of the human experience, using their own voice—it's very impressive."
Long-listed submissions will be short-listed to up to ten submissions by TRU's English department faculty members by Apr. 1, 2017. The grand-prize winner will be selected from the short-list by May 1, 2017 by a special judging panel.
The special judging panel includes instructor Susan Buis, who recently landed a spot on the 2016 CBC Creative Nonfiction Prize Longlist with her latest work What Lies in Sight of the Teller; instructor Karen Hofmann, who was longlisted for Best Canadian Poetry in English in 2012; and Pete Smith, a Canadian poet whose poems, reviews and essays have been published widely in the UK, the USA and Canada.
More information
Dr. George M. Johnson
English and Modern Languages
Faculty of Arts
250-371-5556
gjohnson@tru.ca