The opioid crisis in British Columbia has been growing since 2012, with more toxic and unregulated drugs entering communities across the province. According to recent data from the BC Coroners Service, more than 1,600 people died from overdoses in BC in the first nine months of 2022, which is the largest amount recorded in the province within that time frame. 
In response to the opioid crisis in 2017, the TRU Wellness Centre implemented TRU's Take Home Naloxone program, which offers free, drop-in naloxone training for students, staff and faculty. Naloxone is a lifesaving antidote that can reverse the effects of an opioid overdose. Some examples of opioids include heroin, morphine, fentanyl, T3 and methadone.
As part of her TRU Student Wellness Ambassador training, psychology major Ghritaachi Mehta is adept in naloxone administration and instruction and encourages all students, staff and faculty to access this training.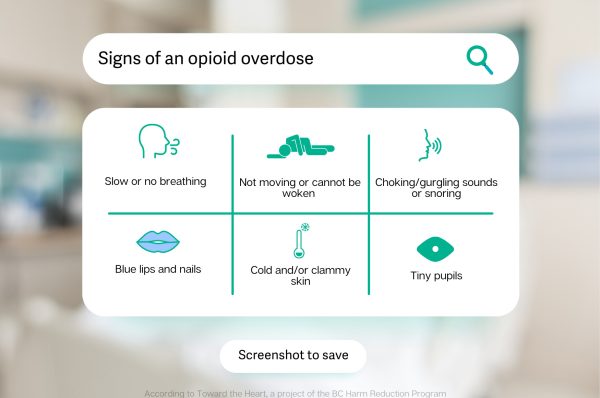 When administering naloxone, an individual must contend with different components:
      Call 911
      Prep naloxone
      Keep talking to the person experiencing an overdose 
      Check if they're breathing 
      Deliver the naloxone 
      Give them breaths
      Continuously talk with the 911 operator and provide updates
Mehta stresses that no matter how much training you have, you can never be fully prepared for each unique situation. "When you're learning, everything's calm and smooth. Your ampoules are easy to break, and you can open your syringes just fine. But in a real-life scenario, things could be more complicated. Also, in training, you can put your naloxone ampoule on a flat surface, but you can't always do that in an emergency."
Naloxone training is a great way to de-stigmatize the idea of providing support for people using substances. "You never know when you might have to face an overdose." Metha says, "Resources should be available to everyone, especially those struggling with substance abuse."
The Wellness Centre is located in Old Main 1479. Drop by anytime the centre is open to receive training and a take-home naloxone kit. Follow the team on Instagram for announcements, information and events.
Sign up for BC's Toxic Drug Alerts System. To receive alerts, text JOIN to ALERTS (253787)
If you or someone you know is struggling with substance use and addiction, reach out for help on or off campus.  
Campus Resources:
TRU Counselling
Old Main 1631
250-828-5023
studentservices@tru.ca
TRU Counselling – Williams Lake Campus
250-392-8000
williamslake@tru.ca
TRU Wellness Centre
Old Main 1479
250-828-5010
rgrobb@tru.ca 
Community Resources:
Kamloops Mental Health and Substance Use
235 Lansdowne St. (lower level of Lansdowne Centre), Kamloops BC
250-377-6500
After hours: 250-377-0088
ASK Wellness Society
433 Tranquille Rd, Kamloops BC
250-299-2262
Williams Lake Mental Health and Substance Use
487 Borland Street, Williams Lake BC
250-392-1484