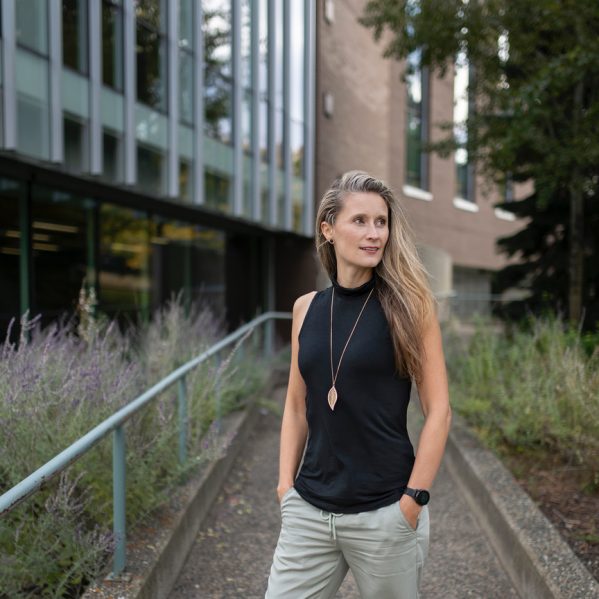 Kristina Benson's deep love and appreciation for design is palpable. From typography to layout, the TRU alum has a passion and enthusiasm for all things design.
Twenty-plus years after graduating, she credits her fine arts studies at TRU for providing a foundation and giving her the building blocks needed to establish her career.
"I use a lot of the things I was taught 20 years ago. TRU gave me the foundation I needed to get to the place that I'm at today," she says.
Dansk Design Group
After finishing her studies at TRU in 1999, Benson moved to Vancouver to obtain a Bachelor of Design at Emily Carr, transferring some of her credits in the process and shaving a year off the standard four-year degree.
She founded Dansk Design Group, a graphic design company offering services ranging from logo creation and branding to billboards and book design.
Today, Benson is still at the helm of the company and has created long-term relationships with several clients, often calling on the support of the freelance artist community to meet client needs and manage her workload.
Her favourite deliverable? Large-format print projects like annual reports — but Benson is quick to note that the diversity of projects is the best part of being a graphic designer.
"There aren't too many jobs that offer this level of fluidity," Benson says. "I do a little bit of everything, and I'm always eager to meet new clients. It keeps things fresh."
Although her sunny disposition gives a positive spin to all experiences, a handful of significant moments have held extra meaning throughout her career — most recently, when her work on Local Voice, a union membership magazine, won its seventh Labor Media Award through the International Labor Communications Association.
At the end of 2021, the magazine won second place in North America for general excellence in print publication for organizations with a membership of 10,001 to 30,000. The magazine's publisher, local union office MoveUP, has been a client for nearly 10 years, originally hiring Benson to update the magazine.
Now, as a regular collaborator for the triannual publication distributed to members three times a year, she talks fondly of both the team she works with, but also the stories she gets to showcase.
"I'm the one who gets the privilege of laying out the stories of union members and adding the right combination of infographics and images that will entice readers into what is being said," Benson says.
What's the key to success?
With fleeting fads and changing technology, the graphic design industry is constantly in flux.
For students, Benson's advice is to be flexible but also consistent.
"If you can figure out your sense of style and be true to that, you'll do really well," she says.
"I've stuck to the same sense of style from early on and now people come to me for it. It's like an artist — if you want Van Gogh, you go to Van Gogh."