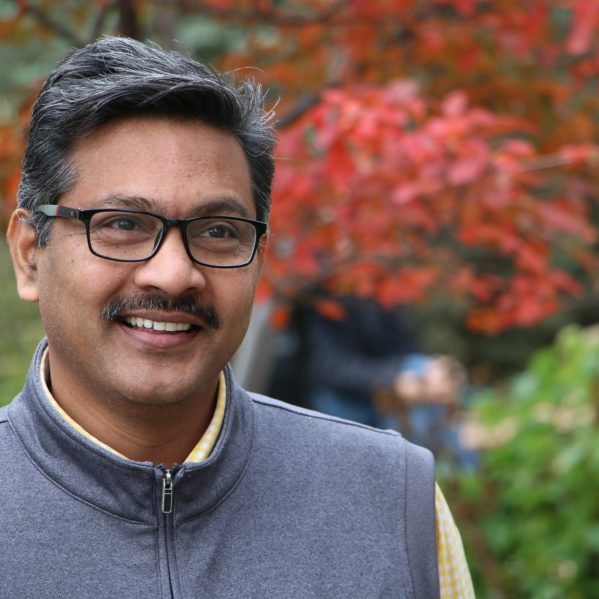 How can communities better prepare and respond to natural hazards and disasters?  In what ways can community science empower community members to build disaster resilient societies?
Thanks to a $227,000 grant through the Social Sciences and Humanities Research Council of Canada (SSHRC) New Frontiers in Research Fund (NFRF) Special Call on Innovative Approaches to Research in the Pandemic Context, Dr. Bala Nikku — the first TRU faculty member to receive NFRF Special Call funding as a principal investigator— can look at the power of community science and the important role of social work in natural hazards and disasters.
Natural disasters inform work
Born in an Indian village and raised in an agricultural community, Nikku is all-too familiar with natural disasters.
"Famine, floods and poverty are common where I'm from," says Nikku, "so these lived experiences have certainly informed my work."
Improperly managed natural hazards — such as droughts, earthquakes and volcanic eruptions — can become natural disasters where there is a significant loss of human life, property or environmental damage. And this, according to Nikku, is where social work comes in.
"Even if hazards become disasters, they bring opportunities that inform my role as a social worker. If there is an earthquake and a school is levelled to the ground, we can consider why the building fell, look at other buildings that remain standing and explore the impact on the community. There's an opportunity for learning that takes place."
Role of place-based knowledge
For this project, Nikku and his team will focus on community-based research, using disaster-affected community sites and environments in Nepal, Sri Lanka and Canada as a starting point for planning and developing disaster resiliency.
"Nepal experienced the 2015 earthquakes, so we'll be working with the Haku community in the Rasuwa district of northern Nepal; Sri Lanka had flooding and a tsunami in 2004, so we're working with a fishing community in eastern Sri Lanka; and Canada had wildfires, so we'll be consulting with an Indigenous community, yet to be selected, in BC," says Nikku.
Unlike traditional research work, community scientists, not the researchers themselves, are driving the project research.
"I can't understand all the experiences within these communities, so I rely on those within these communities — including community scientists, community researchers and community knowledge keepers — to provide input. And this is where the place-based knowledge comes in," says Nikku.
Together with community members, the research team will frame research questions that are related to community disaster resilience and find answers to these questions. The community will then act on the evidence received. "For instance, if the Haku community in Nepal asks what happened to the vegetation after the 2015 earthquake, we would focus on that," says Nikku. "We would analyze all the details and present it to them."
Community toolbox
Focused on enhancing community resilience in the face of natural hazards and disasters, Nikku and his team members from Canada, Nepal and Sri Lanka are creating a much-needed community disaster resilience action toolbox in the form of a website. The site will include guidance and research tools developed by communities themselves and by academic institutions that have worked together to find answers to the questions from community members.
"If any community wants to do their own research with disasters, whether with floods or wildfires or poverty, this website will document all these stories," says Nikku. "Anyone can look at this toolbox, modify it and use it in their own context."