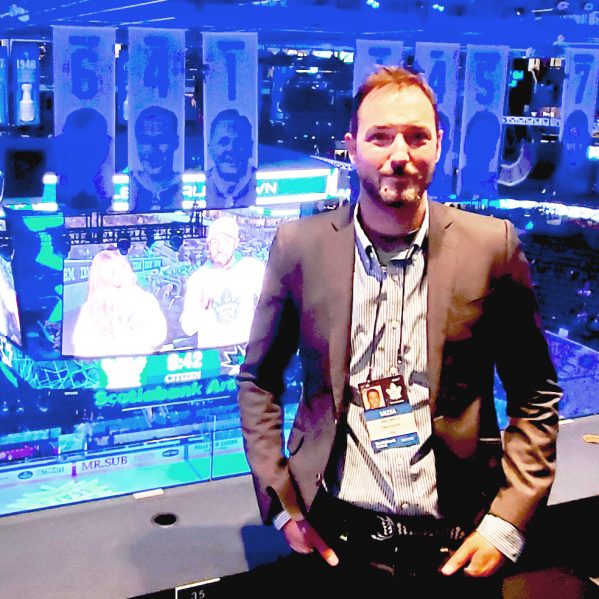 From the Kamloops Blazers to the NHL, TRU alum and sportswriter James Mirtle has had a whirlwind of a career.
After more than 20 industrious years as an editor and writer in sports journalism and digital media, Mirtle credits the fundamental education he received at TRU for providing a foundation of skills that set him up for success.
Mirtle completed his BA in English Literature at TRU in 2002 and still has fond memories of his time at the university, especially the mentorship and insight he received from professors like Genevieve Later, Michael Gorman and Peter Murphy.
These faculty members—all of them still teaching—inspired and fuelled his career. They exposed him to the classics and played a role in unveiling a pivotal truth that influenced Mirtle's future: He was not destined to become the next great novelist. It's something he admits with honesty and humour, noting this realization shifted his focus toward applied writing.
In the final years of his BA, Mirtle began covering local hockey for TRU's student newspaper, The Omega, and quickly discovered sports reporting was his calling. With a renewed focus, he set his sights on journalism and moved to Toronto to earn a professional degree.
"I think it's a really good foundation for all sports writers, to have that literary background," Mirtle said.
Mirtle began to write for larger publications like the National Post and Hockey News. After graduating, he went to the Globe and Mail, where he rapidly climbed the ranks to become an editor in 2008 while sharpening his skills and seizing opportunities that have since become highlights of his career.
From covering the 2012 Olympics in London—including Usain Bolt's historic sprints—to building the Canadian branch of The Athletic sports news from startup to success, Mirtle has had no shortage of excitement in his career.
Where is he now?
Mirtle is currently the senior managing editor of The Athletic, a subscription-based sports website with more than one million subscribers that covers professional and college-level sports across North America and the UK.
Known for its fresh take on digital media, the company has aimed to shake up traditional reporting by providing local coverage to international audiences and taking the "sports section out of the newspaper."
In 2016, Mirtle was approached by The Athletic's founders Alex Manther and Adam Hansmann, who were looking to expand to Canada. He jumped at the opportunity, starting as the founding editor and head of Canadian operations, then moving up to senior managing editor for the NHL. Today, he manages an editorial team of 57 and is responsible for ensuring top NHL coverage across North America.
"It's been a dream job and an amazing opportunity," Mirtle says.
His career has come full circle, from being one of the youngest sports writers at the Globe and Mail, to leading the next generation of journalists at The Athletic. The significance is not lost on him. When asked about the best part of his job, he says it's giving opportunities to young writers.
Advice he'd give his younger self? "Don't sell yourself short, keep an open mind and work hard." Plus, the daily reminder we all need: It's going to be okay.
"Enjoy the journey to the extent you can and have faith in your ability," Mirtle says. "It's worked out beyond my wildest dreams."
Follow James Mirtle's coverage at theathletic.com/author/james-mirtle.