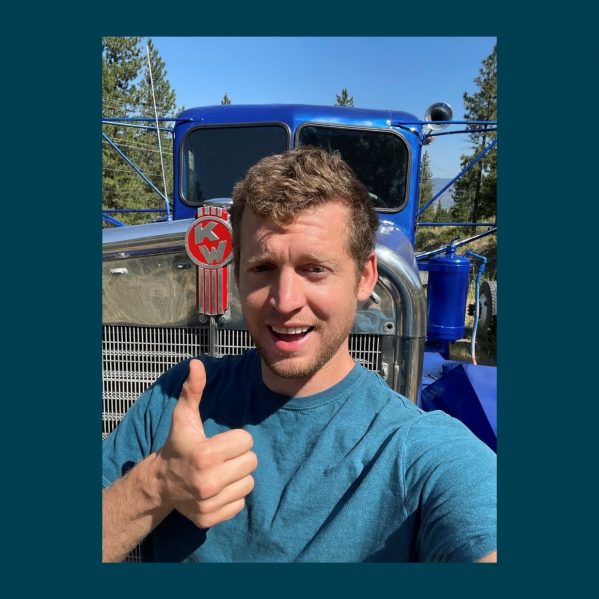 Driving a haul truck has had a profound effect on TRU alum Chace Barber —and not just financially. It also helped him focus his career plans and achieve business success. These days, he's bringing his followers along on his adventures in trucking and entrepreneurship via TikTok.
Not certain what to do after high school, Barber (BA '18) drove haul trucks to every Canadian province and territory.
"I thought it would be the best way to see the country and I was right," he says.
Those long hauls were an opportunity to reflect, listen to podcasts, and think about what he wanted to do with his life. When he was ready for post-secondary education, he turned to Thompson Rivers University and enrolled in the Bachelor of Arts program with a major in economics.
"I always had an interest in business and the economy, and after those years on the road I was very focused on university," Barber says.
He met his business partner, Eric Little, in his fourth year of studies and the two embarked on a solar energy contracting business building solar projects in off-grid areas. They quickly realized that a business takes a lot of time and money to get started.
"Knowing how lucrative trucking can be, we combined the last of our student loan money to buy a 1969 Kenworth haul truck," Barber says.
They fixed it up and put it on the road, taking on contracts to haul goods to Yukon and Alberta. Their company, SEI Logistics, remained focused on the solar business while trucking paid the bills. They began hauling generators and formed a partnership with Finning and Caterpillar on their solar installations, including light towers on construction sites that completely replaced diesel generators. It's been a going concern ever since.
While things can slow down in the winters, Barber is not one to be kept idle. One winter he ran a towing operation and appeared in seven episodes of the Highway Thru Hell reality television show.
"It was really something to do for fun, but the solar business has always kept going," Barber says.
He has also parlayed his talents to become something of a social media star. While says he's not sure why he has a following of 358,000 people on TikTok, he is having a good time bringing them along on his trucking adventures. He has 6.6 million likes on the social media app.
"I had a logging friend who was making these TikTok videos, so I thought I'd give it a try and my first video had 15,000 views," Barber says.
Looking back on his time at TRU, Barber noted that his experience is a lot different than what he hears from people.
"University helped me look at things another way," he says. "There were people with a wide range of knowledge and different backgrounds. It was an open, communicative, and super social environment where students and professors interacted. I think the learning experience was so much better."
Barber is expanding his business with a new shop opening soon to fulfill light tower orders. And, of course, he keeps on trucking. Check out his TikToks at @chacebarber.