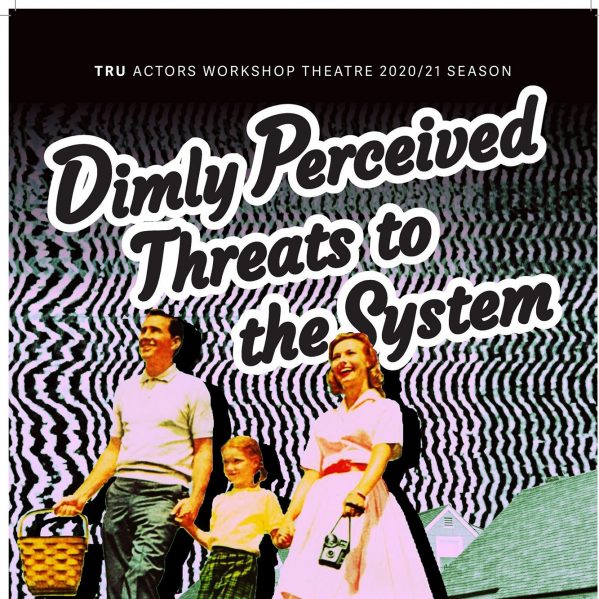 Student Storyteller Keisha Anderson is a tourism management major and theatre minor. She performed in two 2020 Actors Workshop Theatre (AWT) productions and collaborated with Narangi Moore and Ethan Oman on this blog.
"The show must go on."
Most performers have heard this at some point backstage, along with "break a leg" for good luck. Come rain or shine, you will walk out onto that stage and give it everything you've got. If there's a technical error, a flubbed line, an injured performer, the team collectively attempts to rescue the production, often without the audience having any clue.
Along with the many technical and emotional skills taught throughout our theatre degrees, that show-must-go-on mentality is the backbone of that education. It doesn't just apply to the stage but also life, it's about tenacity, resilience and persistence.
Theatre folks understand that the show is sacred. From that first read-through to closing (even when striking the set on that final night after the audience is long gone), being part of a play is, simply put, magical. It's a family, it's an education, an emotional journey, it's exhausting, it's exciting — and then it's over, it breaks heart. But you, like everyone else, scatter like leaves in the wind — onward to the next project.
When COVID-19 arrived on the scene, the whole world came grinding to a halt. It has been difficult for all, but for many, it has been downright devastating. It has meant closing performance venues and the end of live performances. Not only has this had financial and cultural impacts, it also hinders the joy of creative expression, the inspiration of the artistic collective, that cyclical energy exchange between the actors and their audience.
Despite insurmountable obstacles in unprecedented times, the TRU Actors Workshop Theatre is keeping the show on the road (another classic theatre idiom we all know and love). From rehearsals to production, the entire process looks different from other years, from socially distanced stage blocking, mask wearing when offstage, and regular and regimented sanitization practices. Of course, most notably, performing in an empty theatre, with cameras recording for digital access.
The TRU Actors Workshop Theatre's 2020/2021 season opened with Concord Floral directed by Robin Nichol, then Drinking in America directed by Wesley Eccleston.
The latest production, Dimly Perceived Threats to the System, is co-directed by alumni Jeffrey Daniels and Robin Nichol, associate professor of theatre and theatre co-ordinator.
"The AWT has worked hard throughout this production season to provide experiences that come as close as possible to what live theatre is meant to be like, even though we've only been able to have a live audience for one of our shows so far," Nichol said.
AWT has teamed up with TRU media to film the shows, and they have all been or will be available to watch online.
"We've had to find creative ways to stay six feet apart while still maintaining connections between characters. In our latest show, Dimly Perceived Threats to the System, we had to deal with some intimate moments. We decided to incorporate video projections into the show, which gave us a dynamic way of demonstrating what the actors themselves couldn't do."
Reflecting on the seeming fragile future of theatre, Nichol quotes author John Steinbeck: "'Theatre is the only institution in the world which has been dying for 4,000 years and has never succumbed. It requires tough and devoted people to keep it alive.' I think theatre will get through this set-back just fine."
As for AWT students' broader perspective, everyone misses the cohesive nature and bonding experience of the pre-COVID theatre experience. When restrictions increased, those cast in productions were disappointed that a live audience wouldn't see their efforts. After all, there's nothing like an audience to make the show truly come alive. Sharing these exciting and thought-provoking shows virtually keeps this art form alive in this time when art is needed and provides comfort.
Art is an expression of resilience and can transform something terrible into something meaningful. Although the absence of a physical audience has been challenging, artists and performers have still found ways to share their art with our community.
Until the day comes when the curtain rises on a full house once more, please check out AWT's latest show, Dimly Perceived Threats to the System, which is available for streaming on VIMEO from March 1 to March 15 and can be preordered here.