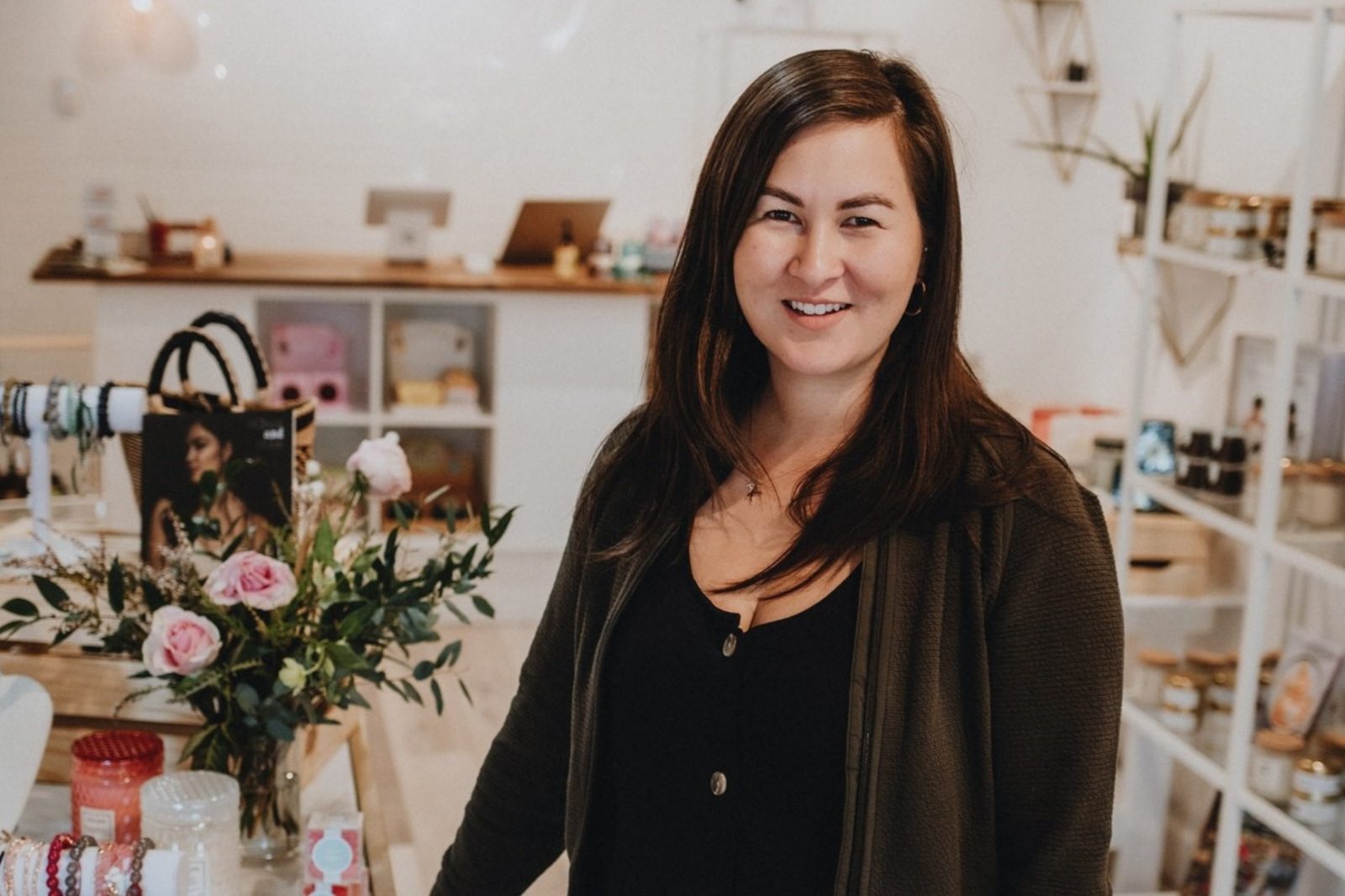 Entrepreneur Emily Sedgwick is an '07 TRU business grad and returning student who opened the Crooked Crown in downtown Kamloops in 2020. Emily's boutique carries a curated line of accessories, home goods, and jewelry. We caught up with her to hear about this venture:
What did you study at TRU?

I originally attended TRU in 2006 and received a Business Fundamentals Certificate. Since then, I have taken courses on campus and through Open Learning towards my Bachelor of Business Administration Degree; it's a slow and not always so steady process.

Why did you choose TRU?

I moved to Kamloops in 2006 with my husband, then boyfriend, for him to coach the Kamloops Storm. I felt fortunate that there was an option for me to attend university here through TRU.

Where did you grow up?

I was born and raised in Revelstoke, BC.
Why did you decide to open a boutique?

I absolutely love working retail, and not just for the products themselves, but it gives me the opportunity to meet many different people and build relationships with them in a short amount of time. I knew it was something I wanted to do forever, and what better way to do it than for yourself!

What makes your store different?

It's tough to answer this one because I think a lot of things that make us special as a store isn't necessarily unique to us. What I can tell you is that everyone at Crooked Crown cares deeply about our people and our community. I feel super grateful that these amazing people have chosen to work at Crooked Crown.
What is your goal for Crooked Crown?

My goal for is that Crooked Crown is a community contributor for many years to come, and offers value to not only our guests, but Kamloops as a whole.

Tell us about your career path up to this point.

I grew up going to work with my mom who was a retail manager and buyer for two separate gift shops. After moving to Kamloops, I've worked for Andre's Telus, BCLC, the BC government, and lululemon. Working at Andre's and lululemon taught me a lot about relationship building and community involvement. It was also valuable to be able to compare my experiences working for a family-run company like Andre's vs a huge corporation like lululemon.
What advice would you give to other aspiring entrepreneurs?

1. Believe in yourself… if not you, then who? 2. Community over competition
What's next for you?

Slow growth! I'm looking forward to having my first year of business under my belt and taking note of everything that worked and didn't work to make year two even better.

What social media platforms can people find you and your store on?

We mainly use Instagram to promote our store @crookedcrown.kamloops, but we are also on Facebook!

Crooked Crown is located at 404 Victoria St. in Kamloops. Customers can also shop online at crookedcrown.ca
Share your story. Contact us at alumni@tru.ca