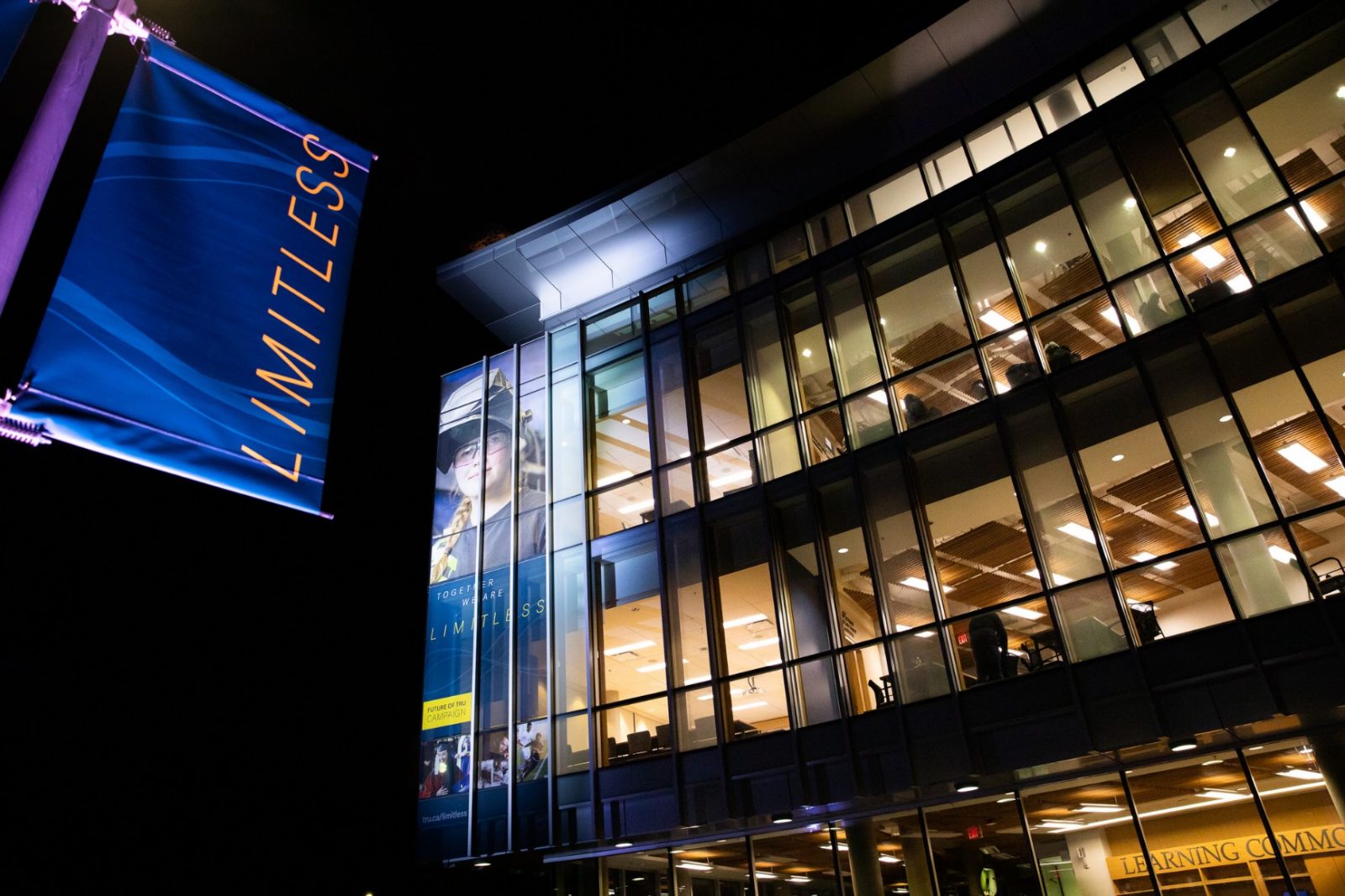 TRU's Limitless fundraising campaign has now exceeded $48 million, despite a year of hardship for many. Generous donor support has brought the campaign to the brink of its $50-million goal, with priorities spanning student support, research and capital projects.
"Donors have shown profound generosity in their support for TRU students during a period that has challenged us socially and economically," said Vice-President University Relations Brian Daly. "The immense support for Limitless over the past year has emphasized our close relationship with our communities and advanced key priorities at a crucial time. With continued support, Limitless is positioned to be the most successful fundraising campaign in TRU's history."
Limitless was publicly launched on Oct. 10, 2019 with a goal to raise $50 million alongside TRU's 50th anniversary. Individuals, corporations and foundations have contributed greatly to the campaign, funding new equipment purchases, new merit- and needs-based awards, sponsoring innovative programming and upgrading lab spaces. Some recent gifts include:
Donations last summer to the First-Year Student Resiliency Fund and the Emergency Student Support Fund totalled $66,000 toward Limitless, funding emergency bursaries at the onset of the pandemic and created new awards for students beginning their post-secondary education during the pandemic.
Spencer and Janet Bryson's donation to the campaign financed the purchase of a pediatric mannequin for the School of Nursing. This lifelike, state-of-the-art equipment helps students learn specialized skills to treat young patients. As retired public educators, Spencer and Janet know the value of hands-on training. The technology is utilized in the Sherman Jen High-Fidelity Simulation Centre in the Chappell Family Building for Nursing and Population Health.
Family, friends, former students and colleagues together donated $28,000 to create the Dr. John Ciriani Mathematics Award in honour of the late John Ciriani, who enjoyed a long career at TRU—starting at Cariboo College in 1971. Anyone interested can still contribute to this fund by contacting the TRU Foundation.
Four Kamloops Rotary Clubs together contributed $125,000 to Limitless in support of the Chappell Family Building for Nursing and Population Health, which celebrated its grand opening in September. Daybreak Rotary, Rotary West, Aurora Rotary and Kamloops Rotary made the joint donation in support of health-care education.
The Law Foundation of BC in the past year gave $603,000 to support various needs in the Faculty of Law, including funding for the TRU Community Legal Clinic, research grants, work placement opportunities and student awards.
Kamloops Ford Lincoln has donated a 2020 Lincoln MKZ to the School of Trades and Technology, giving automotive students a chance to work on a luxury vehicle with the latest technology. Ford Canada is also giving students access to its online Automotive Career Exploration training, courses that educate technicians on the latest vehicle systems.
"Kamloops Ford Lincoln is a longtime partner with TRU and the trades and we've got multiple students that have come up through the program, so we jumped on the opportunity to donate," general manager Craig Brown told Castanet Kamloops.
Limitless, the largest campaign ever launched by TRU, is now in its final stretch to reach $50 million. The campaign is guided by four pillars: Supporting Students, Innovating for the Future, Collaborating with our Community, and Building Capacity. For more on Limitless, visit tru.ca/limitless.
Limitless headlines:
Fresh funding brings Indigenous learnings to the forefront
TELUS sponsors carbon accounting program
TRU receives posthumous $350,000 donation
TRU Alumni and Friends Association donates $10,000 to First-Year Student Resiliency Fund
Windsor Plywood Foundation chips in $75,000 for TRU carpentry program