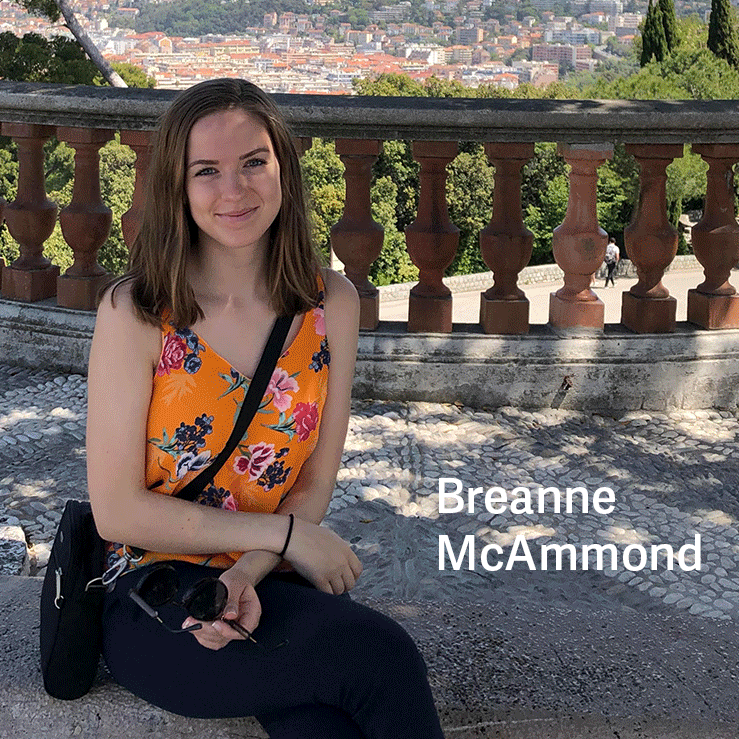 Four students have been awarded the most prestigious graduate entrance awards available at Thompson Rivers University, sharing in a combined $70,000 federal investment in graduate research.
Kyley Drach, Fauve Garson, Breanne McAmmond, and Edward Morton have been awarded scholarships through the Canada Graduate Scholarship – Masters (CGS M) program. These federal scholarships are valued at $17,500 each and are awarded to students who show academic excellence and potential for significant contributions of new knowledge through research.
"Congratulations to this year's scholarship recipients, to their faculty mentors and others who have helped scaffold success for these students in their studies and on their research journeys," said Associate Vice-President of Research and Graduate Studies Dr. Will Garrett-Petts. "We are delighted to see our students winning national recognition and support."
McAmmond, who received the NSERC Alexander Graham Bell CGS M for research that explores the ecological interactions of brewing yeasts during fermentation, said the funding allows her to focus fully on her studies.
"Receiving this award has provided me with financial security so that I can confidently carry out my master's degree and further develop my research skills," she said.
The scholarship has been essential for Morton, who is researching the environmental implications associated with outdoor recreation, land management and community development.
"COVID has deeply impacted many people's financial situation and I am very fortunate that this funding program exists to help support my research and educational pursuits," said the recipient of the SSHRC Joseph Armand Bombardier CGS M.
Drach, granted the CIHR Frederick Banting and Charles Best CGS M for her research into the effects of chemical compounds in feminine sanitary products on pain and bleeding during the menstrual cycle, said receiving the scholarship has lifted a huge burden off of her shoulders.
"I would be unable to complete my master's without it. I have been struggling to make ends meet, even more so now with the impact of COVID-19; this CGS M will allow me to continue my research," she said.
Garson, recipient of the SSHRC Joseph Armand Bombardier CGS M, is working alongside Dr. Courtney Mason on a project that seeks to better understand the relationship between Indigenous food security and climate change in Fort Providence, Northwest Territories. The award provides "a wonderful feeling of accomplishment," she said.
"I am one step closer to achieving my goals of working in parks and protected areas here in Canada."
The CGS M awards are designed to develop research skills and assist in the training of highly-qualified personnel by supporting students who show a high standard of achievement in undergraduate and early graduate studies. Nationally, 3,000 scholarships are awarded annually through this program, for an investment of $190 million.
Interested in applying for the CGS M? Applications are due by Dec. 1, annually.