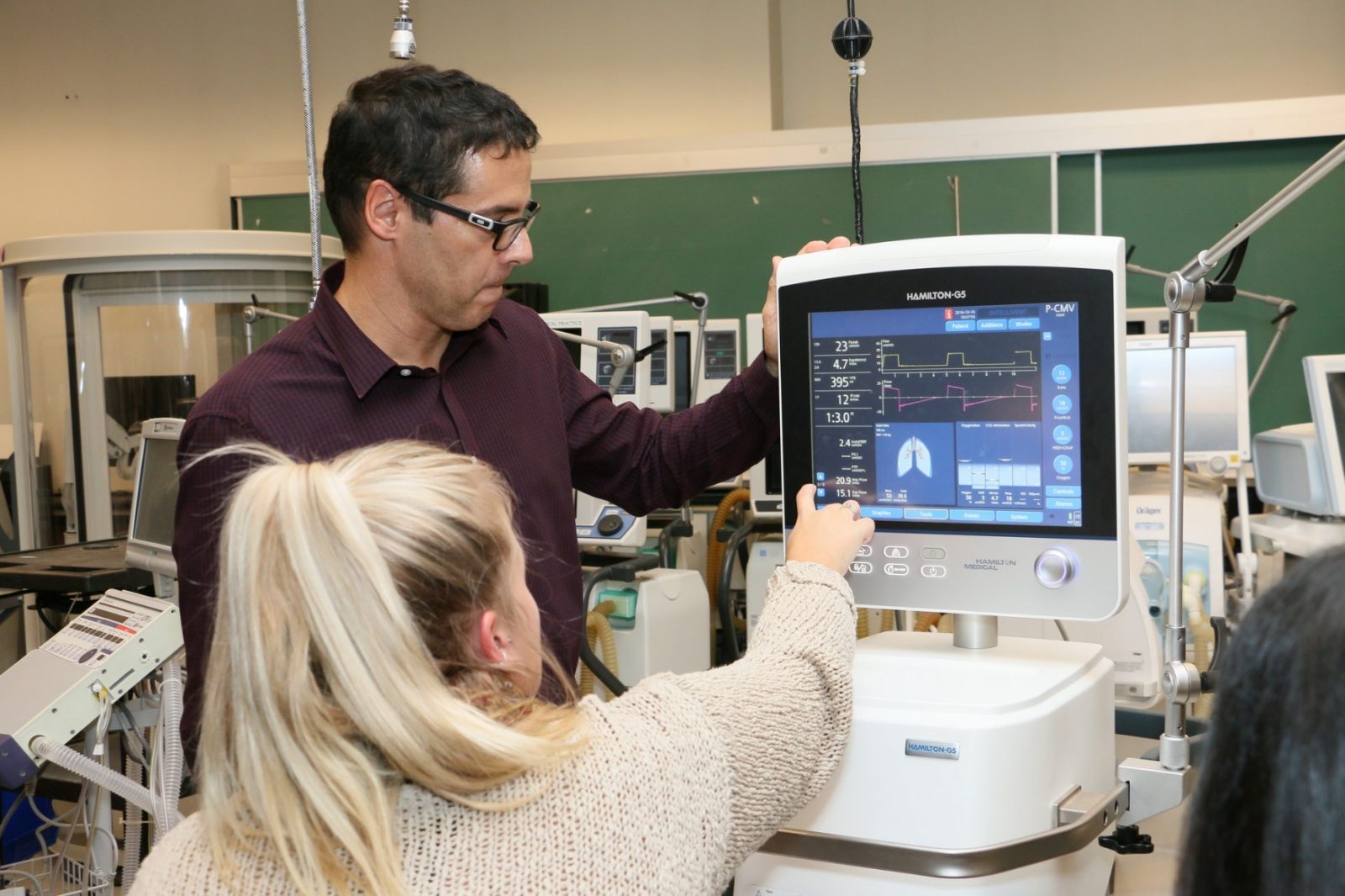 For someone who is hit hard by COVID-19, the sound is both reassuring and terrifying. The shoop click click, shoop click click, of a ventilator machine means life-sustaining oxygen is being blown into a patient's lungs. It also means that patient is critically ill with a potentially fatal disease.
This spring, as the novel coronavirus swept around the globe and killed thousands of people, 65 student respiratory therapists at Thompson Rivers University (TRU) graduated in mid-March—a few weeks early so they could get out on the frontlines, treating the patients most affected by the pandemic.
TRU has BC's only respiratory therapist (RT) training program. Graduates oversee the ventilators, or breathing machines, that patients most seriously affected by the virus need to help them breathe.
As the pandemic affected face-to-face teaching in classes while the demand for more RTs grew, TRU condensed clinical shifts and created alternate assessments to ensure graduates met their requirements. This boosted the province's respiratory therapist workforce at a desperate time, said TRU Clinical Co-ordinator and Associate Teaching Professor for the Respiratory Therapy program, Mike Lemphers.
"I am proud of our graduates. They have worked very hard to get to this point. They are well-prepared to work on the frontlines," said Lemphers, who is also chair of Allied Health Programs at TRU.
Proud to be helping
Justine Shaw is one of those students who completed the program unexpectedly early. She works at Vancouver General Hospital, where she took her clinical training.
"It's been a bizarre way to start my career, that's for sure. It was a bit nerve-wracking at first, since everything we do generates aerosol that could carry this virus, but I feel that my training has prepared me for this. I'm so proud to be one of the many people working hard to help others during this pandemic. I'm just taking it one day at a time, doing what I can for myself and the patients I care for," she said.
Every day, Shaw sees just how serious the pandemic is and the human impacts of COVID-19.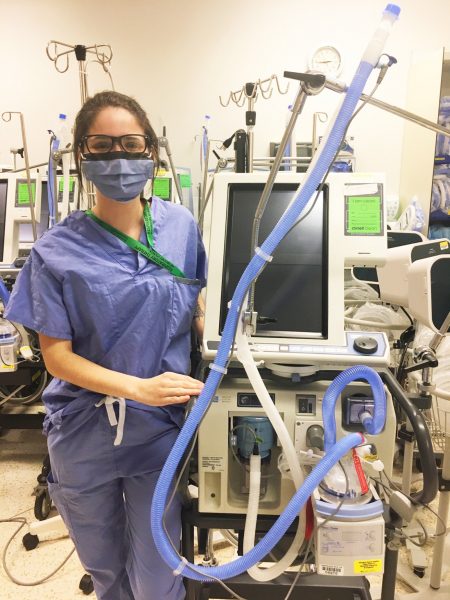 "We work with some of the most critically ill patients. We optimize their ventilation, help get people to a place where they no longer require a ventilator and are strong enough to breathe on their own, help them recover from flare ups of their respiratory conditions and no longer feel short of breath," she said.
"Having lung and heart related issues can be really scary, so we try to be a really positive light for all of our patients."
Students in their first or second years of the three-year diploma program don't have enough training to get out in the field just yet. But as the seriousness of COVID-19 became evident, the university developed a re-orientation for respiratory therapists who haven't worked in critical for a long time so they could quickly upgrade and go where they are most needed.
"This will make an immediate impact on the number of respiratory therapists available to provide care for patients," Lemphers said.
TRU is also working with the provincial government, hospitals and educators so the next group of students that's ready for clinical training can get into hospitals in June. And the department received funds from the Ministry of Advanced Education, Skills and Training to add 20 more seats to the fall intake of students in the fast-track program. (Fast-track students are those who already have a Bachelor of Science degree, who can complete the program in two years.)
In March, as the student respiratory therapists graduated and the university shifted gears to comply with recommendations around social distancing and teaching courses away from the classroom, Lemphers's department helped out the COVID-19 response by donating 15 boxes of masks and two boxes of isolation gowns to the Interior Health Authority. They also loaned 18 ventilator machines, worth $1 million, to the health authority.
He said COVID-19 has demonstrated how vital respiratory therapists are in the health-care system.
"Respiratory therapists initiate and adjust the ventilator settings to optimize care for the patient. They also help patients develop enough strength to breathe on their own again by choosing the proper ventilator weaning process and settings. Respiratory therapists work together with the rest of the health-care team with the single goal of helping each patient become healthy and strong enough to walk out of the hospital," he said.
"There is a huge demand for our respiratory therapist graduates. Most of our graduates are hired before they graduate. This demand is expected to rise as a result of this pandemic."
Shaw always aspired to work as part of a professional health-care team and she's heartened to see the spotlight now shining on respiratory therapists.
"It really does take a village to fight this battle. We work alongside a long list of amazing health-care professionals, all of whom are doing their best during this time."
Contact:
Mike Lemphers
TRU Respiratory Therapy Clinical Co-ordinator and Associate Teaching Professor
mlemphers@tru.ca
Michele Young
TRU Marketing and Communications, Media Relations Specialist
micyoung@tru.ca