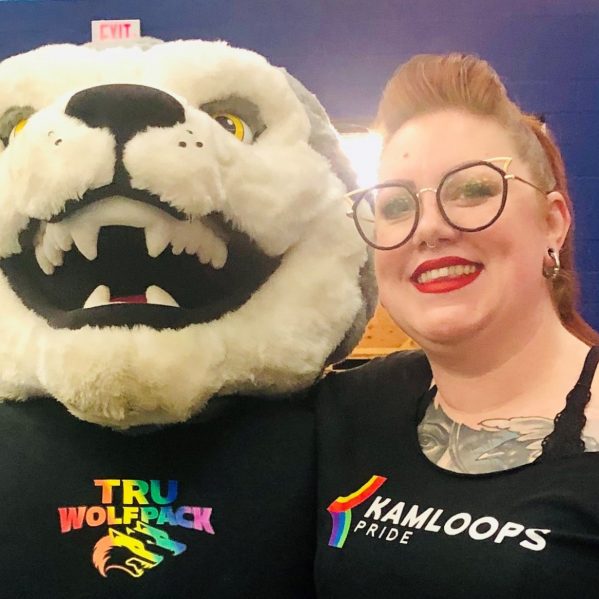 On Friday, January 24, the TRU WolfPack hosted an evening in alignment with the You Can Play project, which works towards ensuring that LGBTQ2S+ athletes feel safe, supported and respected supported on and off the field.  Miranda Pham, Athletics and Recreation Events Coordinator, invited Kamloops Pride to participate in the festivities, and later said, "You Can Play is a way for the WolfPack to communicate respect for everyone. I am thankful to be a part of an institution that values every human being." TRU student, Storyteller and Kamloops Pride president Nicole Stanchfield supported the event and shared her reflections.
Attending this event as a representative of the Student Storyteller Squad and Kamloops Pride allowed me to experience and express how essential these types of events are for the members of the LGBTQ2S+ community.  This project recognizes that talent comes from the individual regardless of their gender identity or sexual orientation and ensures that athletes and allies feel respected, affirmed, and supported on and off the court.
For me, having the ability to attend a sports event (that let's face it, hasn't always been known for inclusivity for diverse genders or sexual orientations as a whole), and hold our partner's hand in public while being greeted and welcomed means the world to me. Being present in tangible, visible spaces like this make space for folks like me to be our authentic selves, knowing that our allies have our backs. Folks show up to events like this knowing that it is a saf(er) space for us to show our support and cheer along with the crowd. I know many people that came that night specifically because it was an inclusive space.  Of course, this initiative is all-encompassing, and I was curious as to how impactful this project was to student-athletes, as well as spectators.
The Kamloops Pride table was bursting with colour; there were different flags to illustrate the complexity of the folks that make up the LGBTQ2S+ community, as well as examples of the gender-neutral washroom signs that are used at Pride events. Folks loved the swag – and appreciated the stickers, fans, flags, and educational information. Tabling provided exceptional opportunities to connect with the crowd, and hear about some lived experiences. Parents shared stories about their children coming out and navigating that journey, and students shared insights on what it meant to be queer on campus and in the community.
Events like this can heighten a sense of belonging, which is crucial to a healthy student life, and of course, that connectedness should expand into all aspects of our lives. Gender and sexual orientation has been an axel of marginalization within the world of sports for a long time, and initiatives such as the You Can Play is crucial instrument for change and a testament to all the work being done on all sides to create saf(er) spaces for all.
Throughout the evening, the event organizers expressed their heartfelt appreciation to Kamloops Pride, Safe Spaces, and TRUSU for being there, and for increasing the visibility of queerness on and off the court.
Click the link for more details about campus supports, community resources, academic courses and allyship information.