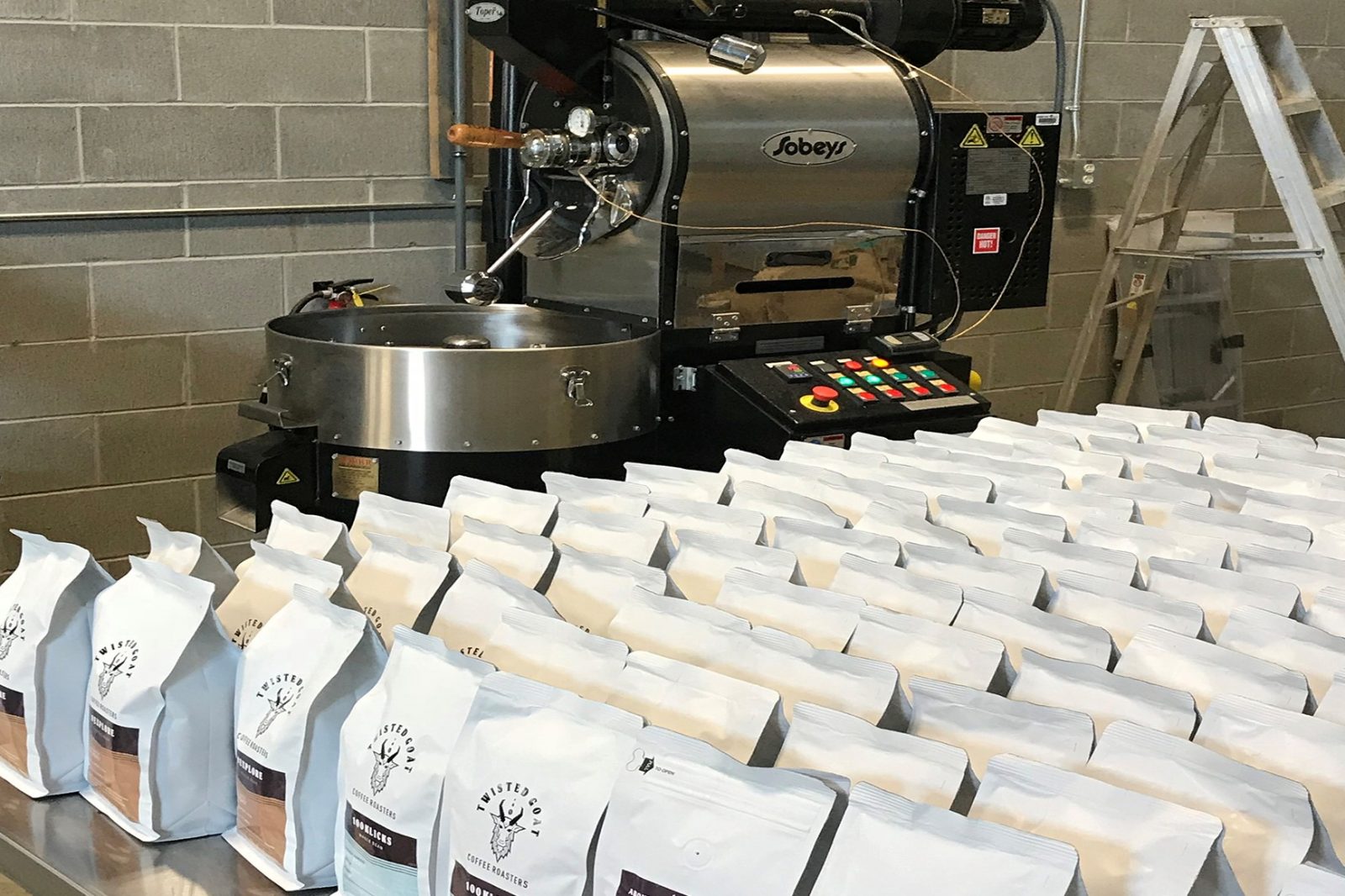 In 2018 Twisted Goat became the exclusive coffee provider for the International Café. Visit the café November 4 – 22 and purchase a coffee beverage to be entered to win a coffee prize pack.
We wanted to learn more about this locally run business so we asked Twisted Goat to share their story with us.
Twisted Goat's Journey
The idea of Twisted Goat began on a road trip west across BC's Rocky Mountains in 2013. We quickly fell in love with beautiful landscapes and the abundance of outdoor adventure. We hiked, biked, skied, kayaked and explored this landscape always enjoying our next journey.
Why Twisted Goat?
Legend has it that goats discovered coffee. An Ethiopian goat herder named Kaldi discovered that when his goats munched on some unusual red berries they began to get little excited and pranced around. Kaldi decided to pick the berries and take them back to his village where they boiled them with water and drank the brew. Kaldi too noticed some new found energy and shared his discovery with the village. The rest is history.
What's important to us
We wanted to craft a coffee that was meant for adventure, one that you pack in your backpack, alongside your French Press to enjoy when you're out exploring. In 2017, we bought a roaster and began the learning process, experimenting with different roasts and blends to create the products we share with you today.
Currently, we roast in our 1500 square foot facility on McGill Road with a 5KG Toper roaster. We are a small husband and wife team and are quickly growing. Our customer base is expanding as we introduce our brand to more areas throughout Canada. We are committed to supporting the farmers who worked hard to grow and harvest the green beans we source for Twisted Goat. All our coffee is 100% organic and Fair Trade and roasted in small batches by hand. Our coffee blend names come from inspiration from our great local hiking trails, landmarks and Canadian slang.
We have partnered up with many companies that align with our goals and visions to help reach new markets. TRU is one of those partnerships we are so grateful for. When we were creating the brand we wanted something fun, original and adventurous. We always felt being on campus would be a great fit for our coffee so imagine our excitement when our vision came true. We are so thankful for the amazing response and feedback we have received since the first pot of coffee was served at the café in September 2018.
We invite you to go ahead and try one of our unique coffee blends that boosts your next adventure. It's a big world out there. Go explore.
Food Services looks forward to serving up great eats on campus. Follow us on Instagram to keep up with what's happening at all our locations. We welcome your feedback—send your comments to Food for U.