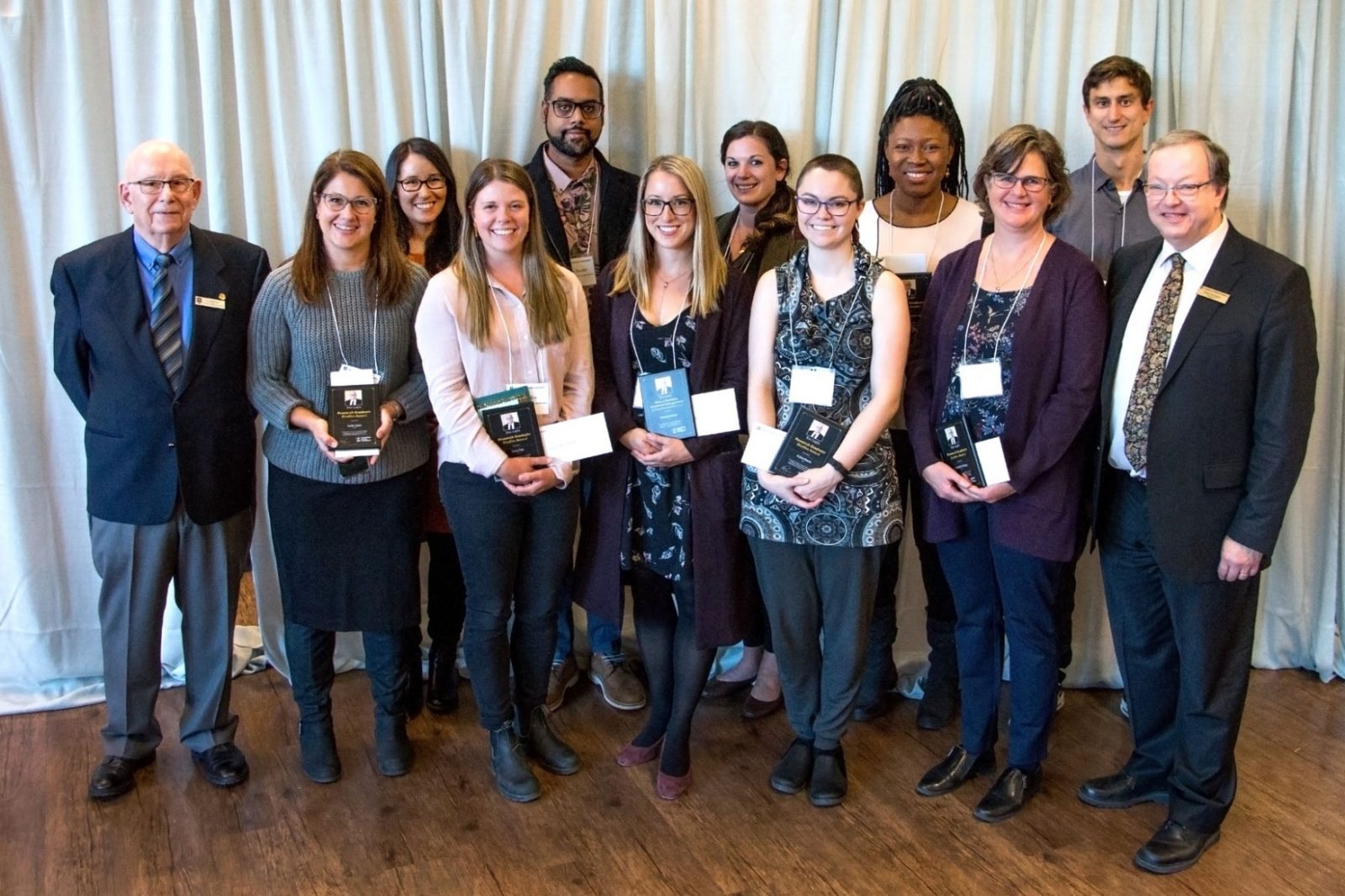 Eight exceptional TRU graduate students have been recognized for their efforts, each receiving $6,000 Ken Lepin Graduate Student Awards during an Oct. 17 ceremony. This marks an investment of $48,000 in graduate education.
The Kamloops philanthropist also presented three Business Excellence Entrepreneur and Communication MBA Awards valued at $3,500 each.
This is the sixth year the awards have been offered, for a total investment of more than $250,000 in TRU's graduate students. The Ken Lepin Graduate Student Awards are available to domestic students entering their first or second year of a full-time graduate program, and are given on the basis of outstanding academic achievement in course work, research, and leadership activities. Students who are originally from Kamloops and who completed their undergraduate studies at TRU are prioritized.
"Ken's vision is to reward student excellence in graduate work. Thank you, Ken and Maureen Lepin for your continued support to help students in their academic journey to become the leaders of tomorrow," said Dr. Brett Fairbairn, President and Vice-Chancellor.
"The talented recipients of this award have all demonstrated exceptional academic achievement, a commitment to research, and community leadership. Congratulations to the 2019 Ken Lepin Graduate Students," said Troy Fuller, Director of Research and Graduate studies.
The awards have an immediate impact on the lives of the students who receive them.
"As a mother of two children, and as a registered nurse completing my masters, life is very busy. I appreciate this prestigious Ken Lepin Award, which supports my learning journey, academic growth, plus school and work-life balance. This award makes my Master of Nursing studies productive and enriching," said recipient Angela Achoba-Omajali.
"I am humbled to be a recipient of the Ken Lepin Research and Graduate Studies Award. This award will make it possible for me to continue my research in A/R/Tography and will allow me to further examine concepts of power, privilege, and inclusion," said Master of Education student Sultan Sandur.
Recipients of the $6,000 Ken Lepin Graduate Student Awards are:
Angela Achoba-Omajali, Master of Nursing

Marcus Atkins, Master of Environmental Science

Leah Clare, Master of Education

Lynn Michelle Delany, Master of Nursing

Kyley Drach, Master of Environmental Science

Dana Eye, Master of Environmental Science

Petar Hrkac, Master of Science in Environmental Economics and Management

Sultan Sandur, Master of Education
Recipients of the $3,500 Ken Lepin Prize of Business Excellence Entrepreneur and Communication MBA Award are:
Megan Archibald, Master of Business Administration

Alanna Cairns, Master of Business Administration

Julia Clapp, Master of Business Administration