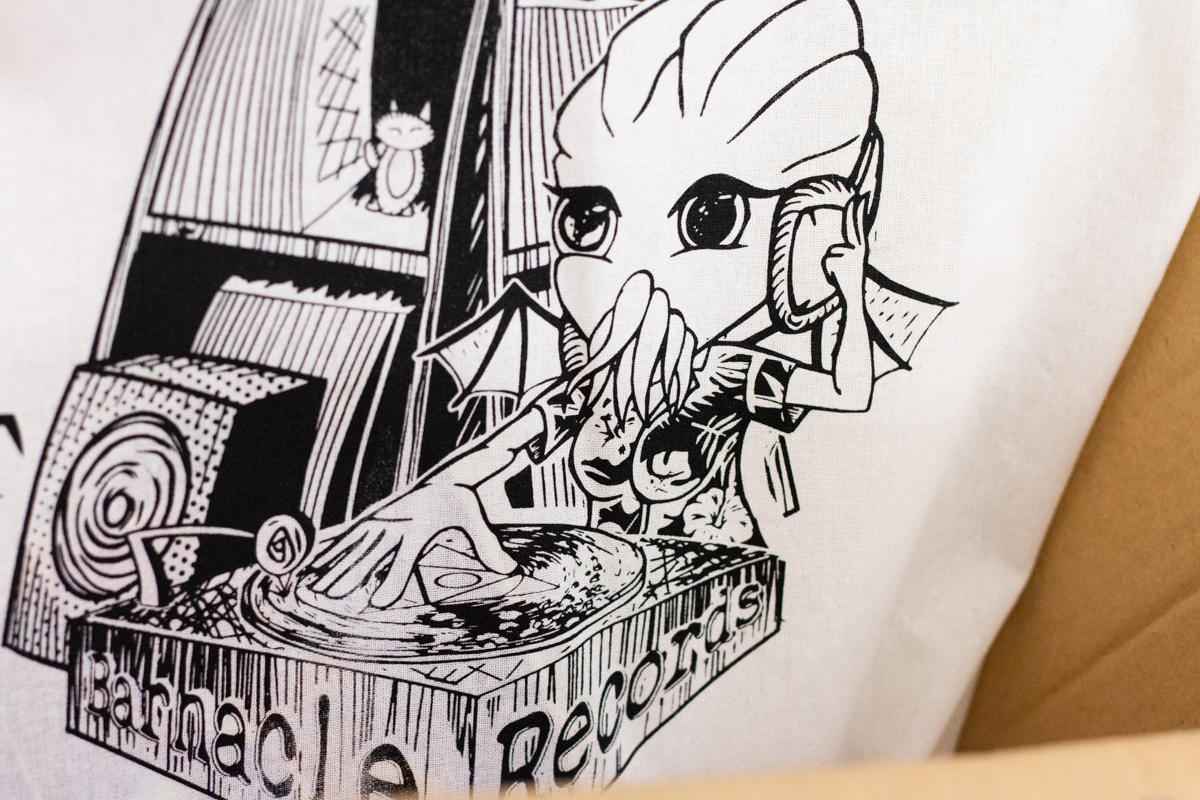 Nautical deejays, crashing waves, vinyl records and several iterations of boomboxes splashed from sketchbooks of first-year visual arts students onto the merchandise of a local record store—all thanks to a successful collaboration aimed at helping students see a practical market for their artwork.
From preliminary sketches, to feedback, to screen printing to sitting on display at the shop, students taking 2D Art Foundations (VISA 1020) got a glimpse of exactly what it takes to create and market their artwork in the real world. Led by instructor Lea Bucknell, the class partnered with Barnacle Records to rework the shop's existing logo into a new design and screen print it onto canvas tote bags.
Students drew up six preliminary proposals, and Barnacle Records owner Jessie Kobylanski attended a class to provide feedback and critique on the designs. Once a final design was chosen, each student screen printed a limited edition of five totes each. This is the second round of this project, following a successful run in winter 2018.
Kiera Duffy created a dreamlike image of two seahorses with tails wrapped around the Barnacle Records logo. She's a first-year science student who hopes to minor in visual arts. Duffy learned a great deal from the collaboration and enjoyed seeing her work on display in the local shop.
"I am studying science, but I've always been pulled toward art. Even when I was younger, I liked the mix of science and arts. I'm hoping to one day go into plastic surgery, which is a really interesting mix of the two subjects," Duffy said.
"With these courses, there has already been a lot of outreach and opportunities. Like this one, which allowed us to partner with a local business. We also submitted sketchbooks to the Brooklyn Art Library and they will travel around the USA as part of an exhibition," she said.
Bucknell is pleased with the success of this project and looks forward to future collaborations and creating more community opportunities for students to link their art with real-world applications.
"Partnering with Barnacle Records was a natural fit for this course as it gave students the opportunity to work on a commission-like project where their finished artworks go out into the community. For the students, knowing their work was going to be on display in the shop and eventually collected by the community, really drove them to put their best work forward and Barnacle Records received a limited run of locally-designed and hand-printed tote bags," Bucknell said.
"As an instructor, it was great to give the students a chance to gain real-world experiences with a great local business. I have been consistently impressed by the work students have created for this assignment," she added.
Tote bags are on sale at Barnacle Records in downtown Kamloops. Act fast if you'd like to get your hands on these original and very limited-run pieces.
Full list of contributing visual arts students:
Sage Desroches
Gouravpreet Toor
Reno Gennaro
Michael Hall
Amy Li
Kendell Gundersun
Kiera Duffy
Ramona Budden-Stefanyk
Pran Gobind
Victoria Russell
Kelsea Sebastian
Sakwuwa Dunstan-Stanyer
Paula Ducharme
Larissa Beatty
Essa Casimir
Wendy Yu
Sultan Singh