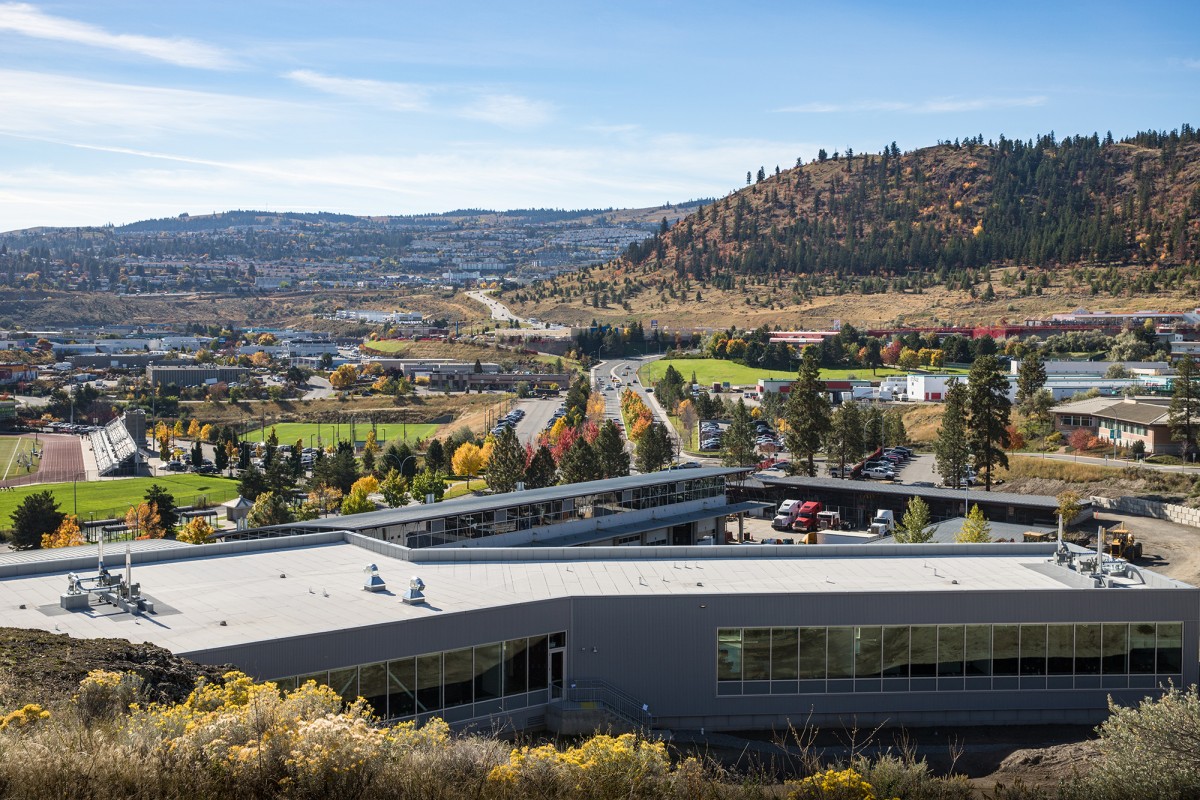 TRU's School of Trades and Technology (STT) is enacting the university's cross-campus Coyote Project in conjunction with local First Nations and government bodies, to provide accessible trades and technology programs and accreditation that is of value to communities.
Delivering trades and technology Sampler and Foundation programs in communities reduces the need for transportation to, or accommodations on, campus. STT provides education that is relevant to students and their communities, and in-demand in the labour market. Participants are exposed to university processes and student life, as well as various trades that may spark an interest in learning more and furthering their education.

These programs are largely community driven, explains TRU's Dean of Trades and Technology, Baldev Pooni: "Community leaders assist in gauging interest in different program options within their communities, as well as in sourcing students to participate. We need to ensure there is enough student interest and capacity to enrol in the program, at that time, and employers also need to be on board to ensure demand exists for these skills after graduation."
Building Capacity and Community Through Construction Trades was offered as a Foundation program in both Tk'emlúps te Secwépemc and Neskonlith Indian Band communities, with TRU providing instructors and certification.
Construction builds community
The Xaxli'p First Nation community, located outside of Lillooet, partnered with STT to deliver a trades Sampler program that encompassed the specific construction skills needed in the community. The students explored introductory carpentry, electrical and plumbing skills over a four-month period. The culmination of the project saw the students build a two-bedroom home for a local family who needed immediate housing. The students experienced a sense of accomplishment and gave back to their community.
When it comes to offering training in communities, the school's Industry and Contract Training Manager Heather Hamilton says: "We see better outcomes. Students have the family and supports they need to be successful. Many students have families and responsibilities so it makes it more difficult for them to leave and attend programs on campus. Once students have gained the foundational skills, their confidence grows and they are more apt to continue their education."
Water is essential for all
TRU's Water and Wastewater Technology program is offered on campus as a two-year program. It's also offered to Indigenous water and wastewater operators already working in the field by providing accreditation through intermittent campus sessions spread over a four-year period. Both program options use the industry-leading Water Education Research Centre at the Kamloops Centre for Water Quality.
Though many students enter this program with the technical skills, some live in small communities where training was acquired on the job. Getting a diploma supplements the knowledge they already hold and puts them on the same level playing field as operators across the country.
This formal education and accreditation also gives students a path to higher industry certification levels, from Level 1 through Level 4. Today there are significantly more Level 2, 3 and 4 operators working in communities than before the program's inception and students also have the option to ladder their diploma into a Bachelor of Technology degree.
Water quality is critical to public health and operators are responsible for delivering clean and safe drinking water to their communities. This program is an integral part of developing the capacity of Indigenous community operators to deal with boil-water advisories.
Program Co-ordinator Satwinder Paul says Indigenous students often tell her they got into the field to make a difference for their communities. Funded by the federal government, this program has been running for more than a decade and serves all of British Columbia's 198 First Nations, with up to 20 people enrolled per intake.
"It's a large commitment from both the individual and their community," says Paul. "We reach out to communities to see if they would support the program running at a certain time—we ask them 'Can you send your operators for education at this time, and do you have backup for them while on campus?' Having a second operator on hand can be a challenge for many small communities—the program requires two years of training over a four-year period, with students coming to TRU six times a year."
Women going non-traditional
TRU's Women Exploring Trades program has also seen a large contingent of Indigenous students enrolled—between 40 to 50 percent of each cohort—as well as women from other underrepresented groups. The program opens doors for these women to pursue further education by introducing them to various trades and the university's processes so they can continue their education in trades or move into apprenticeship.
TRU Women in Trades RBC Co-ordinator Meghan Low says the program's popularity isn't due to any special recruitment tactics, but rather speaks to the security an education in trades and technology provides:
"We're seeing women from many underrepresented groups enrol in the Women in Trades program, and it's not hard to see why," says Low. "Trades and technology fields offer good careers with wages that allow them to support themselves or their families."
Wrap-around services are available to Indigenous students on campus that accommodate intercultural differences and understanding, such as cultural orientations and mentors, Elder involvement, workshops on cultural perspectives and using relevant community subject matter in classes. Coaching to enter the labour market is also included, providing interview preparation and feedback.
Communications with Indigenous communities have aided the development of programming aimed at increasing access to education for all prospective students. For TRU's School of Trades and Technology, the Coyote Project is building on this dialogue to continue developing programs that have impact while creating connections.