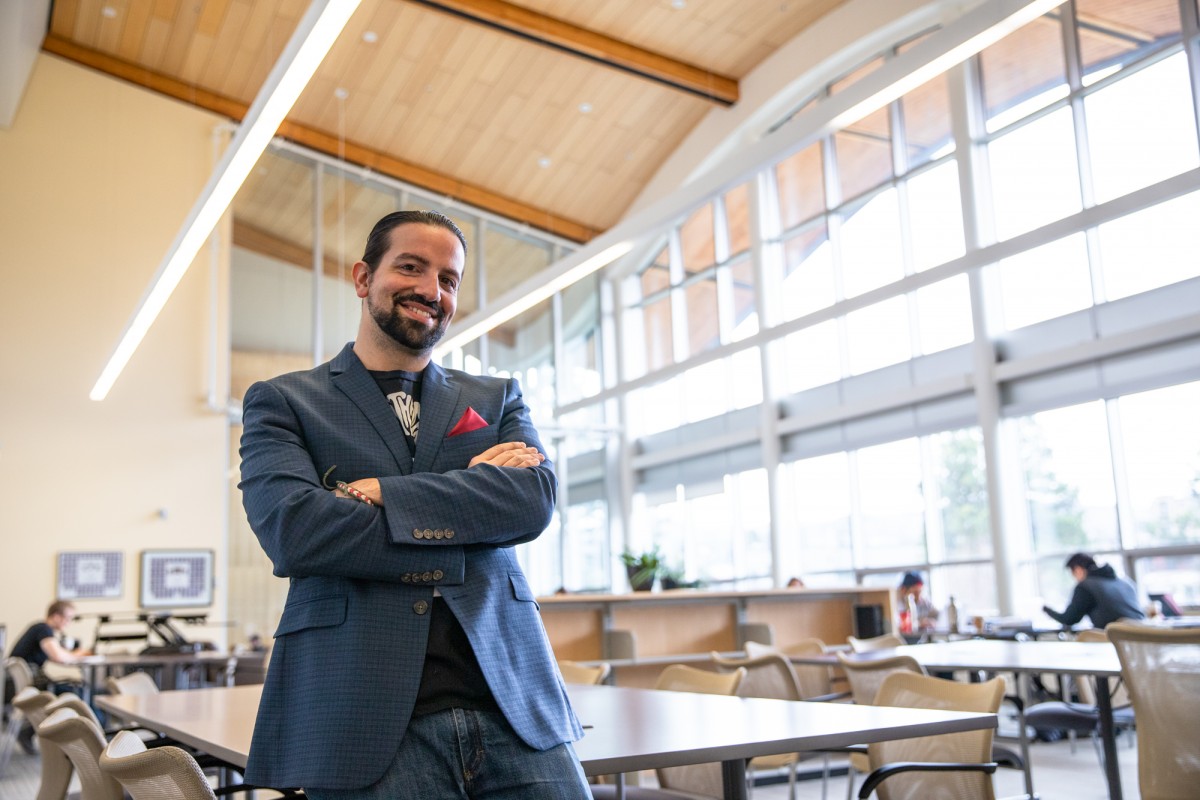 Third-year TRU Law student David Barroqueiro has been recognized with one of the inaugural Neota Logic Alumni Awards for his work on the platform, in an apt demonstration of how the university's law school is leading the way in innovation and user-centred expert systems design to deliver the legal skills of tomorrow.
Barroqueiro grew up in Vancouver, BC, and completed his undergrad in sociology at Simon Fraser University. A BC boy through and through, he always knew he'd enrol at a law school in his home province, given the chance. At the time he applied, TRU Law was Canada's newest law school.
"It was a Wild West, so to speak," he says. "Attending TRU presented a unique opportunity to help shape the culture of the institution, rather than being hemmed in to a pre-existing culture with its various expectations."
Barroqueiro was also attracted to TRU Law for its focus on law and technology, and 21st century law practice: "I think that TRU Law is undoubtedly ahead of the curve in emphasizing the intersection of law and technology. There are a number of faculty members who are strong advocates for digitalizing the legal profession as a means of addressing the access-to-justice crisis."
He was able to dive deep into this intersection while taking the Designing Legal Expert Systems (DLES) course in fall of 2017, which introduced him to faculty member Katie Sykes and the Neota Logic platform.
"Professor Katie Sykes is a leader in this field and we are profoundly fortunate to have her at TRU Law. She has produced some great publications dealing with the intersection of law and technology and, since taking her DLES course, she has been my greatest advocate and the best mentor one could ask for," says Barroqueiro.
The DLES course introduces students to the Neota Logic platform, a visual application-building platform for developing expert systems—legal or otherwise. The key word here is visual, as the platform allows users to build functional, attractive apps without the need to know programming languages. Their niche is in providing automated expert information to the masses by pairing their platform with expert know-how.
"Neota Logic is the 'engine' for the legal apps I've built," he says. "All of the reasoning that operates underneath the app is powered by the platform."
Barroqueiro was in a student group in his DLES course that developed an app in partnership with the Public Interest Advocacy Centre. The app was constructed as a demonstration, but it won his group the 2017 Justice League: Battle of the Apps competition. The experience was massively beneficial and he was hired on as a research assistant with TRU to continue developing the app.
He became a member of the Neota Logic Alumni Association—a group of law students who've built legal applications using the platform as part of course work in law schools around the world—while on duty as a teacher assistant for the DLES course Sykes was running in 2018. He became one of the first members to be hired for freelance legal app-building work.
"The training I received was definitely sufficient to begin building applications in a professional capacity. I'd encourage anyone interested in this area to learn at least a bit, in order to push web-based legal apps to the next level."
Barroqueiro is quick to point out that while he didn't have any prior experience building logic-based applications, he wasn't exactly starting from square one, either. He brought to the table some BASIC (Beginner's All-Purpose Symbolic Instruction Code) programming as well as some web and graphic design experience. "I guess being a bit of a computer nerd as a teenager in the 90s paid off, too."
The recent Neota Logic Alumni Awards showcase his work further: "It actually came as a bit of a surprise. I didn't apply for it nor was it widely advertised, but I'm thrilled that Neota Logic is using its platform and visibility to promote the services that I can offer."
The award is in recognition for a self-assessment tool he developed for DecSpeak—a partnership between Illinois and Arizona lawyers that leads directors of condominium boards through a questionnaire to determine if their board meeting discussions could get them in trouble with Arizona condominium law.
Barroqueiro believes that providing law students with the opportunity to combine legal reasoning skills with technical programming skills will be critical moving forward.
"The access-to-justice crisis has been addressed uncreatively for a long time and it's time to reframe the conversation," he explains. "When access to the law is prohibitively expensive for most people, only economically powerful businesses and governments receive anything approaching justice. Lawyers have a monopoly on the practice of law and it is our responsibility to enable access for everyone. Embracing a client-first perspective to offer our communities effective and affordable tools to navigate the law is critically important."
Next up for Barroqueiro is a commission to build a board meeting advisor app for the Illinois Market, and a few more condo-associated apps over the next couple months.
"Traditionally, students graduating from law schools hustle for articling student jobs," he says. "I feel a little less pressure and would like to build a portfolio of lean, clean and effective legal apps. Making things is what I love to do and the market is ripe for disruption, so I'm running with it."
He's currently studying up on Cascading Style Sheets and JavaScript programming languages in order to create more interesting and engaging applications. Those he's built to date have all been web based, so he'd also like to learn Ruby programming language in order to create downloadable apps.
"Significant technological change is coming to the legal sector, and we can either ride the wave or be drowned by it."