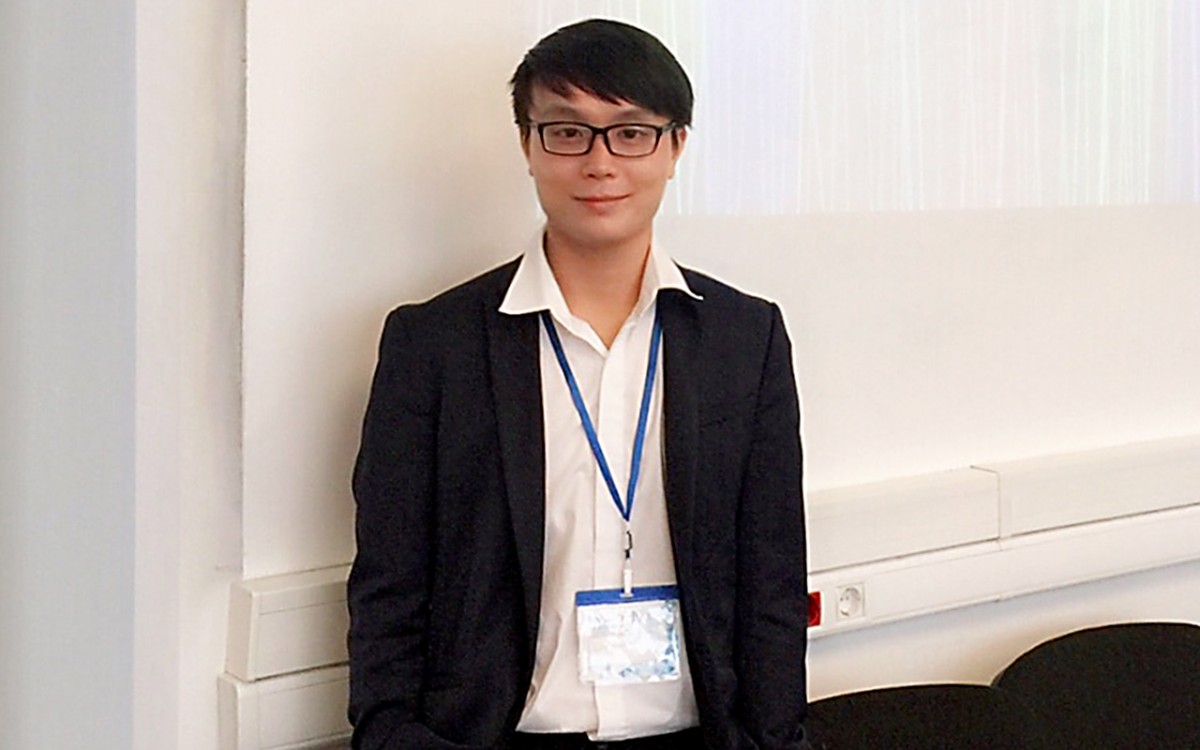 After digging into their educational studies at the master's level, two TRU students are taking their drive to learn more to the next level. Here are the stories of two students who are going on to doctoral studies: one studied online, the other on campus. Both are going on to bigger and better things, and both are grateful that TRU helped them on their path.
On campus
Name: Kevin Nguyen Le
TRU program: Master of Education
PhD: Brock University
Life didn't go in the direction Kevin Nguyen Le thought destiny would take him. Born in central Vietnam, he had no intentions of going into teaching. But as he went through the Vietnamese school system and into college, he kept getting hired to tutor others. Having opportunities to support students at different levels, including his peers, Nguyen Le rethought his strength in education and started to frame his career as a teacher in the early stages of his higher learning.
He joined a government program that sent him to Melbourne, Australia, to get a master's degree in teaching English. When he finished, he was required to give back by working at a college in Vietnam for two years. When he returned to Vietnam, working as an English lecturer at a public institution of teacher education, he became excited to apply what he had learned in Australia.
But he also felt as though his perspectives were too modern for his home country's traditional culture. He couldn't share his innovative thoughts, especially around teaching methods and practices, with his colleagues, as they preferred conventional teaching methods. So after fulfilling his obligation to the government, he looked to continue his studies in another country.
Canada's reputation for multiculturalism and tolerance put the country at the top of Nguyen Le's list. His timing was a little off; few universities were still accepting applications. But TRU was one of them. Nguyen Le did not know how meaningful this university would become to him, let alone that it might help him find his direction as a helper and healer in an educational setting.
In Australia, Nguyen Le didn't have many connections with his classmates and professors. At TRU, he learned the benefit of its small classes when he realized the professors got to really know the students. He worked closely with Dr. Gloria Ramirez, who shared her own story with him about coming to Canada years ago as an international student. She also supervised his research project and not only supported him, but provided a lot of advice for his professional development. She encouraged Nguyen Le to go further with his education.
"That inspired me a lot," he said, crediting Ramirez with helping him throughout his time at TRU.
He is wrapping up his master's work at TRU and has been accepted for his doctorate at Brock University in Toronto, where he'll look at arts-based research and the listening principles of Indigenous cultures around education. Destiny has steered him into teaching as a career.
After he finishes all of his studies in Canada, Nguyen Le plans on going back home to Vietnam so he can create change in an education system that has long-standing, traditions and outdated views, especially toward minorities and the disadvantaged.
"I believe that for social change to occur, every change should count, even small ones," he said.
Online
Name: Shelly Matthie
TRU program: Master of Education
PhD: Queen's University
Shelly Matthie always loved learning. So it's not surprising that the Ontario-born woman who attended Lakefield District Secondary school would thrive in post-secondary studies, nor is it surprising that she would aim to become a teacher.
However, it is surprising that she is finishing up a master's degree and that she plans on continuing to get her doctorate–all while home schooling three young daughters.
But, as Matthie says, she is like any teacher—always thinking of ways to enhance the educational experiences of her students.
Before she found TRU, she studied religious education at Tyndale University College and Seminary in Toronto. She also earned a bachelor of arts from the University of Waterloo and her teaching certification through the University of Ottawa.
Matthie lives in rural Ontario and aspired to get a Master of Education degree. With three kids at home (her youngest was two years old when she began her MEd studies), she needed to be able to do her course work on a flexible schedule, so she explored online options. She was impressed with TRU's MEd program; the courses were what she was looking for, the timetable was adaptable and her application was processed quickly.
"For me, the online platform was perfect because the hours I was working were not consistent, and the freedom in the schedule allowed me to take time off when needed, but also to work ahead when I had extra time," she said.
Although there were times when studying online was a challenge, Matthie always felt connected to TRU. Course instructors were approachable and library staff were helpful. She also learned from her virtual classmates.
"It was great to interact online and by phone with my classmates to share ideas and challenge each other, and so I appreciated that TRU also incorporated those aspects."
Her thesis supervisor, Dr. Tory Handford, provided inspiration and guidance while challenging her.
"Not only did she guide me through my entire thesis process, but she also counselled and mentored me through my program at TRU and supported my pursuit of doctoral studies," Matthie said.
Her thesis examined the role of parents and families in children's education experiences.
"I am particularly intrigued by parents' perceptions of their role and responsibility in their children's education, and how these beliefs impact their participation. I think an understanding of this is important for not only parents, but also for educational professionals, so they can encourage and support this parental engagement in education in both the home and with the school."
This September, she starts the doctor of philosophy in education program at Queen's. She'll be furthering the work she began at TRU around parental participation in education.
Eventually, Matthie expects to put all her accumulated learning to use through educational research and teaching online courses.
One of the first courses she took at TRU was research methods, mainly because she thought it would be boring and she wanted to get it out of the way. Instead, it sparked in her a desire to do more research. And that put her on a path to a PhD.
"I can honestly say that taking the MEd program at TRU really has changed the trajectory of my life. I did not come into the program at TRU with the anticipation of continuing on to do my PhD. I didn't really even understand what research was until I started the program at TRU," she said.
"As I went through the program, I started to realize that doing a PhD could actually be possible and was something that I truly desired to do. That's why I say that TRU changed the course of my life, because taking this program truly did."