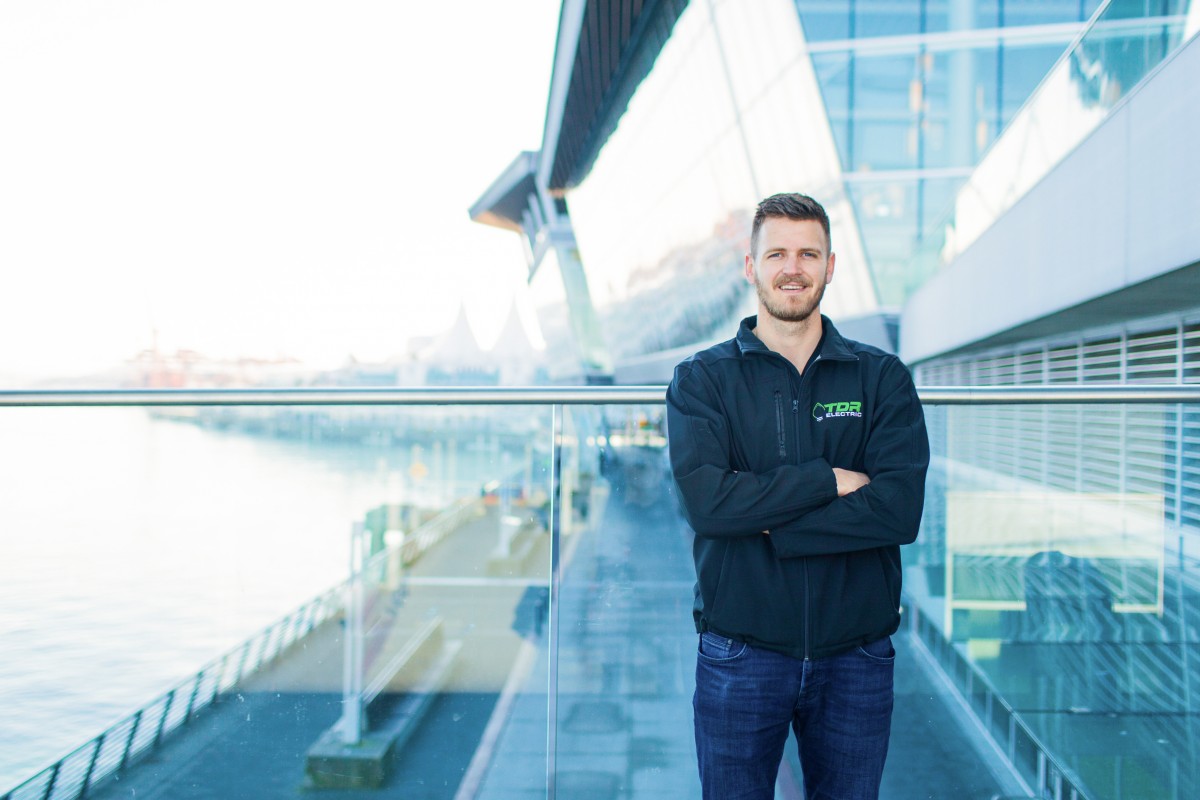 Ross started his electrical contracting business, TDR Electric, in the Lower Mainland in 2015. In March, he was notified about his award, which recognizes those who have built successful enterprises with a social purpose—from protecting the environment to doing business more responsibly.
"I was shocked at first," says Ross. "But I am grateful for this acknowledgement and excited to see what's next."
Ross credits his company's impressive growth over the past few years for catching the attention of BC Business, as well as his team's customer service efforts to stand out from the countless competitors operating in the Lower Mainland. Ross knew he needed to do something differently when he was building his business and concentrated on providing an exceptional customer experience—from first contact through project completion—and staying in touch with past clients.
He's quick to acknowledge the importance of teamwork for his business's success: "We have an amazing team here and are so fortunate for that. I think the growth in the company is exciting for everyone and helps create a great culture around here. It's like a domino effect—when you have great people you excel and grow faster, which attracts more great people to grow the business even further."
Ross grew up in the budding mountain town of Pemberton, BC. He began pursuing trades training after graduating from Pemberton Secondary, when family connections landed him on the apprenticeship path at Whistler-based Rainbow Electric Ltd. He had been interested in electrical through the end of high school and was keen to get into a trade and start his career.
When it came to deciding where to study, Ross says where he grew up it was either Kamloops or Vancouver for an education: "I chose Kamloops because I had friends there, and it was a shorter wait list. I really wanted to complete my apprenticeship as quickly as possible, so that was part of my motivation to go to TRU."
Ross continued through Levels 1 to 4 of apprenticeship training, and took his Red Seal exam at TRU in 2011. Every day, he still uses the code knowledge he gained in his training.
"You really need to know your way around the code book when starting an electrical contracting business. You're on your own to know or figure out the rules, and if you don't know them, it can cost you a lot."
He appreciated the direct and approachable demeanor of his third- and fourth-year instructor Roy Lochhead, who had a knack for balancing the academic side of the program while infusing helpful advice around becoming a contractor from his own experience.
After attaining his Red Seal certification, Ross worked in northern Alberta's Athabasca oil sands while completing an additional Canadian Electrical Code correspondence course through Selkirk College. The course prepared him to sit the Field Service Representative exam and then obtain his contractor's licence to start TDR Electric.
Fast-forward to 2018 when TDR Electric was voted top electrical contractor in Vancouver, and now in 2019 Ross named to BC Business mag's 30 Under 30 roster. His advice for future electrical students?
"Try to surround yourself with people who are smarter than you, and really listen and learn from them when you have the opportunity," Ross says. He continues to surround himself with motivated people who are great at what they do, and he considers every day as a learning experience.
"You will reach a time in your apprenticeship when you're given the opportunity to solve some sort of large problem yourself. Take a deep breath and take the challenge on. It may be frustrating and take you twice as long, but when you finally solve it on your own, it will boost your confidence and be a pivotal moment in your personal growth, and in your career," he says.
While Ross runs Vancouver's top electrical contracting business today, he has no plans to stand still. He recognizes the importance of keeping TDR Electric ahead of the curve by staying current with emerging technologies.
The business is moving into green energy solutions, offering products such as solar power and charging stations for electric vehicles. Over the past year, Ross has seen 500 percent growth in electric vehicle charging installations and there are no signs of it slowing down, thanks in part to government-funded incentive programs for homeowners.
"It has been fun starting and growing this business to what it is today, and I know this won't be the last business I start, either," says Ross. "I have several other business ventures I would like to explore."