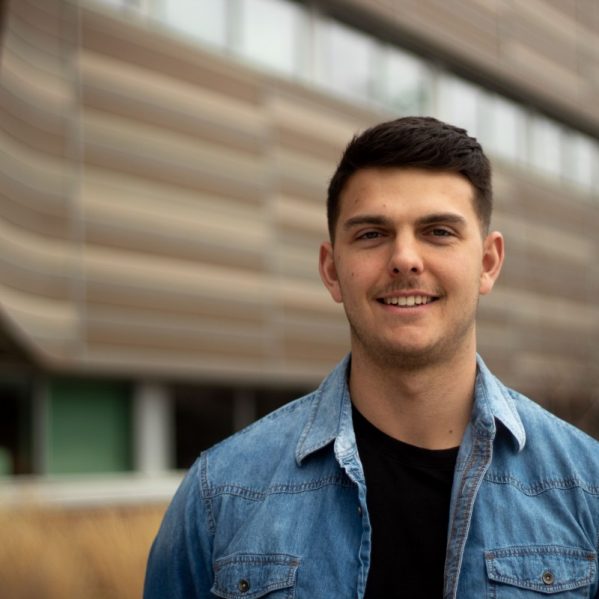 Connor McKenzie is a Geography and Environmental Studies major and is in his third year with the TRU WolfPack Baseball team. A graduate of NorKam Secondary School, McKenzie cites his dream job as lecturer. 
The day begins with the sound of my 5:00 a.m. alarm buzzing in my ears. Getting up that early can be a challenge, but I need a solid hour to eat breakfast and organize myself before getting to my 6:00 a.m. practice.
A few minutes into my warm up, I can already feel the stiffness from yesterday's practice creeping in. Once I'm feeling more limber, I strap on my shin guards, my chest protector, and finally, my mask and it's go time.  A loud smack from the ball hitting my glove echoes through the old gym, as the hitters get in the cage to take their round against the pitchers of the day. Being in gear behind the plate is challenging; there isn't a lot of time for breaks, and when you're not strapped up in gear, it's your time to hit.
My position as a catcher is unique in the game of baseball. I'm the lone defensive player who gets to work with pitchers and the only player who wears protective gear when I play defense. However, it does come with unique pitfalls. I can usually feel a skipping fastball to the forearm as I take notes in class the next day. Some days you get beat up by a foul tip after foul tip to the mask. I can assure you this is far more jarring than my morning alarm:
What athletics and academics have taught me is that mindfulness is a crucial component to success. Whatever I'm doing at the moment requires 100% of my attention at that time. If I'm thinking of an upcoming midterm in the middle of a game, my performance on the field will suffer. If my mind starts wandering between the two worlds, I have to pause, take a breath, and guide my thoughts back to the present.  Worrying about future deadlines or what team we play next weekend isn't helpful.  I live by the mantra: How you do anything is how you do everything. If I am going to put my time into anything, I am going to want to put forth my best effort. Whatever I do, staying present allows me to sustain focus on the task.
Staying present is letting go of external factors that you can't control and focusing on the internal factors that you can control. Balancing academics, athletics, fitness and health is more enjoyable and manageable when you invest in the task, and it's key to a successful student life.