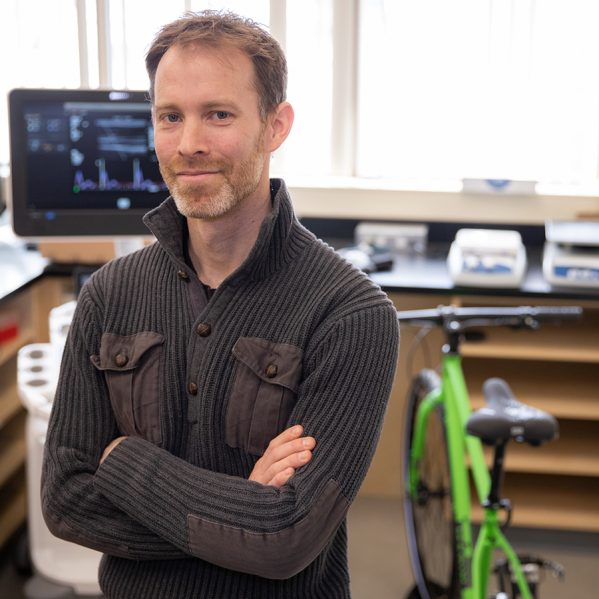 TRU is now home to a unique facility that assesses exercise capacity and cardiovascular disease risk thanks to a $200,000 grant from the Canada Foundation for Innovation's (CFI) John R. Evans Leaders Fund.
The funding is part of a $39-million investment announced today by the Government of Canada for the cutting-edge tools researchers require to keep Canada at the forefront of innovation.
Under the direction of Dr. Mark Rakobowchuk, assistant professor of biology, the Extracellular Vesicles and Endothelial Dynamics Lab is a novel research facility in which whole body human physiology, human cell function and 'omics' approaches are applied to a cluster of projects that explore the impacts of exercise at the cellular level.
Exercise and aging
His project, Micro and macrovascular structure and function in health and disease: Role of exercise derived microvesicles, provides the tools needed to advance research that will give basic scientists and clinicians a better understanding of disease processes and responses to exercise and aging.
"At this stage, we know exercise works to improve health and performance, but we're really now at the point where we're figuring out what works best for an individual," Rakobowchuk said.
The funds provided the lab with an exercise testing system called a metabolic cart that enables precise measurements of exercise intensity and prescription. State-of-the-art ultrasound equipment will enable Rakobowchuk's team to assess arterial stiffness and dilation, along with real-time high resolution blood flow to muscles during exercise. This will allow them to examine whole-body human physiological function in healthy and diseased individuals.
"With this equipment, we will see how well arteries dilate, or whether there is some dysfunction. Dilation is poor in people who have blood vessel damage, which is one of the best predictors of cardiovascular disease."
Every body is different
Rakobowchuk also highlighted that when it comes to exercise and health outcomes, there is so much information available to the public, but we are now learning that what is effective for one person might actually be of no benefit to another, which is why this research—which looks at the impact of exercise at a cellular and metabolic level—is so valuable. It will enable more precise prescription based on the responses we see within muscles and in the cells that make up our blood vessels
"You can do all the population health studies that you want, but we need to better understand what's going on inside the body to get an idea of what works for each individual. For example, some people can run daily but still not run their 5-km race faster, but health benefits may only be obvious at the cellular level," he explained.