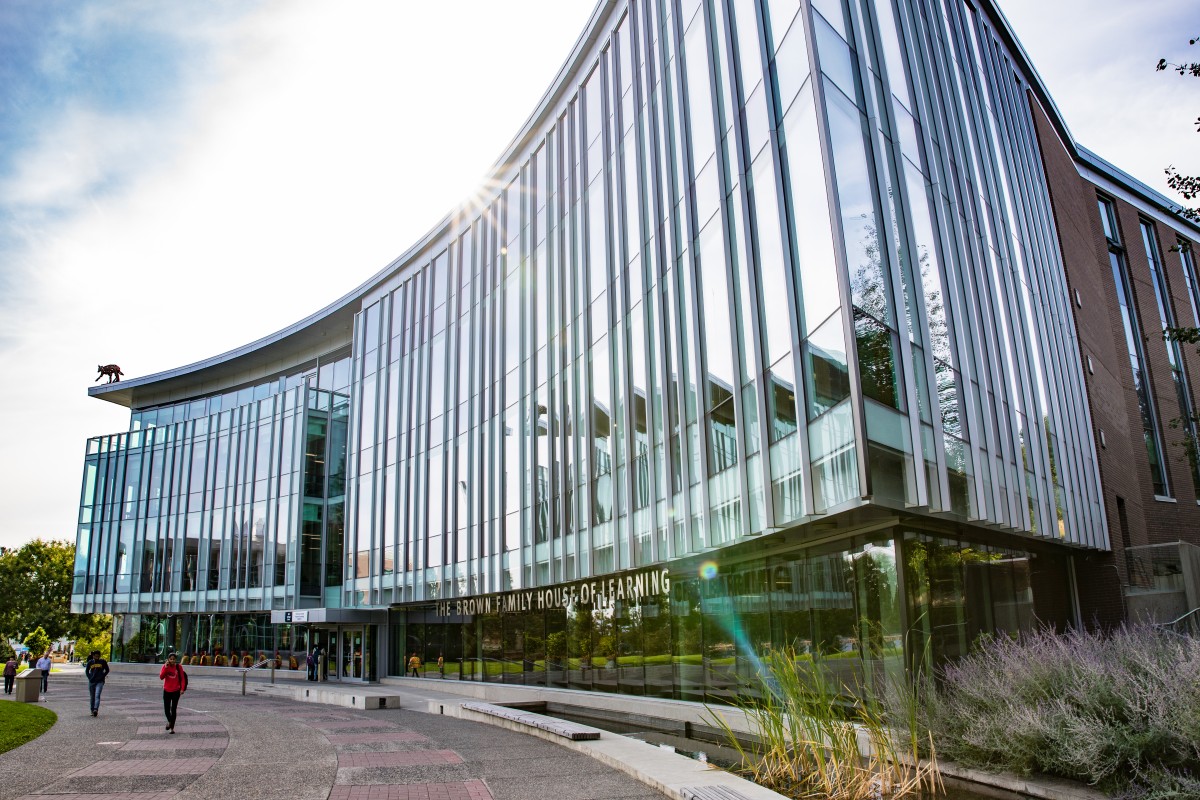 Artist John McEwen's Coyote sculpture stands atop TRU Library headquarters in the Brown Family House of Learning, facing the rising sun as a symbol of commitment to realizing our potential. The library is taking steps to embrace and contribute to indigenization efforts, as part of TRU's Coyote Project—a campus-wide initiative to foster a greater knowledge and awareness of Indigenous culture.
The Truth and Reconciliation Commission of Canada specifically identifies language and culture in its Calls to Action 13 to 17, and the library has looked to Call to Action 14—which outlines five principles to be incorporated into an Aboriginal Languages Act—to guide its efforts in expanding TRU's collection of Indigenous library resources.
The library has been working closely in consultation with the university's Office of Indigenous Education to collect materials that support learning Secwepemctsín language skills with resources such as grammar books, word lists and children's books. Staff are also working to overcome some inherent hurdles in procuring these more traditional library formats by looking to videos of Secwepemctsín speakers.
"Library material is traditionally very text heavy, whereas Indigenous resources are often oral," explains University Librarian Kathy Gaynor. "The closest we can currently get is through video, where viewers can hear the pronunciation."

Collecting Indigenous resources is a library mandate that has already been building steam at TRU for the better part of two decades. These efforts have recently shifted toward materials that are written in, and that teach, the Secwepemctsín language dialects most familiar to the local First Nations communities on whose land the university's campuses are built.
Navigating the complexities of video-resource formatting has kept the library team on its toes as they strive to digitize the material so it can be made accessible through online streaming. This allows users to access it remotely, without the need for specialized equipment. Copyrights often prohibit transforming material format unless it is for the sake of preservation, however, so while resources on VHS can now be digitized thanks to a halt in player production, DVD players are still being produced which limits the ability to acquire and transform this material.
Digitizing resources also carries the benefit of preserving this knowledge beyond the limitations of its original physical form, making it available to future generations when the original technology platform may be obsolete. Gaynor is quick to acknowledge that not all Indigenous knowledge should be shared with everyone, though, and the university's online repository includes tools to limit access to identified material, through specific IP addresses or user accounts.
Acquiring literature written by Indigenous authors is also on the library's agenda, and there is intent to build on these collections as more individuals enter the field. Gaynor's library team also hopes to host a campus-wide book club in the future as the collection expands, to introduce more of the community to Indigenous authors and narratives.
The library has also focused earnestly on facilitating staff training and experiences to build intercultural understanding across the team.
"We have both Indigenous and non-Indigenous library staff working at TRU, who are from our local community as well as afar," explains Gaynor. "We want to make sure all staff have a certain level of understanding so when Indigenous students come to the library service desk, we can be more sensitive to their needs."
Gaynor envisions a future where all library staff have an understanding of local Indigenous history and culture so they can better understand the issues, the stories they see in the news and why reconciliation is so important. So they can embrace reconciliation from their hearts, and embrace the initiatives happening around them at TRU.
During the summer of 2018, library staff watched instalments of the CBC documentary 8th Fire and used its guided questions to build cultural awareness.
Through this initial exercise it came to light that some staff weren't aware of the residential school system or that Kamloops was home to one that still stands. A group trip to the Kamloops residential school was organized, with an Indigenous scholar presenting to the group beforehand to prepare them for the experience.
Library staff have also completed Reconciliation through Indigenous Education, a six-week massive open online course offered through the University of British Columbia that focuses on creating environments that strengthen relationships with Indigenous peoples. Library staff are also encouraged to enrol in the university's First Nations language courses, with many already having completed and more planning to enrol as future dates are offered.
Gaynor's library team isn't stopping there. They have plans to continue efforts toward Indigenization in the short- and long-term, and to establish relationships with local bands that will be paramount in moving forward.
They hope to hire an additional position for an Indigenous services librarian who can work directly with local First Nations to help drive the direction of Indigenization through the input of those communities.
"The theme in libraries is to decolonize the library system, but many people don't quite know what that means yet. This Indigenous services librarian would work with communities to help us figure out what decolonizing the library really means, and the direction these communities would like to see the library change."

Categorization is also an issue that has been identified. As relationships have changed and evolved, Indigenous library material has been categorized based on the prevailing terminology of the time—and so a search for "Indigenous peoples of North America" may not return results for resources entered previously as "Indians of North America." The library has identified that this is problematic and acknowledges a need to consult with local bands to ask what terminology they wish to see, another realm a future Indigenous services librarian could assist with relationship building.
Gaynor's library team is also hoping to expand on Secwepemctsín language signage. They've started with Welcome to the library and Thank you for coming to the library at the main branch, and Gaynor would like to see Secwepemctsín infused into all library space such as you would see English and French in a government building.
"We should all have a greater awareness of the language of the people whose land we live on."