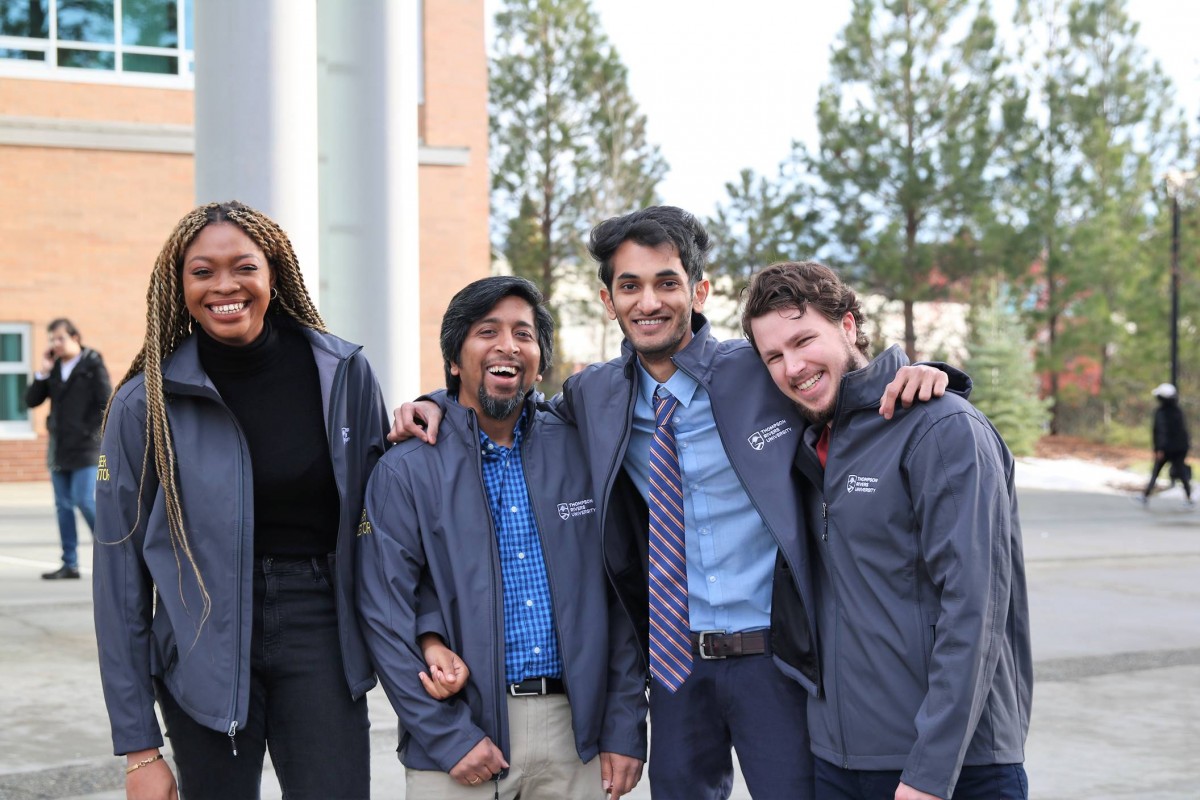 Social media has become an integral part of the world. What started as a platform to share personal opinions grew into an online digital space where companies do business. This semester, four TRU School of Business and Economics (SoBE) students have jumped into learning social media strategies to move their careers forward.
The foursome named themselves the Brand Ambassador Program. They are working on a wide range of social content for Facebook, Twitter, Instagram, LinkedIn, blogs and YouTube.
SoBE Dean Michael Henry sparked the idea for the social media team. According to SoBE events co-ordinator Tatiana Fedotova, Henry was impressed by TRU World's social media team and thought it would be beneficial to have one in his faculty.
"We felt that this was an amazing opportunity to empower the students by having them tell more stories about the SoBE brand to their fellow students," said Fedotova, who vets all social posts. "It will also be an excellent opportunity for them to develop their online brand."
Working with Julio Viskovich, TRU's social media expert in residence, Fedotova whittled down the list of applicants from 25 to 10 before conducting interviews for the positions.
"We wanted one ambassador from each department so we could diversify the program's reach across campus," said Viskovich, who is a SoBE lecturer. "We made our selection based upon students having the most experience with social media with the best writing abilities."
The new group started meeting in early January, where they developed strategies and content ideas. Now ambassadors Awele Juwe, Kazi Shahriar Ahmed, Raj Soni and Nikita Krinitcin can be seen around TRU producing online content.
"I think that being part of the Brand Ambassador Program gives us credibility on our resume. It shows that we possess the skills required for inbound marketing and it teaches us engage with different demographics," said Soni, a marketing student.
The brand ambassador's role is simple: produce content that promotes the faculty.
"Before coming to TRU, I searched a lot online about the school and couldn't find much about it or the faculty. Now, after taking some classes, I've found they have a lot of good faculty members that people wouldn't know about," said Ahmed, a marketing student from Bangladesh. "Hopefully, this can open up TRU to students around the world."
As long the content deals with promoting the SoBE brand, the social media accounts are a blank canvas. Projects can be about successful students, recaps of campus events, interviews with faculty members about research projects or anything else the ambassadors find interesting.
"We want them to show off our SoBE culture," said Viskovich. "They each have different strengths, so we are pushing them towards those strengths to produce the best content for our accounts."
While the brand ambassadors don't get credits, they will receive a $1,000 honorarium from SoBE at the end of the semester.
But that isn't what motivates the students.
"I have a background in engineering, but I have never worked in that sector. I've never had a proper academic education in marketing, so this program is great for me. It should really help my resume going forward," said Ahmed.
Both Fedotova and Viskovich are impressed with the work that has been accomplished so far. There are details to iron out for next year, but both faculty members would like to see another Brand Ambassador Program in the fall with new students.
You can follow the ambassadors on Twitter and Facebook @TRUBusinessEcon and on Instagram @TRUSOBE to see their latest creations.