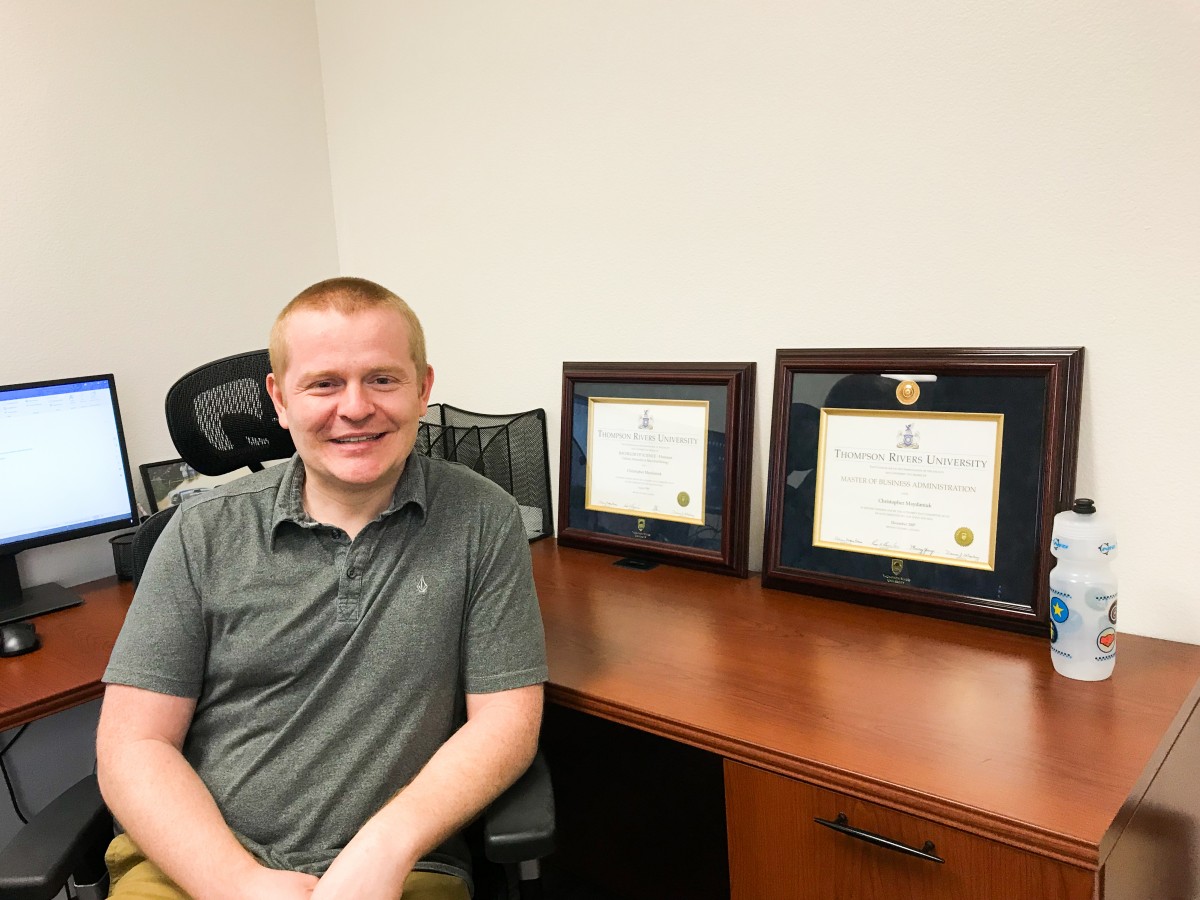 One of the earliest graduates of the Master of Business Administration (MBA) program was recently boosted to the top of a major company.
Chris Maydaniuk is the latest in what could be a growing trend for TRU grads, as his long-tenured company, NRI Distribution Inc., recently announced that he is the company's new president.
"It's a good feeling, for sure. Some days I just have to shake my head," Maydaniuk said, with some lingering disbelief. "This is going to be really interesting and pretty fun."
Born and raised in Kamloops, Maydaniuk pursued an education at TRU back in 2002 mainly because it was his hometown school and the wise economic choice.
"I had no idea what I was going to be doing until I started my MBA. That really pivoted things for me and gave me a sense of direction," said Maydaniuk, who studied cellular, molecular and microbial biology as an undergrad.
After graduation, he started his own digital media adventure sport website, worldrallysport.com. There, he covered racing events, the X Games and instantly posted videos and interviews to social media.
"Entrepreneurship also taught me the hard lesson of not making much money," said the South Kamloops Secondary School grad.
Searching for a change, Maydaniuk applied at the NRI warehouse with the goal of sinking his teeth into a local business.
NRI is a third-party logistics company that distributes outdoor gear and clothing from the manufacturer to local shops.
Starting in customer service, Maydaniuk worked his way up the corporate chain. He soon moved up to sales and then to lower management.
"I can see potential in a lot of my students; and Chris, like many, had both a desire to learn and a passion to explore how to apply his knowledge," said Dr. Paul Clark, a SoBE continuing sessional faculty member.
"When he found NRI, it was a win-win for him and the company: it was the right guy at the right place."
As Maydaniuk rose through the system, NRI was aggressively expanding and needed someone to run the company in the United States. He gladly volunteered to move down to sunny Los Angeles with his wife and newborn son about four years ago.
"It's hard not to enjoy California," said the 34-year-old.
Two weeks ago, the move to LA with his family paid off when Maydaniuk was promoted to president.
Climbing up the company ladder always gave Maydaniuk new, fast-paced challenges. He has observed that NRI was developing similarly to how the MBA program evolved. Core values he learned at TRU helped him with NRI's emergence.
"The MBA program was still in its infancy back then. I got an appreciation for everything needing time to evolve and to be a part of an evolution. Now I am part of a company trying to do the same thing," said Maydaniuk.
After years of working his tail off, Maydaniuk has realized the importance of relationships when building a company. He has connections from his time at TRU and at NRI scattered all over the world.
"Chris is an intelligent person. He always engaged and talked with other students, as he explored how to understand marketing concepts and their applications," said Clark, who led the MBA marketing class. "I am very happy to hear Chris found his niche."
Maydaniuk still likes to give back and to talk about his perspectives on business. Clark plans to bring NRI's president in as a guest to speak to future classes and future company leaders.