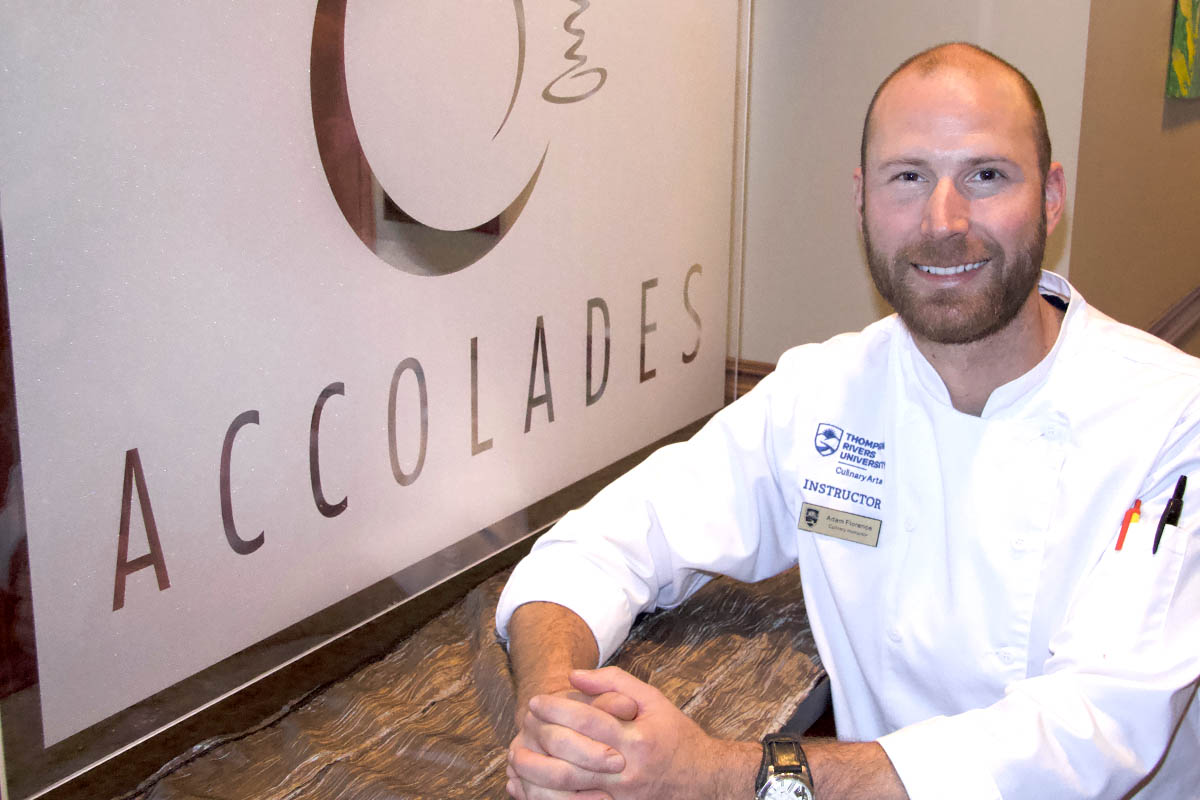 Chef Adam Florence has gone from graduating from TRU in 2005 as a Level 1 Cook to today, as the new head chef of Accolades Dining Room—TRU's on-campus fine-dining experience. Accolades is also a learning opportunity for students, with Level 2s preparing the food and ones in Tourism Management running the service end of things.
A fan of eating what's in season, Florence is also a fan of gathering, then preserving for the off seasons. Techniques like drying, pickling, fermenting, salting, canning and freezing are all fine in his books.
"Basically, I'm showing students how things used to be before global agriculture and before I could get anything any time of the year. I'm trying to show them that this is what we did to try and survive, or this is what chefs did to have beautiful menus throughout the cold winter months. They had to work with what was available, seasonal and how those ingredients could make it through the winter."
4 underrated foods
When it comes to food ingredients not getting their proper respect, Florence easily offers up: grapefruit, haskap berries, golden beets and fat.
Grapefruit

I don't see it pop up on a lot of menus the way a lemon or an orange does. I feel there is a slight bitterness that gives grapefruit a sophisticated flavour. I like to take my caramelization a little darker as well because of that bitterness—I almost think of it the way an alcohol spirit ads depth. I find if it's properly balanced, is an amazing tool. Most people don't search for bitterness, but when you use bitterness appropriately, it can be quite harmonious in your dishes.
Haskap berries

Japanese for edible blue honeysuckle, haskap have a delicate skin and look like an elongated blueberry. "They have some good sour notes, almost like a blueberry-raspberry combo, and some lemon-citrusy notes. Monte Creek Spirits made some amazing liquors with deep colours. It's the new anti-oxidant or super fruit. I'm trying to do some things with haskap beries because I know some local farmers who are growing them and have some pretty good stocks."
Golden beets

"I get a lot of students coming in and saying, 'I don't like beets.' And then I show them golden beets and it opens their world to earthy vegetables. Maybe they didn't get them at the right time or they weren't cooked properly. I find with most people who say they don't like vegetables, it's because they probably had a moment where they were overdone. Maybe their beans were mushy, or their Brussel sprouts had the wrong colour and didn't have a tender-crisp element to them. When vegetables aren't cooked properly, people all of a sudden have the opinion that they don't like them."
Fat

"Duck fat in particular. Using the rendered fat in another dish can elevate the dish to another level. I've been getting my cooks to use a lot more duck fat. It's a French way of cooking and they use duck fat or goose fat instead of bacon fat, butter or cow fat. Duck and goose add a rich flavour profile that really stands out when you head into the winter, colder months."
5 fave herbs and spices
If Florence could only use five herbs or spices, they would be cardamon, thyme, cumin, tumeric and basil. Cardamon and thyme because they can be used as sweet or savoury and have aromatic earthy tea elements, cumin for its instant curry or Tex-Mex flavour, tumeric for its colour and subtle essence or pungency and basil for its ability to be a garnish one moment and a supporting role or main attraction in another.
"Basil is really delicate, but it has that liquoricey flavour. It's one of my ultimate go-to's—I really love that flavour profile as well as the big, vibrant leaves."
Chef has the chops to teach
After graduating from TRU, Florence took his apron and knives to the trendy Vancouver neighbourhoods of Kitsilano and Yaletown to work for popular eateries like Trafalgars Bistro, Sweet Obsessions and Feenie's.
Returning to Kamloops a few years ago, he partnered up with friends to transform what previously was a travel agency into the revolutionary Felix on Fourth.
He helped set up  Jack Sam's Restaurant at Quaaout Lodge near Chase. He also returned to TRU to get his Red Seal and prior to getting the Accolades post, spent the past six years as a part-time culinary instructor. He also spent time as the Head Chef at The Keg and Earls.
Teaching is in his family
Coming from a family of educators—his father was the elementary school principal in Adam's hometown of Clearwater, BC—it's only natural that Florence has felt a need to help train the next generation of chefs. And through it all, he would like students to gain a deeper understanding and appreciation of food: of its history, how it connects us, how ingredients interact with each other and the value of getting feedback from customers.
"I think interacting with guests gives students a better foundation, along with personal gratification," said Florence. "You don't want to be a great cook in the back who has done a labour of love, and who never gets to see the reaction. I want the cooks to be down there and explaining to guests what they did and why they did it, to see the guest experience and see the guest's reaction to the food."