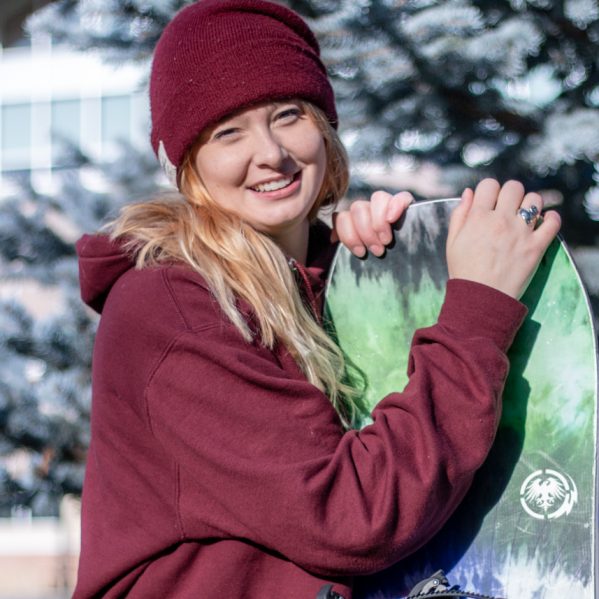 Life often presents opportunities to try new things, meet new people and see new places along the way. For third-year business student Brooke Lacey, she never expected that the first time she tried snowboarding would change everything. It eventually led her to compete as a slopestyle snowboarder on a global level.
Originally from Fort McMurray, Lacey first tried snowboarding only five years ago—and instantly fell in love with the sport. Soon after, she quit competitive hockey to dedicate more time to the slopes and ultimately chose to study at TRU because of its proximity to Sun Peaks.  
"I could literally live in the mountains. If I could live in a hut and be a little yeti up there, I would," Lacey said with a laugh.
The opportunity of a lifetime
Until now, snowboarding has been both hobby and passion. Lacey has never competed professionally, but has entered a few smaller competitions in her hometown.
Although she has had some experience competing, nothing comes close to the scale of the Winter Universiade Krasnoyarsk Gamesin Siberia, Russia. An Olympic-style competition for students, the Universiade welcomes the best university athletes from throughout the world. It often acts as a stepping stone to competing at the real Olympics.
This opportunity was one that Lacey did not expect to have, as most competitions of this calibre are only available to professional, full-time athletes. The Universiade is a competition that is specifically for athletes who are also in university. Lacey said that because of their busy and demanding schedules, most professional athletes are not also university students.
"With competitive snowboarding, you are always doing circuits and always travelling which makes being in university really difficult. When you are competing, it is your full-time job. You are living and breathing training," she said.
After seeing the Universiade call-out for athletes in an e-newsletter, Lacey inquired further to see if she would qualify, and the rest is history.
"I saw this opportunity and thought 'If I could have the chance to represent Canada and TRU, why not?'" she said.
Getting there with a little help from your friends
Now only four months away from the competition, Lacey is spending as much time in the mountains as possible, tailoring her lifestyle to set herself up for success. Her winter semester course load will be much lighter so she can focus on her training, sometimes travelling to larger ski resorts like Big White and Whistler.
This competition is completely self-funded for Lacey, who has been financially supported by her friends and family, but could use some help to get to the games in March. Lacey has set up a Go Fund Me for those who want to support her both financially and by spreading the word. Hopefully, with extra support she can make it to the Universiade and compete like one of her all-time favourites.
Lacey's favourite snowboarder is Olympic Athlete Brooke Voigt, whom she shares a name and a hometown with.
"It was so cool seeing her at the Olympics, representing Fort McMurray and Team Canada," said Lacey.
With the Universiade Krasnoyarsk as her stepping stone, Lacey might just follow in her hero's footsteps and make it to the Olympics herself one day.